Strong Performance from Team Jebsen in SingaporeTeam Jebsen, Roundup – Round 9, Porsche SC Global Carrera Cup Asia – Singapore 2012, September 21 - 23, 2012, Marina Bay Circuit Singapore
A strong performance by Team Jebsen driver Rodolfo Avila of Macau saw him just miss out on a podium finish on the challenging Marina Bay street circuit during the FORMULA 1 SINGTEL SINGAPORE GRAND PRIX weekend.  Fighting off a fierce and relentless challenge, Avila held firm to take points for third as the race winner was ineligible to score.
After just one free practice session, which was spent fine-tuning the setup and finding the limits between the unforgiving barriers on the narrow track, Team Jebsen picked up the pace considerably during qualifying. However, the team's pole position aspirations were dashed when the car in front hit the barriers and brought out the red flag just as Avila was on his quick lap.  At the end of the shortened session, Team Jebsen had to settle for fifth, putting them on the third row of the grid.
The scramble for position into the first corner of the race did not go as planned, with Rodolfo being forced down several positions. Unperturbed, he masterfully fought his way back up, making multiple passes on the tight circuit and then fending off a strong attack from the car behind. Maintaining his pace and composure despite damage to his car, Avila kept his rivals at bay to bring Team Jebsen home in 4th position.
Team Jebsen will be back in action for the final two rounds of the 2012 Porsche Carrera Cup Asia season at the Shanghai International Circuit from November 9 to 11.
Quotes from Team Jebsen
Rodolfo Avila
"Qualifying was going well before the red flag. Unfortunately, I was driving my fastest sectors on the lap the crash came on, so it was disappointing the red flag came out. We managed to go fifth fastest before the session ended, but we were hoping to do a bit more.
The start was pretty bad for me and I dropped from fifth to seventh. I then had to get by work hard to get by cars, which is very difficult on this track.  Then, when I came under attack, I knew I had a quicker pace and could stay in front, but worked hard to maintain a healthy gap and attack ahead.  Most important though was no mistakes.  You just can't afford them on a track like this"
Porsche Carrera Cup Asia 2012 Provisional Calendar
| Date | Circuit, Country | Event | Rounds |
| --- | --- | --- | --- |
| March 24-25 | Zhuhai Int. Circuit, China | Test Days | - |
| April 13-15 | Shanghai Int. Circuit, China | Formula 1 Support Race | Rounds 1&2 |
| June 1-3 | Zhuhai Int. Circuit, China | China Touring Car Championship | Rounds 3&4 |
| July 6-8 | Ordos Int. Circuit, China | China Touring Car Championship | Rounds 5&6 |
| August 30 – September 1 | Sepang Int. Circuit, Malaysia | Malaysia Merdeka End. Support Race | Rounds 7&8 |
| September 21-23 | Marina Bay Circuit, Singapore | Formula 1 Support Race | Round 9 |
| November 9-11 | Shanghai Int. Circuit, China | Shanghai Sportscar Festival | Rounds 10&11 |
About Rodolfo Avila Car No: 20
Avila began his career in karts, attending the Macau Karting School at 14, and winning the Macau Karting International A (Group B) a year later. In 2002, he graduated to single seater racing, becoming the youngest driver ever to compete at the Macau Grand Prix, racing in the Formula Renault event.
He took the Asian Formula Renault Challenge championship title the following year, making his Formula 3 Grand Prix debut at Macau in 2004. His career continued its extraordinary ascent, with Rookie honours in the Asian Formula 3 Championship in 2005, finishing 5th overall. A season in the prestigious British Formula 3 Championship saw him end the year 4th in the National Class for newcomers.
Avila made the switch to sportscar racing in 2008, when he became the youngest ever Asian Supercar Challenge Champion. He made his Porsche Carrera Cup Asia debut in 2009, taking pole position and a podium finish in his very first race. In 2011, Avila was just two points away from winning the Porsche Carrera Cup Asia title.
About Team Jebsen
For Team Jebsen, 2012 marks the eighth full season in the series, having taken the championship title in 2006 and 2008.
Team Jebsen is backed by the Jebsen Group. Established in 1895 in Hong Kong, the Group has since expanded its activities into a comprehensive business network throughout China, Taiwan and South Korea. Today, the Jebsen Group is structured around four strategic business units targeting the consumer, industrial, beverage and luxury sectors.
Jebsen is a name synonymous with Porsche in the region, having first brought the marque to Hong Kong in 1955. Since then, the Jebsen Group has become the largest and longest-established Porsche dealer group in Asia. In addition to Porsche Centre Hong Kong, the group operates Porsche Centres in Macau, Beijing, Shanghai, Hangzhou, Guangzhou and Shenzhen.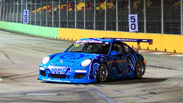 9/26/2012