Challenging Weekend for Team Jebsen in Shanghai
Team Jebsen, Roundup – Rounds 1 & 2, April 13-15, 2012, Shanghai International Circuit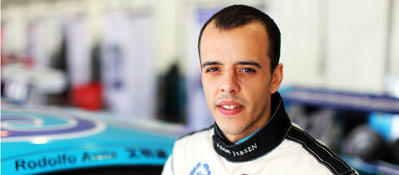 Team Jebsen and driver Rodolfo Avila of Macau faced a challenging weekend in Shanghai as they began their 2012 Porsche Carrera Cup Asia championship campaign.
Despite being in contention for podium finishes in both races, the two-time champions were ultimately unable to convert their quick pace in the Porsche 911 GT3 Cup car into the results they had hoped for at the 5.5km Shanghai International Circuit.
Saturday's qualifying session saw a gamble pay off when the team decided to change set-up mid-session. Back out on track, the decision paid off with Avila third quickest at the end of the session. The second row of the grid, amongst the series' most competitive field to date, put Team Jebsen in a solid position for the opening race of the season.
As the lights went out to signal the start, Avila got away well and was right on the pace. However, Avila became caught up in a fight for 3rd place which eventually resulted in him finishing fifth overall.
A change in the series regulations for the 2012 season, where the top eight finishers in race one are reversed in order for the start of the second 12-lap race, meant a second row start for Round 2.
Avila started well but had no luck, becoming boxed-in during the scramble into the first corner. For several laps he held his own in a high-speed nose-to-tail chase, moving up to third on Lap 4 and challenging hard for second.
On Lap 8, Avila saw his chance after a change in race leader opened up an opportunity to follow through, and grabbed the opportunity. Having fought hard for a well-deserved podium finish, in seconds it was all over. A racing incident saw a coming together with another car, and the resulting radiator damage ended Team Jebsen's race.
It was ultimately a frustrating weekend in terms of points, but Team Jebsen does come away knowing it has the outright pace to be competitive with the highest quality – as well as the largest – field in Porsche Carrera Cup Asia history.
Next up for Team Jebsen is Rounds 3 &4 of the Porsche Carrera Cup Asia from June 1-3 at the Zhuhai International Circuit, where they will be back on the hunt to those all-important championship points.
Quotes from Team Jebsen
Rodolfo Avila, Team Jebsen Driver:
"It's been a challenging weekend of highs and lows for Team Jebsen, but that's motorsport! The positives we take away from the weekend are that we've definitely matured as a team – we're more confident, and that has made us quicker. This year is probably the most competitive year ever in Porsche Carrera Cup Asia history, so we knew coming into Shanghai that we would have to be at the top of our game to challenge for the championship. We certainly proved we have the pace and are podium contenders, and at this high level of competition there are going to be racing incidents all season."
"Unfortunately things did not go our way in either race, and I have to say we were particularly unlucky in the second. Despite a difficult start, we were challenging for the lead and had the pace for strong result. The incident didn't look serious, but the position where the other car made contact caused enough damage to end our race."
"We have a lot of points to claw back in the next races, so let's hope our share of bad luck is over with now. I'm always positive, and I know we proved we have what it takes at this level. We'll be back in Zhuhai with a vengeance and ready to put our championship campaign back on track."
Porsche Carrera Cup Asia 2012 Provisional Calendar
| Date | Circuit, Country | Event | Rounds |
| --- | --- | --- | --- |
| March 24-25 | Zhuhai Int. Circuit, China | Test Days | - |
| April 13-15 | Shanghai Int. Circuit, China | Formula 1 Support Race | Rounds 1&2 |
| June 1-3 | Zhuhai Int. Circuit, China | China Touring Car Championship | Rounds 3&4 |
| July 6-8 | Ordos Int. Circuit, China | China Touring Car Championship | Rounds 5&6 |
| August 30 – September 1 | Sepang Int. Circuit, Malaysia | Malaysia Merdeka End. Support Race | Rounds 7&8 |
| September 21-23 | Marina Bay Circuit, Singapore | Formula 1 Support Race | Round 9 |
| November 9-11 | Shanghai Int. Circuit, China | Shanghai Sportscar Festival | Rounds 10&11 |
About Rodolfo Avila Car No: 20
Avila began his career in karts, attending the Macau Karting School at 14, and winning the Macau Karting International A (Group B) a year later. In 2002, he graduated to single seater racing, becoming the youngest driver ever to compete at the Macau Grand Prix, racing in the Formula Renault event.
He took the Asian Formula Renault Challenge championship title the following year, making his Formula 3 Grand Prix debut at Macau in 2004. His career continued its extraordinary ascent, with Rookie honours in the Asian Formula 3 Championship in 2005, finishing 5th overall. A season in the prestigious British Formula 3 Championship saw him end the year 4th in the National Class for newcomers.
Avila made the switch to sportscar racing in 2008, when he became the youngest ever Asian Supercar Challenge Champion. He made his Porsche Carrera Cup Asia debut in 2009, taking pole position and a podium finish in his very first race. In 2011, Avila was just two points away from winning the Porsche Carrera Cup Asia title.
About Team Jebsen
For Team Jebsen, 2012 marks the eighth full season in the series, having taken the championship title in 2006 and 2008.
Team Jebsen is backed by the Jebsen Group. Established in 1895 in Hong Kong, the Group has since expanded its activities into a comprehensive business network throughout China, Taiwan and South Korea. Today, the Jebsen Group is structured around four strategic business units targeting the consumer, industrial, beverage and luxury sectors.
Jebsen is a name synonymous with Porsche in the region, having first brought the marque to Hong Kong in 1955. Since then, the Jebsen Group has become the largest and longest-established Porsche dealer group in Asia. In addition to Porsche Centre Hong Kong, the group operates Porsche Centres in Macau, Beijing, Shanghai, Hangzhou, Guangzhou and Shenzhen.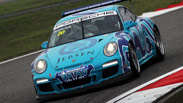 4/18/2012