Smart Tactics Maximise Points Haul from Malaysia
Team Jebsen, Roundup – Rounds 7 & 8, August 31-September 2, 2012, Sepang International Circuit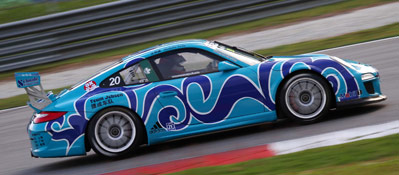 Team Jebsen earned an impressive Porsche Carrera Cup Asia points haul at the weekend, using brains as well as speed at Rounds 7 and 8 at Malaysia's 5.5km Sepang International Circuit.  Team Jebsen driver Rodolfo Avila of Macau put in a gritty performance over two of the most intense races the series has ever seen, to finish the weekend joint third in the championship race, and still in contention for the title.
The weekend began well, with a strong performance in free practice, the Team Jebsen Porsche 911 GT3 Cup right on the pace.  In a close-fought qualifying battle, Avila secured a fifth grid position for the start of Round 7.
The first race of the weekend proved frustrating for Team Jebsen, with Avila fighting in vain to catch the race leaders. Nonetheless, his persistence paid some dividends when he was able to make a pass in the closing stages of the race, finishing 4th. Avila was determined to go better in Round 8.
With the reversed grid for the second race, Avila's 4th place finish put him on the 3rd row of the grid for Round 8.  Team strategy saw the Porsche shod with new tyres for the race, and Avila knew it was important to maximise this advantage.  However, off the start he was caught up in a start line jam with other cars and he lost several places.  Immediately fighting back, he made a spectacular recovery, picking his way back through the hard-charging field.  
Suddenly the distinctive blue livery of the Team Jebsen Porsche was looming large in the mirrors of the race leaders as Avila closed right up, hanging on to the 2nd place runner's bumper.  With tyre wear a factor in the closing laps, Avila was not able to further improve his position and crossed the line in 3rd.  And as fate would have it, the race winner was later handed a penalty for a race infringement, promoting Team Jebsen to second.
Team Jebsen will resume its Porsche Carrera Cup Asia campaign later this month on the Marina Bay street circuit, where the series is racing as part of the prestigious Formula 1 Singapore Grand Prix weekend.
Quotes from Team Jebsen
Rodolfo Avila
"It's a good comeback for us after the problems we had with the tyres at Ordos.  It was incredibly tough out there, and everyone was right on the limit.  It's important to bring home the points, but of course we are out there gunning for victory.  That is why it's so crucial to get the balance right – fight hard and go for the win, but don't risk throwing it all away in favour of a position.
We had two good races, but we need to work on our qualifying pace. I'm looking forward to Singapore where I'll be fighting to get on the podium. We have some points to make up but the Championship is far from over. Team Jebsen and I will be there contesting at the end."
Porsche Carrera Cup Asia 2012 Provisional Calendar
| Date | Circuit, Country | Event | Rounds |
| --- | --- | --- | --- |
| March 24-25 | Zhuhai Int. Circuit, China | Test Days | - |
| April 13-15 | Shanghai Int. Circuit, China | Formula 1 Support Race | Rounds 1&2 |
| June 1-3 | Zhuhai Int. Circuit, China | China Touring Car Championship | Rounds 3&4 |
| July 6-8 | Ordos Int. Circuit, China | China Touring Car Championship | Rounds 5&6 |
| August 30 – September 1 | Sepang Int. Circuit, Malaysia | Malaysia Merdeka End. Support Race | Rounds 7&8 |
| September 21-23 | Marina Bay Circuit, Singapore | Formula 1 Support Race | Round 9 |
| November 9-11 | Shanghai Int. Circuit, China | Shanghai Sportscar Festival | Rounds 10&11 |
About Rodolfo Avila Car No: 20
Avila began his career in karts, attending the Macau Karting School at 14, and winning the Macau Karting International A (Group B) a year later. In 2002, he graduated to single seater racing, becoming the youngest driver ever to compete at the Macau Grand Prix, racing in the Formula Renault event.
He took the Asian Formula Renault Challenge championship title the following year, making his Formula 3 Grand Prix debut at Macau in 2004. His career continued its extraordinary ascent, with Rookie honours in the Asian Formula 3 Championship in 2005, finishing 5th overall. A season in the prestigious British Formula 3 Championship saw him end the year 4th in the National Class for newcomers.
Avila made the switch to sportscar racing in 2008, when he became the youngest ever Asian Supercar Challenge Champion. He made his Porsche Carrera Cup Asia debut in 2009, taking pole position and a podium finish in his very first race. In 2011, Avila was just two points away from winning the Porsche Carrera Cup Asia title.
About Team Jebsen
For Team Jebsen, 2012 marks the eighth full season in the series, having taken the championship title in 2006 and 2008.
Team Jebsen is backed by the Jebsen Group. Established in 1895 in Hong Kong, the Group has since expanded its activities into a comprehensive business network throughout China, Taiwan and South Korea. Today, the Jebsen Group is structured around four strategic business units targeting the consumer, industrial, beverage and luxury sectors.
Jebsen is a name synonymous with Porsche in the region, having first brought the marque to Hong Kong in 1955. Since then, the Jebsen Group has become the largest and longest-established Porsche dealer group in Asia. In addition to Porsche Centre Hong Kong, the group operates Porsche Centres in Macau, Beijing, Shanghai, Hangzhou, Guangzhou and Shenzhen.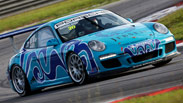 9/4/2012