Porsche Carrera Cup Asia Zhuhai International Circuit, June 18-20 Preview - Rounds 5 & 6
The Race is On as 2010 Season Approaches Halfway Point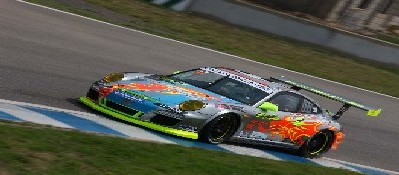 Asia's premier sportscar championship heads to China's Pearl River Delta region next week for Rounds 5 and 6 of the Porsche Carrera Cup Asia at the Zhuhai International Circuit from June 18-20.
The Pan Delta Super Racing Festival, which regularly attracts several thousand spectators to the 4.3km circuit, will feature two, 12-lap Porsche Carrera Cup Asia races plus an intense 30-minute qualifying shootout. The record, 23-strong field will be made up of sportscar aces from across Asia Pacific and Europe, all racing identical Porsche 911 GT3 Cup cars.
As the series heads southward from last month's spectacular Fascination Porsche meeting at Beijing's Goldenport International Circuit, it is reigning champion Christian Menzel of Team StarChase who tops the leaderboard having put together four perfect races so far. The German has thrown down the gauntlet to the talented field as being the man to beat as he defends his championship title.
With the Porsche Carrera Cup Asia 2010 season approaching the half way point, Menzel has a lead of 16 points over second-placed Craig Baird of Team PCS Racing. New Zealander Baird is one of the top talents out to spoil the German's run of success. The former Porsche Carrera Cup Australia champion is in his first full season with the Asian series, and has landed on the podium in three out of four races, including two second-place finishes in Beijing.
Third in the overall standings is Malaysia's Mok Weng Sun, who also leads the non-professional Class B category. Mok has won all four Class B victories so far and will certainly look to extend his perfect record in Zhuhai.
Eight points adrift of Mok in the overall championship standings is rising star Rodolfo Avila of Team Jebsen, who just missed out on the podium in Beijing in both races. The young Macau driver lives in Zhuhai and will no doubt be looking to use his home-track advantage to notch up his first wins in this, his second Porsche Carrera Cup Asia season.
Japan's Keita Sawa is another force to be reckoned with. The LKM Racing guest driver put in a remarkable performance in Round 4, starting from 13th on the grid and charging through the field to take the final podium spot.
Hong Kong drivers Marchy Lee of Red Bull Racing and Philip Ma of Jacob & Co Racing round out the professional Class A entries.
The battle for Class B glory is just as intense, with Mok leading the way and no fewer than three drivers tied for second place. France's Jean-Marc Merlin and brothers Francis Tjia and Christian Chia are all in their first seasons with the Porsche Carrera Cup Asia, but have fast made an impression. Tjia has taken three podium finishes from four races, while Merlin has so far earned two. Chia has yet to score a top three finish, but his consistency will serve him well in a series where a failure to finish can prove devastating to title aspirations.
Close behind the trio are Singaporeans Yuey Tan with Wimobilize McElrea Racing and Ringo Chong with Team Kangshun.
Rounds 5 and 6 of the Porsche Carrera Cup Asia will take place as part of the Pan Delta Super Racing Festival at the Zhuhai International Circuit.
Supporting the Porsche Carrera Cup Asia are two of the most recognised names in international motorsport, Mobil1 and Michelin. Mobil and Porsche have been partners since 1996. Close co-operation in research and development has led to every new Porsche engine being filled with Mobil1 high-performance lubricant. Porsche Carrera Cup Asia drivers also have the advantage of racing on cutting-edge tyres supplied by series partner Michelin. The consistent performance and leading technology of Michelin tyres constantly improve the performance of many teams in international motorsport. The partnership between Michelin and the Porsche Carrera Cup Asia has emerged from a worldwide agreement signed between Porsche AG and the Michelin group.
The Porsche Carrera Cup Asia is organised and promoted by Malaysian based Motorsport Asia Ltd.
For information and images of Porsche Carrera Cups worldwide, including Asia, please visit
www.porsche.com/carreracup
6/10/2010