Porsche Carrera Cup Asia Zhuhai International Circuit, June 18 - 20, 2010 Qualifying – Round 5
Avila Seizes Pole after Epic Battle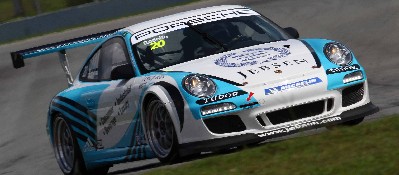 Team Jebsen's Rodolfo Avila of Macau seized pole position for the start of Round5 of the Porsche Carrera Cup Asia at the 4.3km Zhuhai International Circuit today.  At the end of an epic qualifying battle, which saw no fewer than four different drivers take provisional pole during the 30-minute session, the top five were separated by little more than half a second.
 
Starting alongside Avila for the first of tomorrow's two, 12-lap races will be Red Bull Racing's Marchy Lee of Hong Kong who, despite topping the timing sheets at one stage and putting in a courageous final flying lap, was not able to better Avila's time.
 
Behind the all-Asian front row, will be Team PCS Racing's Craig Baird of New Zealand, with reigning Porsche Carrera Cup Asia Champion and winner of all four races so far this season, Christian Menzel of Team StarChase.
 
In Class B, it was category points leader and Baird's Team PCS Racing team mate, Mok Weng Sun, who managed to clinch the top spot from Pauian Archiland Team's Jeffrey Lee of Chinese Taipei.  Mok was 6th fastest overall, while Jeffrey Lee recorded his best qualifying position so far this season.  Third quickest in the class was series newcomer Francis Tjia of OpenRoad Racing.
 
Said a thrilled Avila:  "We can still go faster – we weren't 100% out there!  Team Jebsen is back on track.  We used last year's set-up, which makes no sense if you
go by the book (as it is a new car), but it has been perfect.  Menzel made his (fast) lap in the beginning, and I was a little bit scared that if I didn't do it on my second run, I'd be down the order.  But our confidence is back and we just need a good start tomorrow."
 
Marchy Lee was philosophical about missing out on pole:  "We were first for quite a long time and I was hoping we could do qualifying on just one set of tyres.  We came in (after provisional pole) and I just waited, and maybe we shouldn't have waited so long because I think we could have done much better if we'd had some
more time.  On the last lap, a guy spun in front of me so I couldn't do it."
 
For Baird, the Zhuhai International Circuit is a yet another new track for him to come to grips with in this, his debut Porsche Carrera Cup Asia season:  "It's a brand new track for me, and while everyone said it was easy, it's more technical than people give it credit for.  On my flying lap I got caught out on my last corner, but I definitely think I could have been on the front row.  Rodolfo did well.  I'll call it a 'home ground advantage', but of course we didn't give it to him!"
Mok, meanwhile, is keenly aware of the quickening pace of the field:  "It was really close today.  I came in after taking provisional pole, and I knew I had about two
hundredths of a second.  Then I found out Jeffrey was 2-3 hundredths of a second faster, so I had to put on my second set of tyres and go out there.  I think everyone
is getting used to the car and getting quicker.  This weekend is going to be very close."
 
Jeffrey Lee, who put in a stellar performance, was understandably disappointed:  "I'm not very happy with the results.  I was leading during the session.  I came in to the pits to change tyres and expected to improve my lap time.  However, there were slow cars in front of me when I went back out and the new set was wasted."
 
Another driver to be hampered by traffic amongst this year's bumper 23-car field was Francis Tjia, but he was pleased to be back at the Pearl Delta circuit:  "I haven't
raced in Zhuhai for two years, but it is just like my home circuit.  We replaced the gearbox yesterday, and the car drives much better today.  I'm very happy with it,
and I know what I want  in terms of set up here."
 
Menzel quickly set the pace early in the session, taking provisional pole on his first lap out, and looked ready to continue his dominance of the series.  He remained at
the top of the time sheets until Lee began his charge, grabbing provisional pole on his 4th lap out.
 
Although Menzel bettered his time, so did Lee, and with ten minutes remaining still held the top spot.  As the minutes ticked by, however, the drama began to unfold
rapidly. First Avila put in a scorching lap, but Baird went one better and became the first Porsche Carrera Cup Asia driver to lap the circuit in under one minute 39
seconds. 
 
The gloves were off, and Avila responded by shaving more than two tenths of a second off the Kiwi's best time.  Lee then began his last-ditch attempt to seize
pole, leapfrogging both Menzel and Baird to go second quickest.  He again bettered his time on the final lap, but his Macau rival had done enough to retain pole.
 
It was a disappointing session for Jean Marc Merlin who fell victim to circuit traffic and wasn't able to set a qualifying time.  Likewise for Marcel Tjia and Jacky Yeung, who also failed to complete a lap.

6/19/2010