Team Jebsen Announces Rodolfo Avila for 2010 Campaign
Team Jebsen Announces Rodolfo Avila for 2010 Campaign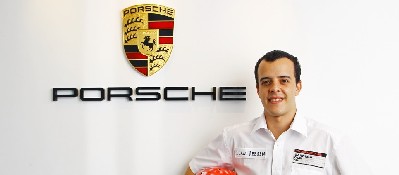 Two-time Porsche Carrera Cup Asia champions Team Jebsen today announced an exciting new driver line-up for its 2010 Porsche Carrera Cup Asia campaign:  Macau racing driver Rodolfo Avila.
For Team Jebsen, this will be their sixth full season in the series, having taken the championship title twice so far, in 2006 and 2008.  Avila takes over the steering wheel from the team's former driver, Darryl O'Young, 29, who is this year contesting a full season of the FIA World Touring Car Championship (FIA WTCC).
Jebsen and Co Ltd Group Director, Mark Bishop said:  "We are very pleased to welcome Rodolfo to Team Jebsen and to have the opportunity to nurture another exciting young talent, having seen Darryl develop together with the team to become a double PCCA champion.  We have no doubt Rodolfo has the skill, commitment and potential to achieve similar success.
"At the same time, we are delighted that Darryl's success has given him the opportunity to contest a full season of the prestigious FIA WTCC, as we know that that has always been an ambition for him," continued Bishop.  "And of course, we look forward to continuing our long standing relationship with Darryl off the race course as well. Team Jebsen is extremely grateful to Darryl for all his hard work over the last six years and we have enjoyed a very close relationship. For the 2010 season, we both felt it would be a good time for each of us to pursue some new opportunities."
At just 23, Avila already has an impressive racing CV, and will be a strong championship contender in the region's premier sportscar series.  He made his Porsche Carrera Cup Asia debut last year, and immediately impressed by taking pole position and a podium finish in his very first race.  His two victories plus five podium finishes in 13 races saw Avila end the 2009 season fourth overall in a championship which pitched the youngster against experienced sportscar professionals from Europe as well as Asia.
For Avila, the chance to join the winning Team Jebsen represents another major step forward in his career:  "I'm really looking forward to racing with Team Jebsen, and extremely excited to have this fantastic opportunity to work one of the best sportscar racing teams in Asia.  We will be up against some strong competition, but I have every confidence that together we can achieve outstanding results."
Avila began his career in karts, attending the Macau Karting School at 14, and winning the Macau Karting International A (Group B) a year later.  In 2002, he graduated to single seater racing, becoming the youngest driver ever to compete at the Macau Grand Prix, racing in the Formula Renault event. 
He went on to take the Asian Formula Renault Challenge championship title the following year, making his Formula 3 Grand Prix debut at Macau in 2004.  His career continued its extraordinary ascent, with the young driver taking Rookie honours in the Asian Formula 3 Championship in 2005, finishing 5th overall.  A season in the prestigious British Formula 3 Championship saw him end the year 4th in the National Class for newcomers.
Avila made what proved to be a highly-successful switch to sportscar racing in 2008, when he became the youngest ever Asian Supercar Challenge Champion.  The daunting prospect of the Porsche Carrera Cup Asia, with its highly-competitive international field, beckoned, but his skill and talent proved to be more than a match for the seasoned professionals.
Avila will have his first outing with Team Jebsen at the official Porsche Carrera Cup Asia test days in Malaysia this month, where he will take the brand new Porsche 911 GT3 Cup through its paces.  The season gets underway with the opening two rounds held as part of the 2010 Formula 1 Chinese Grand Prix in Shanghai in April.  Six more rounds will be held in China in 2010, plus one race as part of the 2010 Formula 1 SingTel Singapore Grand Prix in September and two scheduled for South Korea.
As well as contesting a full season in the Porsche Carrera Cup Asia, Team Jebsen and Avila also plan to enter the Macau GT Cup at the 57th Macau Grand Prix in November.  Avila's knowledge of his 'home' track, the notoriously demanding Guia street circuit, will stand them in good stead for the spectacular season-closer.
Background:
Team Jebsen is backed by the Jebsen Group. Established in 1895 in Hong Kong, the Group has since expanded its activities into a comprehensive business network throughout China, Taiwan and South Korea. Today, the Jebsen Group is structured around four strategic business units targeting the consumer, industrial, beverage and luxury sectors. 
Jebsen is a name synonymous with Porsche in the region, having first brought the marque to Hong Kong in 1955.  Since then, the Jebsen Group has become the largest and longest-established Porsche dealer group in Asia.  In addition to Porsche Centre Hong Kong, the group operates Porsche Centres in Macau, Beijing, Shanghai, Hangzhou, Guangzhou and Shenzhen.
Ends.
March 5, 2010
Issued on behalf of Team Jebsen by PR Plus Limited.  For further information, please contact Marco Tsang on marco@prplus.com.hk or call +852 2575 6995.
3/10/2010