Porsche Carrera Cup Asia Zhuhai International Circuit, June 18 - 20, 2010 Results – Round 5
Lee Back in the Game with Zhuhai Victory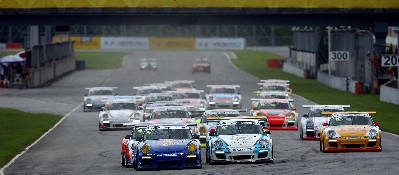 Red Bull Racing's Marchy Lee took his first Porsche Carrera Cup Asia victory of the season, with a convincing win at the 4.3km Zhuhai International Circuit today.  The Hong Kong driver crossed the line with an impressive margin of 5.467 seconds over second placed Keita Sawa of Japan, guest driver for the LKM Racing Team.
 
Third overall and winner in Class B was Team PCS Racing's Mok Weng Sun, who continued his extraordinary run of victories, but also became the first non-professional racer in the series' history to take an overall podium finish.
 
Second in Class B was Pauian Archiland Team's Jeffrey Lee, who managed to get by Francis Tjia of OpenRoad Racing on the final lap having mercilessly piled on the pressure for the entire race.
 
In the eventful 12-lap race, pole-sitter Rodolfo Avila of Team Jebsen, reigning champion and current points leader Christian Menzel of Team StarChase, and Mok's
team mate Craig Baird of New Zealand, all failed to finish after a dramatic incident on only the second lap.
 
However, victory was sweet for Lee:  "That was the best start in a Porsche I have ever had.  I knew we had the speed this weekend, and my fastest lap was quicker
than the best qualifying time.  For Father's Day, I've given myself a good trophy, and this is also good for my points position.  I'm back in the game!"
 
Making his second Porsche Carrera Cup Asia appearance this season as a guest driver, Sawa is on the hunt for more opportunities to compete with the series, so a good showing was crucial.  With only limited time in the new Porsche 911 GT3 Cup car, the Japanese ace is on a steep learning curve:  "Up until qualifying yesterday, it wasn't so good for me, but we have some experience of the car from the Beijing
races.  I changed the setup for today and it was better, but it's still not 100% there.  In the race I was lucky!"
 
For Mok, it was five Class B victories in a row.  While he was keen to point out that the level of competition in the category is increasing race-by-race, he couldn't hide
his joy at making Porsche Carrera Cup Asia history:  "After the incident (with Avila, Baird and Menzel) I had an enormous smile on my face – I am absolutely delighted!  I got a good start and was able to keep up with the professional racers for a while.  But (Class B) certainly isn't a cake walk.  Jeffrey Lee was only a few 100ths from me in qualifying, both here and in Beijing, so it's getting closer.  I'm making no predictions for the next race, but the key will be a good start again."
 
Francis Tjia stole the march on Jeffrey Lee off the grid, when the latter suffered clutch problems, but he then set about trying to rattle his rival.  He reclaimed his
position before the flag, but admitted the next race was going to be tough:  "With Weng in front of me and Francis behind, the next race is going to be very hard!"
 
Tjia, however, had his own predictions for Round 6:  "It's going to be mayhem with all those (Class A) guys starting from the back, but they're not getting by me!"
 
As the lights went out, Lee was off the grid like a bullet, getting by Avila and immediately pulling away from the chasing pack.  In what was a disastrous start for the Macau racer, first Baird and then Menzel got by, relegating him to fourth.
 
Avila fought back though, but as he tried to take Menzel on the inside, he braked too late, made contact with Baird, spun and collected Menzel.  The trio ended their
race in the gravel.
 
Avila, the youngest driver in the field at just 23, was quick to hold up his hands and admit his error:  "I made a mistake, a stupid move.  I was trying to pass Christian and I think we both braked a little too late, but I braked even later and I couldn't make it.  I have to apologize to both Christian and Craig because not only did I ruin
my own race, but I ruined theirs as well. I think I was too eager and I shouldn't have tried to make a move when I did.  It was a mistake and one that I hope to never repeat again."
 
Sawa kept clear of the mayhem, but the gap to Lee was such that he wasn't able to challenge for the win.
 
Mok, meanwhile, had a good start and was right up with the front runners in the early stages.  Behind him, the duel between Francis Tjia and Jeffrey Lee was keeping the crowds on their feet.  The excitement grew when Team Kangshun's Ringo Chong appeared in their mirrors, having got by Modena Motorsports' Wayne
Shen.
 
Tjia held his nerve almost until the chequered flag with no let up from Lee, who saw his chance in on the final lap, making a successful move to claim 2nd in the category and fourth overall.
 

6/21/2010