Porsche Carrera Cup Asia Beijing Goldenport International Circuit, May 22-23, 2010 Results - Round 3
Menzel Wins Dramatic, Shortened Race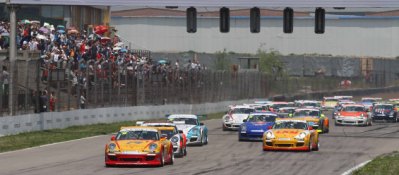 Reigning Porsche Carrera Cup Asia champion Christian Menzel of Team StarChase won a dramatic, shortened Round 3 at the Beijing Goldenport International Circuit today, extending his lead in the 2010 championship standings.
 
Second was Team PCS Racing's Craig Baird, with Red Bull Racing's Marchy Lee in third.  After the race, Lee was handed a three-place grid penalty for the start of Round 4 for a controversial move on Team Jebsen's Rodolfo Avila.  However, Lee appealed the decision and was permitted to take the start from his original grid position pending the results of his protest.
 
In Class B, Baird's team mate and category points leader Mok Weng Sun took victory, with series newcomer, Frenchman Jean Marc Merlin, second. OpenRoad Racing's Francis Tjia of Hong Kong was third, having started from 10th on the grid after an off in qualifying.
 
The results were declared after 14 of the scheduled 25 laps, after Jacky Yeung crashed heavily, damaging a tyre barrier.  The results were called under the elapsed time regulation, 30 minutes after the start of the race, which was also interrupted with a Safety Car period on lap six after Marcel Tjia of OpenRoad Racing spun off.
 
Said Menzel, who appears unstoppable in his quest for a second title: "The race was what I expected!  For the first two or three laps I had less grip, but my tyre pressure was set for long distance.  After four or five laps, the car was getting better and better.  That's 20 points, so I'm now 14 points in front of Craig.  This is my strategy – points, points, points!"
 
Baird, who didn't get a good start off the line, nor at the re-start, agreed with Menzel's take on the race, saying:  "Everything we said would happen happened. It's a bit disappointing but it's points."
 
Mok was thrilled with his win, and was on a charge to the professionals ahead: I had a very good start, and had the right launch before Turn 1.  Wayne (Shen) was struggling at the start and I managed to get past.  I tried to catch the Class A guys, but they were too fast!"
 
Menzel got away well from pole position, holding the lead out of turn one with Baird giving chase.  Japan's Keita Sawa, driving for LKM Racing Team this weekend, held on to third.  Behind the trio, a battle was fast developing between Macau's Avila in fourth, and Lee, who had suffered fuel pump problems during Saturday's qualifying.
 
In Class B, a similarly epic struggle ensued between arch rivals Mok Weng Sun of Team PCS Racing and Team Kangshun's Ringo Chong, who had both got by category pole-sitter Wayne Shen of Modena Motorsports on the opening lap. 
 
The Safety Car period closed up the field, and Menzel's hard-earned advantage evaporated.  However, Chong controversially overtook Mok and, despite handing back the position almost immediately, was subsequently excluded by race officials for ignoring a drive-through penalty.
 
The race resumed at the start of Lap 9, and once again Baird didn't get his best start.  Behind Sawa in third, Lee made his move on Avila, getting by but making contact with the Team Jebsen driver at Turn 6. 
 
Lap 12 saw Sawa drop down the field with a fuel pump problem, with both Lee and Avila getting by initially, then falling down the order, unable to find a solution to the glitch. 
 
With Chong black flagged, Merlin inherited second place in Class B after a superb drive, with Francis Tjia of OpenRoad Racing in third.
 
Lap 16 saw Yeung crash heavily into the tyre barrier, and the race was red-flagged.  The driver was unhurt. After and inspection of the damaged barrier, race officials deemed it unsafe to continue without repairs, and the results were declared under the elapsed time regulation.
 
Menzel's victory gives him pole position for Round 4, with Baird once again lining up alongside. 
 
Supporting the Porsche Carrera Cup Asia are two of the most recognised names in international motorsport, Mobil1 and Michelin. Mobil and Porsche have been partners since 1996. Close co-operation in research and development has led to every new Porsche engine being filled with Mobil1 high-performance lubricant.  Porsche Carrera Cup Asia drivers also have the advantage of racing on cutting-edge tyres supplied by series partner Michelin. The consistent performance and leading technology of Michelin tyres constantly improve the performance of many teams in international motorsport.  The partnership between Michelin and the Porsche Carrera Cup Asia has emerged from a worldwide agreement signed between Porsche AG and the Michelin group.
 
The Porsche Carrera Cup Asia is organised and promoted by Malaysian based Motorsport Asia Ltd.
5/23/2010