Porsche Carrera Cup Asia Beijing Goldenport International Circuit, May 22-23, 2010 Results - Round 4Menzel Celebrates Clean Sweep at Fascination Porsche in Beijing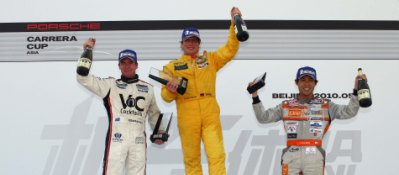 German Christian Menzel celebrated a clean sweep of the points at the Beijing Goldenport International Circuit today with another wheel-perfect, pole-to-flag victory.  The Team StarChase reigning champion has won all four of the Porsche Carrera Cup Asia races so far, giving him a strong lead at the top of the overall standings.
 
Second again was Team PCS Racing's Craig Baird, the New Zealander challenging the German in the early stages, but never able to rattle him into making an error. 
 
However, the 'Man of the Race' award went to Japan's Keita Sawa, a guest driver for LKM Racing Team this weekend. Sawa had been running a strong 3rd in Round 3, before a fuel pump problem dropped him back down the field. Round 4 saw him charge through the field from 13th on the grid to grab the final podium spot from Team Jebsen's Rodolfo Avila.
 
In Class B, points-leader Mok Weng Sun of Team PCS Racing took his second victory of the day with a brilliant run to the flag.  Notching up another second place in his debut season was Jean Marc Merlin of France, while Modena Motorsports' Wayne Shen was another driver on a charge through the field.  The Hong Kong racer had suffered a clutch problem in the first race, so started the second from 16th on the grid to cross the line 8th overall.
 
Menzel's superb performance gives him a 16 point leader over Baird at the top of the overall championship standings, with Mok 3rd and top of the Class B category. Despite an unlucky weekend, Team Jebsen's Rodolfo Avila jumps from joint-9th overall to 4th after Round 4.  In Class B, Mok has a 29 point lead over Jean Marc Merlin, Francis Tjia and Christian Chia, all three series newcomers joint-second.
 
Menzel was fulsome in his praise of rival Baird, and eager to point out that no race in this intensely competitive championship is ever easy:  "I was always on my limit, and compliments to Craig who was always very, very fast.  We changed the set up a little bit, the tyre pressure strategy, and it was very successful. I suspect Craig did the same which is why we were on a similar level."
 
Said Baird:  "I had a better start than in the first race, but still not good enough.  I had a terrible re-start again. My car was probably better than Christian's at the start, but certainly not by the end.  I had Marchy behind me, so I had to be a bit defensive and not make any mistakes."
 
For Sawa, it was a satisfying end to a challenging weekend which saw him race the new Porsche 911 GT3 Cup car for the first time:  "On Friday, I needed to understand the car and the set up.  In qualifying, I had a good time, but still needed more.  I was confident of a podium in the first race, but had a problem.  After the re-start in race two, I passed Rodolfo on the exit of Turn 3 when he made a mistake.  I thought I was 4th as I didn't know about Marchy's penalty, so I'm really happy to be on the podium!"
 
For Mok, like all the drivers, it was a tough race:  "It's hot!" he exclaimed.  "I had to defend my position.  Jean Marc was close to me in the first few laps, and it took a while to build a gap.  The safety car equalised the field, but it was Philip Ma behind me at the restart.  It has been a perfect weekend, and I am looking forward to Zhuhai."
 
Shen's result was all the more impressive in that he was driving with the same mechanical problem as in the earlier race:  "I had a clutch problem which is why I spun this morning.  We had no time to change it, so I had to drive around the problem.  The car's handling was good, so I was able to pass a few drivers.  I did touch Yuey Tan when I passed him, and I apologised!"
 
Menzel made a good start from pole, but this time Baird's was better than in the earlier race, and the crowds were on their feet as the pair hurtled into Turn 1. However, Menzel was resolute, and set about building up a margin at the front. 
 
The drama was again unfurling behind the leading pair, with Red Bull Racing's Marchy Lee deemed by race officials to have made a false start.  He was handed a drive-through penalty and, after failing to pit as instructed, was excluded from the race results.
 
Sawa meanwhile was on his charge and up to 5th behind Avila by the end of lap 6.  Seven laps later, as the front-runners began to close in on the back of the field, a spin by Pauian Archiland Team's Jeffrey Lee brought out the Safety Car. 
 
Once again, Menzel's margin - which had been more than 1.7 seconds by the end of lap 12 - disappeared as the field was closed up.  But Baird didn't get away well again at the re-start on lap 20, and Menzel headed off to the chequered flag and his fourth series victory of 2010.
 
Behind the two leaders, Lee was still circulating in third, but Avila made an error just four laps from the flag which saw Sawa dive past and deprive him of a third place finish.
 
Jacky Yeung was not able to take the start after damage sustained in a heavy crash in Round 3.
 
The Porsche Carrera Cup Asia is back in action again next month, this time at the Pan Delta Super Racing Festival on June 18-20.
 
Supporting the Porsche Carrera Cup Asia are two of the most recognised names in international motorsport, Mobil1 and Michelin. Mobil and Porsche have been partners since 1996. Close co-operation in research and development has led to every new Porsche engine being filled with Mobil1 high-performance lubricant.  Porsche Carrera Cup Asia drivers also have the advantage of racing on cutting-edge tyres supplied by series partner Michelin. The consistent performance and leading technology of Michelin tyres constantly improve the performance of many teams in international motorsport. 

The partnership between Michelin and the Porsche Carrera Cup Asia has emerged from a worldwide agreement signed between Porsche AG and the Michelin group.
 
The Porsche Carrera Cup Asia is organised and promoted by Malaysian based Motorsport Asia Ltd.
5/24/2010