Porsche Carrera Cup Asia Marina Bay Circuit, September 24-26, 2010 – Rounds 7 & 8
Team Jebsen Blazes Trail to Singapore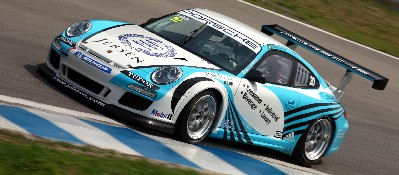 As the Porsche Carrera Cup Asia's most successful team, the full might of Team Jebsen's unrivalled expertise will be harnessed as they take on the challenging Marina Bay street circuit for Rounds 7 and 8, in support of the Formula 1 SingTel Singapore Grand Prix.
With talented young driver Rodolfo Avila of Macau at the wheel of the awesome Porsche 911 GT3 Cup racing steed, Team Jebsen will be on the hunt for victory in the Lion City in the first rounds of this season to be held outside China. 
The 5.1km Singapore track, host to Formula 1's only night race, presents a number of unique challenges for the 23-strong Porsche Carrera Cup Asia field. In 2008, Team Jebsen became the first Porsche team ever to take a victory on the Marina Bay Circuit, and Avila's experience on his 'home' track in Macau - the unforgiving Guia street circuit - will serve the 23-year-old well.
"The Marina Bay Circuit, like Macau's Guia, demands a great deal of respect. Due to their very nature, street circuits are notoriously unforgiving, so you pay a heavy price for the slightest error. You simply don't have the luxury of wide run-off areas. Mentally and physically you have to be 100% if you're going to find that crucial fraction of a second, particularly in qualifying," says Avila.
"The Marina Bay Circuit is very quick, with a lot of fast corners with high minimum speeds. A unique feature has to be the first turn, a rapid left leading to a really quick right turn, requiring the driver to carry a lot of speed in, while cornering and braking at the same time."
Making his debut with the team this season, Avila has so far competed at three of Team Jebsen's 'home' circuits: In Shanghai, in support of the Formula 1 Chinese Grand Prix; at the Fascination Porsche extravaganza at Beijing's Goldenport Circuit; and at the Pearl River Delta's Zhuhai International Circuit. 
With seven Porsche Centres spanning China, Team Jebsen has enjoyed strong home support on each occasion as it showcases its talented new driver.  
Building on recent momentum, Avila believes the team is now poised to take their first victory together: "We definitely have the pace to win, and we're working together as a team really well. Team Jebsen have won in Singapore before, and it would mean a tremendous amount to me to give them a second victory there."
With a record field of top sportscar specialists from across Asia Pacific and Europe, all racing identical Porsche 911 GT3 Cup cars, success in the ultra-competitive championship is down to team know-how and driver skill. The Jebsen Group's more than half a century of Porsche expertise and experience has translated into China's most successful Porsche dealer team ever.
Rounds 7 and 8 of the Porsche Carrera Cup Asia will take place as part of the Formula 1 Singapore Grand Prix at the Marina Bay Circuit from September 24 to 26.
Background:
Team Jebsen is backed by the Jebsen Group. Established in 1895 in Hong Kong, the Group has since expanded its activities into a comprehensive business network throughout China, Taiwan and South Korea. Today, the Jebsen Group is structured around four strategic business units targeting the consumer, industrial, beverage and luxury sectors.

Jebsen is a name synonymous with Porsche in the region, having first brought the marque to Hong Kong in 1955. Since then, the Jebsen Group has become the largest and longest-established Porsche dealer group in Asia. In addition to Porsche Centre Hong Kong, the group operates Porsche Centres in Macau, Beijing, Shanghai, Hangzhou, Guangzhou and Shenzhen.
9/14/2010