Team Jebsen Porsche Carrera Cup Asia – Rounds 5 & 6 Zhuhai International Circuit June 18-20, Preview
Team Jebsen Vow to Continue Championship Ascent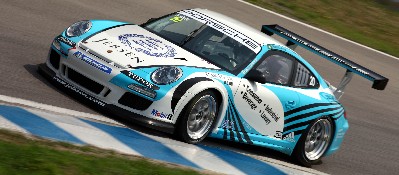 Having vaulted five places up the Porsche Carrera Cup Asia Championship standings in Beijing last month after a strong performance, Team Jebsen have vowed to continue their ascent of the leaderboard as they head the Zhuhai International Circuit this weekend for Rounds 5 and 6.
 
As the 2010 season approaches its halfway point, Team Jebsen and exciting young driver Rodolfo Avila of Macau will be wasting no time building the momentum gained in Beijing, and capitalising on their knowledge of the 4.3km Pan Delta Region race track.
 
Avila, 23, earned his first-ever Porsche Carrera Cup Asia victory in Zhuhai a year ago, and will be going all out to ensure history repeats itself.  The Macau driver is based at the track as an instructor, and first raced there in 2003 during his single seater career.  
 
Amongst an evenly-matched international field of top-flight sportscar specialists, all racing identical, race-ready Porsche 911 GT3 Cup cars, finding that crucial hundredth of a second on the track is critical, and dependent as much on track knowledge as driver skill.
 
"It's definitely a circuit I know very well," says Avila. "First of all, technically it's not a difficult circuit. The biggest factor is braking as late as possible into the corners, and coming out as fast as possible to take maximum advantage of the straights. And because I have raced a lot at Zhuhai, I know precisely how we need to set up the car to take full advantage of our circuit knowledge."
 
As well as being a familiar testing ground, the next meeting at Zhuhai also provides an opportunity for the legions of Team Jebsen fans, as well as Avila's friends and family from neighbouring Macau, to come watch the action.  It is also very much a 'home' race for Jebsen, which has Porsche Centres in nearby Guangzhou, Shenzhen, Macau and Hong Kong.
 
Avila believes Team Jebsen is now firmly on an upward trajectory after a challenging start to the season: "For the opening rounds in Shanghai we had a little bit of a tough time, but in Beijing the lap times started to get faster, and I think in Zhuhai we can go quicker still," he says.
 
And, as the pressure mounts on the new addition to the winningest Porsche dealer team in history, Avila believes he will only benefit:  "We are definitely pushing harder and harder every time out.  I have put myself under some more pressure because not only do I want to do well, but I tend to perform better under pressure. So we are raising the level and I hope we will have some luck, and be able to make use of our knowledge advantage in Zhuhai."
 
Rounds 5&6 of the Porsche Carrera Cup Asia will take place as part of the Pan Delta Racing Festival at the Zhuhai International Circuit.
 
Background:
 
Team Jebsen is backed by the Jebsen Group. Established in 1895 in Hong Kong, the Group has since expanded its activities into a comprehensive business network throughout China, Taiwan and South Korea. Today, the Jebsen Group is structured around four strategic business units targeting the consumer, industrial, beverage and luxury sectors.  
 
Jebsen is a name synonymous with Porsche in the region, having first brought the marque to Hong Kong in 1955. Since then, the Jebsen Group has become the largest and longest-established Porsche dealer group in Asia. In addition to Porsche Centre Hong Kong, the group operates Porsche Centres in Macau, Beijing, Shanghai, Hangzhou, Guangzhou and Shenzhen.
6/18/2010