Porsche Carrera Cup Asia Beijing Goldenport International Circuit, May 22-23 Qualifying – Round 3Menzel Mastery Continues at Beijing Fascination Porsche Weekend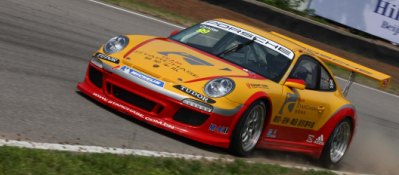 Current Porsche Carrera Cup Asia points leader and reigning champion, Christian Menzel of Team StarChase, continued his masterful run by taking pole position for Round 3 at Beijing's Goldenport International Circuit today.
 
Second fastest overall in qualifying for the first of two 25-lap races tomorrow was Team PCS Racing's Craig Baird, the New Zealander just 0.128 of a second off the German's best time.  Baird, third on the leaderboard after two rounds, is new to the Beijing track but has quickly got to grips with its intensely unforgiving nature.
 
Third quickest was guest driver Keita Sawa of Japan in the LKM Racing Team Porsche 911 GT3 Cup.  Sawa is making a welcome return to the series for the next two meetings and, despite having had some experience testing the new car in Japan, tomorrow will be the first time he has raced it.
 
Lining up alongside Sawa on the second row of the grid will be Team Jebsen's Rodolfo Avila of Macau, the youngest driver in the field. 
 
In Class B, for non-professional racers, it was series newcomer Wayne Shen of Modena Motorsports who took pole ahead of category points leader and Baird's Team PCS Racing team mate, Mok Weng Sun.  Third fastest on track was Pauian Archiland Team's Jeffrey Lee, however he was penalised ten grid positions by race officials following the session for overtaking under a red flag.  That gave Team Kangshun's Ringo Chong third in Class B.
 
Said Menzel after the session: "We learned a lot in free practice.  The car the team has given me gives me very good confidence.  The set up is similar to (this track) last year, but the new generation car is more sensitive to tyres.  But we have very good understanding of tyre wear and air pressure, which is why we are so competitive."
 
A spin in Friday's practice, where he lost valuable track time, didn't appear to have been a setback for Baird, who had struggled with set up in Shanghai last month:  "We went back to basics here, and the car is good.  I spun and wrecked four tyres in the second practice session, so we didn't get many laps in yesterday."
 
Sawa, meanwhile, took time to run in a new set of brake pads before leapfrogging to the top end of the timing sheet:  "I had to bed the new brake pads in and used old tyres to do that.  After that, I was waiting for good timing.  I have two sets of new tyres for this weekend, so concentrated on the best time to use them.  My target was to lap in under one minute and six seconds, and I saw that on the dash after my attack lap, so I thought I needed more.  On the next lap I tried, but the tyres were gone. I know this track, so know the start is very important.  I really appreciate LKM Racing letting me race this time and in the next event, and to my personal sponsor in Japan, so I am determined to fight at the front!"
 
Class B's Shen, joint-fifth in the category standings with Wimobilize McElrea Racing's Yuey Tan, was thrilled to have taken his first Porsche Carrera Cup Asia pole:  "It's really nice, and it's a surprise!  I didn't do well yesterday (in practice) but I guess I did OK today.  During the red flag stoppage, I pitted to change tyres and adjust the set up. When I went back out on track, the tyres came good and my lap was error-free.  Tomorrow my strategy is to keep it in one piece, so I'll be driving a little defensively.  Because the track is tight, there are some things you don't do here which you would if you were on a wider circuit."
 
The record, 23-strong field was separated into two groups for qualifying on the tight 2.39km track in China's capital city, but as the drivers sought to find the limits, the first session was red flagged when Canadian Francis Tjia of OpenRoad Racing spun off and into the gravel. The second session was stopped twice, the first time after Kenneth Lau of Dynaten Motorsports went into the gravel, and then again when Marcel Tjia of OpenRoad Racing did the same.
 
While the track is both physically and mentally challenging, several of the drivers enjoyed the contrast to Shanghai's Formula 1 circuit where the opening rounds were held.  Said pole-sitter Menzel:  "I like this circuit.  It is very bumpy, there are gravel traps, walls….  It is what I miss on modern F1 tracks.  This is like one of the very good old British racing circuits."
 
Baird agreed, saying it was probably the sort of track he is more used to but, like several drivers, believes the starts will be critical and that backmarkers might be an issue during the races.  He also believes it's a case of 'waiting and see' as to whether pole position is an advantage or disadvantage on this particular layout: "Whoever is leading (when coming up to backmarkers) could be very concerned, and it could be an advantage to whoever is second.  I believe the race will be won and lost on a) the start, and b) backmarkers.  I've never started here, so I don't know if pole position or second on the grid is better – there are pros and cons.  I'll tell you tomorrow night!"
 
Supporting the Porsche Carrera Cup Asia are two of the most recognised names in international motorsport, Mobil1 and Michelin. Mobil and Porsche have been partners since 1996. Close co-operation in research and development has led to every new Porsche engine being filled with Mobil1 high-performance lubricant.  Porsche Carrera Cup Asia drivers also have the advantage of racing on cutting-edge tyres supplied by series partner Michelin. The consistent performance and leading technology of Michelin tyres constantly improve the performance of many teams in international motorsport.  The partnership between Michelin and the Porsche Carrera Cup Asia has emerged from a worldwide agreement signed between Porsche AG and the Michelin group.
 
The Porsche Carrera Cup Asia is organised and promoted by Malaysian based Motorsport Asia Ltd.
5/22/2010