Jebsen Vows to Bounce Back after Challenging Start
Team Jebsen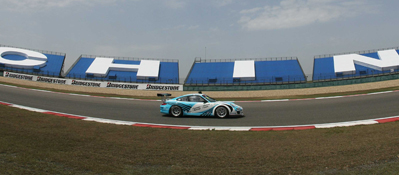 After a challenging start to their 2010 Porsche Carrera Cup Asia campaign at the Formula 1 Chinese Grand Prix in Shanghai this weekend, two-time champions Team Jebsen have vowed to bounce back when the series moves to Beijing next month.

Saturday's qualifying session saw Team Jebsen driver Rodolfo Avila of Macau start fifth for the first round of the 2010 season, recording a lap of 2:09.275, and showing promise for strong first race.

For the opening race, Avila had a strong fifth-place finish, with the 23-year old still adjusting to the new Porsche 911 GT3 Cup car.

However, in Sunday's second race, the team's hopes were dashed right from the outset when Avila discovered a clutch problem at the start. The problem became progressively worse during the first lap.

"I tried to fight back and thought maybe it would get better, but when I realized it wouldn't, I decided to come back in and not risk any further damage to the car," Avila said. "It's a shame to have lost a lot of points this weekend, but Team Jebsen will be back in the next races and the whole team is hungry for a win."

With the first two rounds completed, Team Jebsen lies in the top-10 out of the record field of 23 cars.

"I think this was probably a weekend to forget," Avila said. "But I am determined to do better. I want to win races, I want to be on the podium. I don't like seeing other drivers on the podium when I'm not there."

Rounds 3 and 4 of the Porsche Carrera Cup Asia will be held at Beijing's Goldenport Circuit on May 21-23.

Background:
Team Jebsen is backed by the Jebsen Group. Established in 1895 in Hong Kong, the Group has since expanded its activities into a comprehensive business network throughout China, Taiwan and South Korea. Today, the Jebsen Group is structured around four strategic business units targeting the consumer, industrial, beverage and luxury sectors.

Jebsen is a name synonymous with Porsche in the region, having first brought the marque to Hong Kong in 1955. Since then, the Jebsen Group has become the largest and longest-established Porsche dealer group in Asia. In addition to Porsche Centre Hong Kong, the group operates Porsche Centres in Macau, Beijing, Shanghai, Hangzhou, Guangzhou and Shenzhen.
4/18/2010