Porsche 911 Turbo (type 997)
In June 2006, the 997-generation 911 Turbo came onto the market. Thanks to extra power from two exhaust turbochargers, the new Turbo 911 initially had an output of 353 kW (480 PS). The engine was the first series petrol engine to have turbochargers with variable turbine geometry (VTG) that were developed in cooperation with BorgWarner. The inlet-side guide vanes in the turbocharger could be adjusted dynamically.
From 2007, the Turbo Cabriolet was available, featuring a three-layer fabric top that opened or closed within just 20 seconds.
After the facelift for model year 2010, the Turbo, with its newly developed engine, delivered 368 kW (500 PS), and the 911 Turbo S from the same model year even had 390 kW (530 PS) and a Porsche Doppelkupplung (PDK) as standard.
Model overview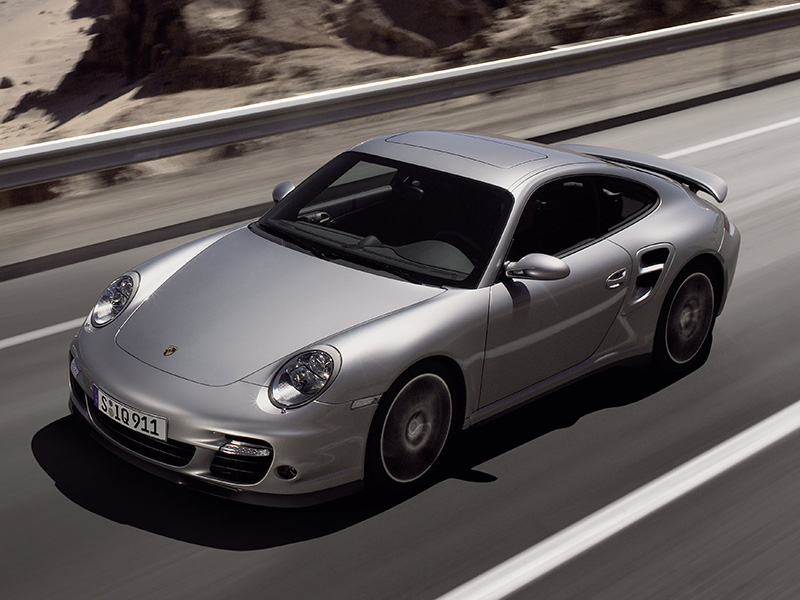 911 Turbo Coupé (2006-2009), 911 Turbo Cabriolet (2007-2009)
Reshaped front section with three cooling air outlets // LED indicators and round side fog lights // Bi-xenon headlights as standard // Bonnet and doors made of aluminium; doors together weigh 14 kg less than steel 911 doors // Reshaped side air intakes // Rear wings 22 mm wider overall than on the 996 Turbo // Rear lid made of carbon fibre-reinforced plastic // Permanent all-wheel drive // Rear spoiler extends by 35 mm from 120 km/h (Cabriolet: 65 mm) and retracts again from 60 km/h // Underbody fully clad for optimal aerodynamics // Manual 6-speed manual transmission or Tiptronic S automatic torque converter transmission (up to MY 2008) // 19-inch forged wheels // Sport Chrono Package Turbo at extra cost // Cabriolet and Coupé have the same top speed, although the Cabriolet is 70 kg heavier
911 Turbo Coupé, 911 Turbo Cabriolet (2010-2012)
Optional Porsche Doppelkupplung (PDK) allows shifting without interrupting drive power and replaces Tiptronic S // Permanent all-wheel drive // Red 4-piston fixed monobloc aluminium callipers (standard); Porsche Ceramic Composite Brake (PCCB) with Yellow fixed callipers as a Sonderwunsch (special request) (optional) // New engines with direct fuel injection and 20 PS more power from MY 2008 // Turbo rims with central lock // Porsche Communication Management (PCM)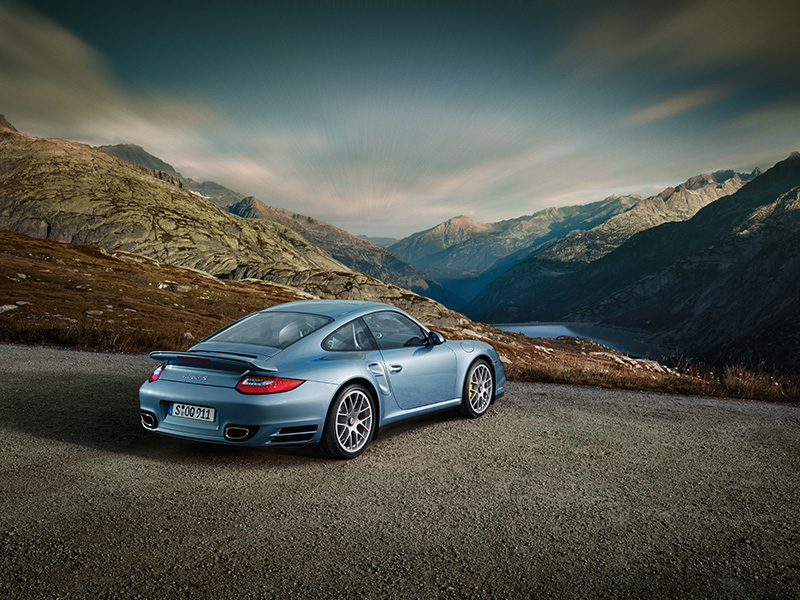 911 Turbo S Coupé, 911 Turbo S Cabriolet (2011-2012)
7-speed Porsche Doppelkupplung (PDK) as standard // PCCB ceramic brakes with Yellow brake callipers as standard // 390 kW (530 PS) and a top speed of 315 km/h // Sport Chrono Package Turbo as standard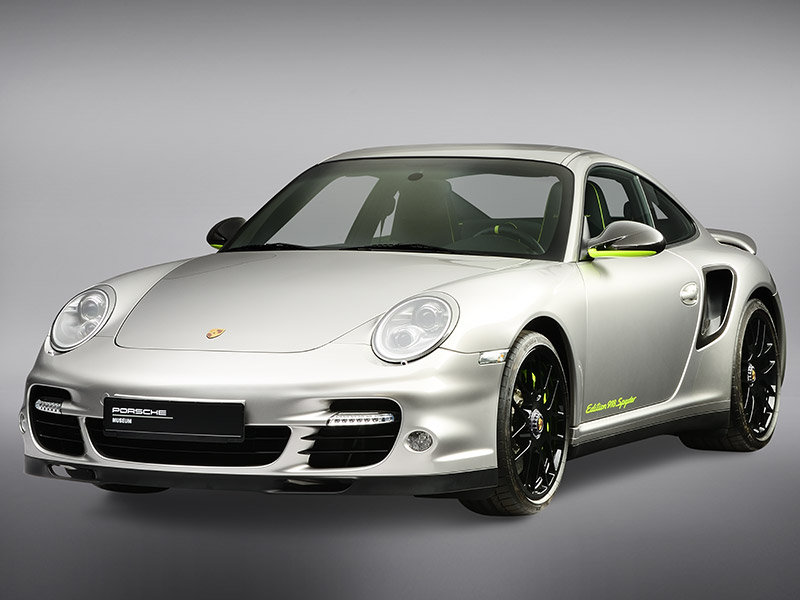 911 Turbo S Edition 918 Spyder (2011)
Available as Coupé and Cabriolet // Limited-edition series of 918 units for buyers of a 918 Spyder // Interior and exterior trim elements in Acid Green // Brake callipers in Acid Green // Carbon applications // "S" in the Turbo S logo in Acid Green