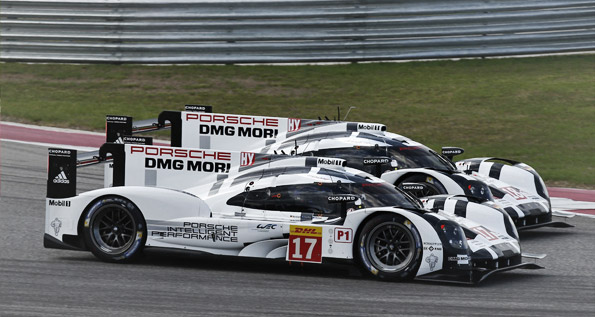 Summary
Porsche 919 Hybrid, Porsche Team
FIA World Endurance Championship, Porsche wins in World Endurance Championship WEC, Summary
String of Successes Continues in Texas
Stuttgart. The Porsche 919 Hybrid keeps leaving its mark on the world's race tracks. After one-two results at the Le Mans 24 Hours and the Nürburgring, the ground breaking hybrid race car also won in Austin (USA) on Saturday. The German brand also secured the class victory with the production-based GT sports car, the Porsche 911 RSR. The fifth round of this year's FIA World Endurance Championship (WEC) in the Texan capital was held in temperatures as high as 35° Celsius. The WEC is considered one of the the most important World Championships besides Formula One.
Porsche hybrid technology is heading towards the world championship title
With its victory at the fifth of eight championship rounds, Porsche has now won its third race in succession with the innovative Porsche 919 Hybrid. The prototype race car generates up to 1,000 horsepower from fuel and electricity. The victorious car on Saturday was driven by Timo Bernhard (DE), Brendon Hartley (NZ) and Mark Webber (AU). The race lasted six hours, and three drivers took turns at the wheel.

Porsche returned to the championship's top category in 2014 when the WEC adopted innovative Technical Regulations that encourage competition between pioneering technologies. Prototypes such as the Porsche 919 Hybrid don't have to be based on existing road cars, which is why the 919 acts as a running research laboratory for future technology. Porsche is currently leading the World Championship ahead of Audi and Toyota, and this year has also won the most important long distance race – the Le Mans 24 Hours.
From Racetrack into Series Production
In Austin the Porsche Team also celebrated victory in the category for the production-based GT race cars. The category sees fierce competition between well-known sports car brands such as Aston Martin, Ferrari and Porsche. Richard Lietz (AT) and team mate Michael Christensen (DK) took victory in the Porsche 911 RSR. The Porsche 911 RSR is the current competition version of the iconic 911 production sports car. Its chassis is built in Stuttgart-Zuffenhausen, just as every Porsche 911 is. The 911 is not only the world's best-selling ever sports car, but also the most successful on race tracks around the world. Porsche has always been committed to technology transfer from the race track into series production, and vice versa. Therefore, all information that is gained in developing and racing the 911 RSR will also be used in the design of future generations of the 911. Examples that have already been successfully introduced are lightweight construction and aerodynamics, both of which contribute to the car's energy efficiency. Last year the 911 RSR won the United States' three most prestigious long distance races: the Daytona 24 Hours, the Sebring 12 Hours and Petit Le Mans.

Detailed reports including quotes are to follow.

Results and standings available at: http://www.fiawec.com/courses/classification.html


All reports on the previous season can be found in our archive.