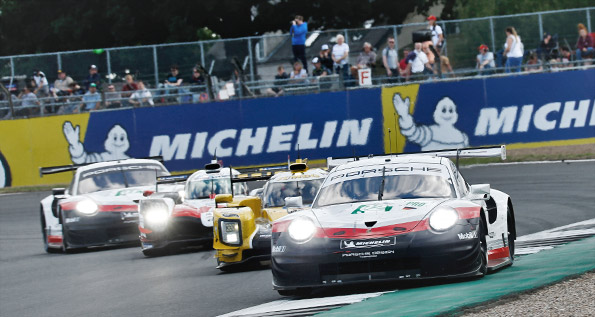 Race report
Porsche 911 RSR, Porsche GT Team
FIA World Endurance Championship, Round 3 in Silverstone/Great Britain, Race report
Podium for Porsche at Silverstone – victory in the GTE-Am class
Stuttgart. In a turbulent round three of the FIA World Sports Car Championship WEC at Silverstone in Great Britain, Kévin Estre from France and Michael Christensen from Denmark finished on third place at the wheel of the 510 hp Porsche 911 RSR with the number 92. The No. 91 sister car driven by Austria's Richard Lietz and Gianmaria Bruni from Italy initially scored second, however was subsequently disqualified due to an irregularity in the ride height. Witnessed by 60,240 spectators, ten vehicles from five manufacturers fought for victory in the GTE-Pro class this weekend. Four additional Porsche 911 RSR race cars tackled the GTE-Am class in the UK. Victory went to Dempsey Proton Racing with Porsche Young Professional Matt Campbell (AUS), Christian Ried (Germany) and Porsche Junior Julien Andlauer (F). Porsche continues to lead the manufacturers' classification in the GTE-Pro class as well as the drivers' classification of both the GTE-Pro and GTE-Am classes in the WEC.

Under partly cloudy skies and with a temperature of 23-degrees Celsius, British spectators were treated to a gripping race with many changes at the front of the field. Estre and Christensen drove a spirited race. Estre made an inspired start in the No. 92 Porsche 911 RSR. The Frenchman got away well off the line and made the most of a collision amongst the front pack of the 34-strong field to sweep to the front of the GTE-Pro class. When his teammate, Christensen, experienced tyre problems in the second stint, they fell back to position six, however, thanks to a good pit stop strategy, the pair worked their way back up to the front and at times held the lead. Towards the end of the race, however, they had to let vehicles pass. The two Le Mans winners continue to lead the drivers' classification of the WEC.

The GTE-Am category also treated fans to some enthralling race action. Heading into the race from P2, the Dempsey Proton Racing squad with Porsche Young Professional Campbell, Ried and Porsche Junior Andlauer crossed the finish line first after 168 laps. Starting from pole position, the Project 1 team with Porsche works driver Jörg Bergmeister (Germany), Patrick Lindsey (USA) and Egidio Perfetti (N) led the field over two-thirds of the race. A stop-and-go penalty as a result of a pit stop error relegated the team back to position five, however the trio manoeuvred their way up the field to third place and celebrated their first podium result in the WEC. Michael Wainwright (GB), Ben Barker (GB) and Alex Davison (AUS) achieved sixth place for the Gulf Racing customer team. Gianluca and Giorgio Roda (I) as well as Porsche Young Professional Matteo Cairoli (I) brought the second Porsche 911 RSR fielded by Dempsey Proton Racing home in eighth.

Round four of the FIA World Sports Car Championship WEC is contested on 14 October in Fuji (Japan).


Comments on the race
Pascal Zurlinden (Director GT Factory Motorsport): "Unfortunately we were informed after the race that an irregularity was detected in the ride height. That threw our number 91 car out of the classification and advanced the number 92 car to third place. We're still leading the manufacturers' and drivers' classifications. Now we need to focus on the next tasks."

Kévin Estre (Porsche 911 RSR #92): "Our race started well and I moved into first place after the start and built up a comfortable lead. Unfortunately, Michael was hampered by tyre problems during his stint. We had to call him in earlier than planned and change our strategy. This enabled the Ferrari to overtake us in the pits. At the end, our tyres weren't fresh enough to attack again. Still, I'm satisfied with our result."

Michael Christensen (Porsche 911 RSR #92): "This race was really exhausting and long. Kévin did a great job at the start. Unfortunately I then had bad luck with the tyres and lost positions and we never managed to really catch up again, even if at times the situation looked promising."

Matt Campbell (Porsche 911 RSR #77): "I'm absolutely thrilled to have won again. After the first half of the race we thought we couldn't do much better. But the fact that the number 56 and 90 cars were then handed a time penalty due to pitting under yellow put us back into contention. This was anything but an easy race, but our car was fast and we made the right strategic decisions."

Julien Andlauer (Porsche 911 RSR #77): "In my first stint I didn't do such a great job – I stressed the tyres a little too much while pursuing the leader. After talking with the engineers my second stint went much better. We definitely had luck on our side when the penalty was handed to our rivals. Still, we were in the right place when it mattered. In the end we performed strongly as a team and can be proud."

Jörg Bergmeister (Porsche 911 RSR #56): "That was a race with a lot of highs and lows. We held the lead over long stretches, but then came into the pits under safety car conditions. Unfortunately we received a 75-second stop-and-go penalty, which threw us down to fifth place. Luckily I managed to work my way up to third place in the last lap – a conciliatory result for us."


Race result
GTE-Pro class
1. Pier Guidi/Calado (I/GB), Ferrari 488 GTE EVO, 172 laps
2. Priaulx/Tincknell (GB/GB), Ford GT, 172 laps
3.. Christensen/Estre (DK/F), Porsche 911 RSR, 172 laps
4. Lynn/Martin (GB/B), Aston Martin Vantage GTE, 171 laps
5. Tomczyk/Catsburg (D/NL), BMW M8 GTE, 171 laps
6. Mücke/Pla (D/F), Ford GT, 170 laps
7. Rigon/Bird (I/GB), Ferrari 488 GTE EVO, 157 laps
8. Sorensen/Thiim (DK/DK), Aston Martin Vantage GTE, 155 laps

GTE-Am class
1. Ried/Andlauer/Campbell (D/F/AUS), Porsche 911 RSR, 168 laps
2. Yoluc/Adam/Eastwood (TR/GB/GB), Aston Martin Vantage GTE, 168 laps
3. Bergmeister/Lindsey/Perfetti (D/USA/N), Porsche 911 RSR, 168 laps
4. Dalla Lana/Lamy/Lauda (CDN/P/A), Aston Martin Vantage GTE, 168 laps
5. Mok/Sawa/Griffin (MAL/J/IRL), Ferrari 488 GTE, 167 laps
6. Wainwright/Barker/Davison (GB/GB/AUS), Porsche 911 RSR, 167 laps
7. Ishikawa/Beretta/Cheever (J/MC/I), Ferrari 488 GTE, 167 laps
8. Roda/Roda/Cairoli (I/I/I), Porsche 911 RSR, 167 laps
9. Flohr/Castellacci/Fisichella (CH/I/I), Ferrari 488 GTE, 158 laps


All reports on the previous season can be found in our archive.