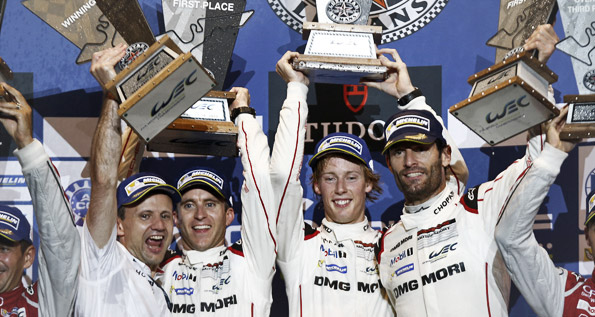 Race report
FIA World Endurance Championship, Round 5, Austin (US), LMP1, Race report
Porsche 919 Hybrid takes another win in Texas
Stuttgart. In Austin (US) the Porsche 919 Hybrid achieved its third win in a row. Drivers Timo Bernhard (DE), Brendon Hartley (NZ) and Mark Webber (AU) won the six-hour race in the Texan capital. It was the fifth of eight rounds of the 2015 FIA World Endurance Championship. The sister car of Romain Dumas (FR), Neel Jani (FR) and Marc Lieb (DE) was leading for a long time, but after a technical problem the car only finished fifth in its class. Austin brought the fourth victory in total for the Porsche 919 Hybrid after its maiden win at Interlagos in 2014 and Le Mans and Nürburgring in 2015. With its success in the heat of the night at the Circuit of the Americas, Porsche extended its lead in the manufacturers' standings in the World Championship with 220 points ahead of Audi (184).

On the 5.513 kilometre long demanding Formula One track Mark Webber (car number 17) had taken the lead from his team mate and pole setter Neel Jani (car number 18) right after the start. The number 17 car stayed in the lead for the first 116 of the 185 race laps until it lost it to the sister car due to a 60 second stop and go penalty. The number 18 car was able to defend the lead until 35 minutes before the chequered flag. A problem with the 12 volt onboard circuit caused a long pit stop. Nevertheless a one-two in qualifying, the fastest race lap (1:47.436 minutes by Brendon Hartley on lap 118) and another win again proved the Porsche 919 Hybrid's potential.

How the race went for car number 17:
Mark Webber starts from P2 and overtakes Neel Jani in turn one. After 28 laps the Australian pits for the first time and hands over the car to Brendon Hartley. After 57 laps Webber takes over again. When he comes in for his second pit stop after 88 laps, he overshoots the spot in the pit lane and needs to be pushed back. Timo Bernhard jumps in for a double stint and continues leading. After 116 laps he has to take a 60 second stop and go penalty and continues in second position behind the sister car. After 119 laps Timo comes in for the regular pit stop and stays in the car. After 148 laps Brendon takes over again. After a final splash and dash on lap 171 he brings the winning car home.

How the race went for car number 18:
Pole setter Neel Jani drops back to second after Mark Webber's attack. After 27 laps he hands over to Marc Lieb, who then gives the car to Romain Dumas after 56 laps. The Frenchman loses some time during a "Full Course Yellow" due to a slow car in front of him. With a gap of half a minute to the leading sister car, Dumas hands over the car to Jani after 86 laps. While the other car takes its stop and go penalty, the Swiss takes the lead. He refuels on lap 118. At the end of lap 148 Dumas jumps in again. After 167 laps the leading car is called into the pits because of an electric problem. It was only able to be sent out on the track again for the final lap of the race.
Quotes after the race
Wolfgang Hatz, Board Member Research and Development: "It was an almost perfect race. Certainly we have lost out on a chance of a one-two today, but we are still happy to have won this race."

Fritz Enzinger, Vice President LMP1: "This was a well deserved race win. For almost the entire distance we were defending a one-two lead. To have the problem with the second car in the final hour is bitter, but we have to cope with it and take it as another new experience for our young team. We will soon travel to Fuji and try to get both Porsches on the podium again to further extend our position in the championship."

Andreas Seidl, Team Principal: "Three race wins in a row is a sensational tally for our young squad. We have mastered the challenges the high temperatures placed on the cars, drivers and the team. The Michelin tyres did an outstanding job at these temperatures here. A big thank you to everybody. The technical problem was a shame for our number 18 guys, but still we managed to extend our lead in the manufacturers' standings. Compared to last year, we clearly made a step forward with our car and were dominating the race here in Austin. This makes us very positive for the races to come."

Drivers Porsche 919 Hybrid number 17
Timo Bernhard (34, Germany): "It was an exciting race. When we had the stop and go penalty in the beginning it looked pretty much as if we would have bad luck today. We had dropped back to second, but in the end we still won the race and earned points for the championship. For a long time it looked like another one-two result for Porsche."

Brendon Hartley (25, New Zealand): "I am over the moon that we have finally won a race. Our 919 was perfect right from the first free practice session here. Mark did a great job in his first stint, we were unlucky with the penalty but the crew was so quick that we were still able to win."

Mark Webber (39, Australia): "I had a super start, got the braking point for turn one perfectly right and passed Neel. Everything went really well except for my second pit stop. In this very wide pit lane I overshot our garage. When it comes to double stints – Timo is the man. Hats off."

Drivers Porsche 919 Hybrid number 18
Romain Dumas (37, France): "Shortly before we had this electronic failure the car was already behaving strangely. We had been trying to fix it by changing settings from the cockpit, but it didn't work."

Neel Jani (31, Switzerland): "Mark's attack after the start was okay. That's racing and it worked out because I allowed it to. In the beginning I had a different tyre compound to him. They were good when I had a clear lap, but difficult in traffic. Driving in the dark wasn't easy. Because of the traffic with the cars you are lapping, you can easily suddenly have a lap time five seconds slower."

Marc Lieb (35, Germany): "We had an electrical problem and don't know yet exactly what it was. We were able to spot it on the telemetry and that's what allowed us to bring the car into the box. We are very disappointed."

Race result 6 hours of Austin (USA):
1. Bernhard/Hartley/Webber (DE/NZ/AU), Porsche 919 Hybrid, 185 laps
2. Fässler/Lotterer/Tréluyer (CH/DE/FR), Audi R18 e-tron quattro, 1:06.840 min
3. Di Grassi/Duval/Jarvis (BR/FR/GB), Audi R18 e-tron quattro, 1 lap
4. Davidson/Buemi/Nakajima (GB/CH/JP), Toyota TS040 Hybrid, 2 laps
12. Dumas/Jani/Lieb (FR/CH/DE), Porsche 919 Hybrid, 17 laps

FIA World Endurance Championship (WEC), after 5 of 8 rounds,
Drivers:
1. Lotterer/Tréluyer/Fässler (DE/FR/CH), Audi, 113
2. Bernhard/Hartley/Webber (DE/NZ/AU), Porsche 103
3. Dumas/Jani/Lieb (F/CH/D), Porsche, 77.5
4. Di Grassi/Duval/Jarvis (BR/FR/GB), Audi, 67
4. Tandy (GB), Porsche and Oreca, 66
5. Bamber/Hülkenberg (NZ/DE), Porsche, 58

Manufacturers:
1. Porsche 220
2. Audi 184
3. Toyota, 101


All reports on the previous season can be found in our archive.