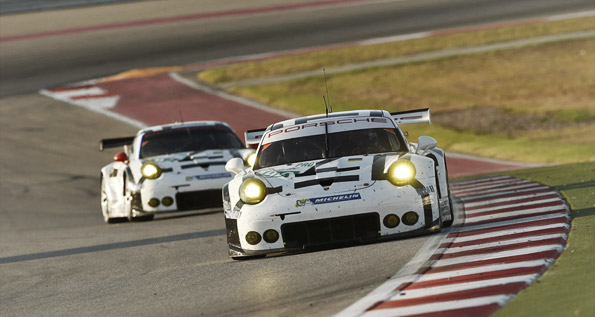 Race report
Porsche 911 RSR, Porsche Team Manthey
FIA World Endurance Championship, round 5 at Austin/USA - GT, Race report
Porsche Team Manthey scores second straight double victory in Texas
Stuttgart. With a double victory on the Circuit of the Americas at Austin, the Porsche Team Manthey headed into the second half of the 2015 Sports Car World Championship WEC (World Endurance Championship). On the Formula 1 course just outside the state capital of Texas, Richard Lietz (Austria) and Michael Christensen (Denmark), the recent winners of the Nürburgring round, won the strongly-represented GTE-Pro class at the wheel of their 470 hp Porsche 911 RSR. The winning racer from Weissach mounted with the distinctive rear engine is based on the seventh generation of the iconic 911 sports car and, since its race debut in 2013, has set new benchmarks, most notably in the energy-efficient areas of lightweight design and aerodynamics. In the second 911 RSR entry, Frenchmen Frédéric Makowiecki and Patrick Pilet crossed the finish line behind their teammates in second, rounding off another perfect one-two of the season for the Porsche Manthey squad after the Nürburgring.

The six-hour race on the 5.513-kilometre Grand Prix circuit, with its spectacular layout with many corners linking, rapidly changing gradients, and fast passages, got underway at 17.00 hours on Saturday. And still, competitors faced high summer temperatures of up to 35 degrees Celsius. However, the Porsche pilots were not at all ruffled by this additional stress. After three laps, Frédéric Makowiecki took the lead of the GT field in the #92 911 RSR, while his teammate Patrick Pilet was still recovering from the rigors of the United SportsCar Championship, which he had contested in the midday heat for Porsche North America. At the wheel of the second 911 RSR (#91), starting driver Richard Lietz, who took over the lead of the World Endurance Cup for GT pilots after his Nürburgring win, stuck to the bumper of his leading team colleague.

The pair of 911 RSR spearheaded the GTE-Pro class field over the entire six-hour distance, swapping positions several times. The convincing and reliable performance of the nine-elevens, which have won four straight races in the North American United SportsCar Championship so far this season, was made possible by the immaculate performance of the drivers, their pit crews and the perfect race strategy of Porsche Team Manthey.

Thanks to his victory, Richard Lietz further extended his lead in the World Endurance Cup for GT Pilots. In the team classification, Porsche Team Manthey now ranks first. Amongst the manufacturers, Porsche now sits in second place with three remaining races in Fuji/Japan, Shanghai/China and Manama/Bahrain.

In the GTE-Am class, Earl Bamber (New Zealand) achieved second after a stunning chase through the field in the 911 RSR fielded by Abu Dhabi Proton Racing with Christian Ried (Germany) and Khaled Al Qubaisi (Abu Dhabi). This marks the best result so far this season for the Porsche customer squad. Earl Bamber, the winner of the Le Mans 24 Hours with the Porsche 919 Hybrid in June, had also contested the United SportsCar Championship earlier in the day.
Comments after the race
Matthias Müller, President and Chief Executive Officer at Porsche AG: "A stunning success. Basically, this was almost like a Weissach championship. For the entire six hours, the two 911 RSR virtually ran nose to tail and easily kept the competition at bay. It doesn't get any better."
Dr. Frank-Steffen Walliser, Head of Porsche Motorsport: "What a perfect race. We snatched positions at the start and held tight to the lead for the rest of the race. That was a very strong performance. We drove a very steady race and our pit stops ran perfectly – a dream. Congratulations to our customer team Abu Dhabi Proton Racing on their second place in the GTE-Am class. It was a gripping fight. Earl Bamber drove two brilliant stints, and Christian Ried and Khaled Al Qubaisi as well as the entire team have done a fantastic job. We can only congratulate them for this."
Richard Lietz (911 RSR #91): "An exciting race, and a bigger advantage in the championship – there's only one word for this: perfect. Right from the start, our 911 RSR was consistently fast even in the high temperatures. We made good use of the advantages that we'd worked for in practice and qualifying and could pull clear of our rivals. Even during the night, while we were running on softer rubber, the tyres worked excellently. All in all, today was a strong team effort. I'm proud to be a part of Porsche and this team."
Michael Christensen (911 RSR #91): "That's precisely the result that we wanted. In this race, we underlined what we can do. The whole team put in a strong performance, no one made a mistake, and that's how you achieve such a result. From the outside it might have looked easier than it actually was most of the time. But it was hard work. We really only had everything under control in the last hour of racing."
Patrick Pilet (911 RSR #92): "I'll definitely sleep well tonight. To contest two long distance races in one day is not easy, especially in such temperatures. But such a fabulous team result is worth all that effort. That was a perfect weekend for Porsche."
Frédéric Makowiecki (911 RSR #92): "Our double victory at the Nürburgring was fantastic, but to repeat such a success is a great feeling. I'm truly proud to be able to drive for Porsche. Early on in the season we experienced a few glitches, but we worked hard to sort out the problems. Now we're back in action and ready to fight for the title for Porsche."
Earl Bamber (911 RSR #88): "We started from way down the field and had to make up a lot of places. But our 911 RSR ran fantastically over the entire race weekend. It wasn't easy for me, because I'd already contested a race in the searing heat. Plus a puncture forced us into the pits for an unscheduled stop. But ultimately it was still a great result for the team. We had to wait a long time for this."
Race result
GTE-Pro class
1. Lietz/Christensen (A/DK), Porsche 911 RSR, 162 laps
2. Pilet/Makowiecki (F/F), Porsche 911 RSR, 162
3. Rigon/Calado (I/GB), Ferrari F458 Italia, 162
4. MacDowall/Stanaway/Rees (GB/NZ/BRA), Aston Martin, 161
5. Sörensen/Nygaard (DK/DK), Aston Martin, 160
6. Turner/Adam (GB/GB), Aston Martin, 160
7. Bruni/Vilander (I/SF), Ferrari F458 Italia, 160

GTE-Am class
1. Bertolini/Shaytar/Basov (I/RUS/RUS), Ferrari F458 Italia, 159 laps
2. Ried/Bamber/Al Qubaisi (D/NZ/UAE), Porsche 911 RSR, 159
3. Perrodo/Collard/Aguas (F/F/P), Ferrari F458 Italia, 158
4. Dempsey/Long/Seefried (USA/USA/D), Porsche 911 RSR, 158
5. Dalla Lana/Lamy/Lauda (CDN/P/A), Aston Martin, 158
6. Castellacci/Goethe/Hall (I/D/GB), Aston Martin, 158
7. Roda/Ruberti/Poulsen (I/I/DK), Chevrolet Corvette, 171

Points' standings GTE-Pro after 5 of 8 races
World Endurance Cup for GT manufacturers
1. Ferrari, 187 points
2. Porsche, 185
3. Aston Martin, 129

World Endurance Cup for GT Drivers
1. Richard Lietz, Porsche, 98 points
2. Davide Rigon, James Calado, Ferrari, 87
3. Michael Christensen, Porsche, 80
4. Gianmaria Bruni, Toni Vilander, Ferrari, 68,5
5. Alex MacDowall, Fernando Rees, Richie Stanaway, Aston Martin, 62
6. Alexey Basov, Andrea Bertolini, Victor Shaytar, Ferrari, 62
7. Frédéric Makowiecki, Porsche, 60

FIA Endurance Trophy for GTE-Pro Teams
1. Porsche Team Manthey, #91 Porsche, 107 points
2. AF Corse, #71 Ferrari, 101
3. AF Corse, #51 Ferrari, 86

The sixth of eight rounds of the Sports Car World Championship WEC is contested on 11 October in Fuji/Japan.

The Sports Car World Championship WEC
Sports prototypes and GT vehicles contest the Sports Car World Championship WEC (World Endurance Championship) in four classes: LMP1 (eg. Porsche 919 Hybrid), LMP2, LMGTE-Pro (eg. 911 RSR) and LMGTE-Am (eg. 911 RSR, 2014 homologation). They all compete together in one race but are classified separately.


All reports on the previous season can be found in our archive.