"For me, the future is a room full of possibilities."
In conversation with Raphael Gielgen, Trendscout at Vitra.
For decades, Vitra has been producing furniture pieces that have become design icons with astonishing regularity. This is owed to the company's visionary authors, as Vitra calls its designers, who have a feel for trends and durable products. Trendscout Raphael Gielgen helps Vitra on the hunt for the unseen. From his travels – he is on the road 200 days of the year for Vitra – he brings fresh knowledge and new trends to the company, and supports Vitra in the fields it is active in – from office furniture to finding the perfect working environment for its customers. We met him on the Vitra Campus in Weil am Rhein and asked him about his future vision for Porsche.
When Raphael Gielgen is not travelling through major cities around the world, his workplace is idyllic: in the far south-west of Germany. In Weil am Rhein, to be precise. A small, inconspicuous town right on the border with Switzerland and France. But as you take even your first step onto the Vitra Campus, it is clear that it's anything but leisurely. Between progressive architecture and inspiring landscape art, big ideas are at home here. It is not without reason that design furniture such as the famous Eames Lounge Chairs make their triumphal march from here to the world. Icons of modern interior design – produced in Weil am Rhein.
So as not to show up empty-handed, we brought something for the man who deals with the future on a daily basis: our vision for the mobility of tomorrow – Mission E – plus a concrete outlook at the Porsche Taycan which follows it as a series model and the ideal ice breaker if you want to disengage from the thoughts of here and now.

Mr Gielgen, let's start simply: your official title is Trendscout Future of Work. You are constantly on the go and read around 700 articles on future issues per year. What exactly do you do at Vitra?
Well, it is exactly as you just described it: I travel around the world a lot and look at the protagonists of a new time, who do things before anyone else. And this, in the context of a changing world of work.
"Pioneer experience is about fighting against old ways of thinking."
And what exactly does Vitra get out of that?
Just as Columbus came back with his ship, I come back with all my experiences and impressions. And share them with the company. Then, what they do with all my findings is up to my colleagues. My role is to transport the stories that I experience and the things that I discover as authentically and strongly as possible.
You say of yourself that you always think outside of the box which has Vitra written in capital letters.
Exactly. Our company core is our entire knowledge and experience around the topics of design and architecture. The result is products of an outstanding quality which trigger a high level of desire among our customers. I deliberately stay away from this core. Because my role is to discover many findings around this core. And to transport them to the company. So my colleagues can participate in the world that is out there. In protagonists, in innovations. So they can also remain curious and question things.
The new ground that you want to open up is the future. Why do you keep setting sail for there?
I am almost obsessed with all the possibilities that are out there. To see them and experience them. To understand. And to share them with as many people as possible. And do you know what the future has to do with that? For me, the future is a room full of opportunities. The biggest room possible.

Do you see yourself as a pioneer?
Yes, because, for me, a pioneer is more than someone who just collects visions. Bertrand Piccard who is famous for his pioneering achievements – whether with a hot-air balloon or solar plane – sums it up perfectly: "Pioneer experience is nothing about new ideas. Pioneer experience is about fighting against old ways of thinking." For me, that means doing away with everything that you believe or that you are convinced of. The first time I heard this quote, my agenda changed.
Like Ferry Porsche, the company founders Willi and Erika Fehlbaum are visionaries and courageous entrepreneurs. How courageous do you have to be for the fight against the 'old ways of thinking'?
If you are truly courageous, then you will enter a field which nobody else has entered. And this can result in something which is radical and new. In the context of the future, courage is an essential aspect. Because all it takes is a glance at the history of mankind. The pioneers who made so much possible for us all had one thing in common: they were all courageous people.
"Simultaneity is the greatest challenge of our time."
In contrast, timelessness plays a huge role in design. What does that tell us about the future?
We have to remember: in this fast-paced time, people are hunting for things that they can hold on to. Which is why good design is timeless. It overcomes fashion, trends, different eras. That is exactly the same for furniture classics as for vehicles from Porsche. They defy time.
"I understand the people who want to order the Taycan immediately."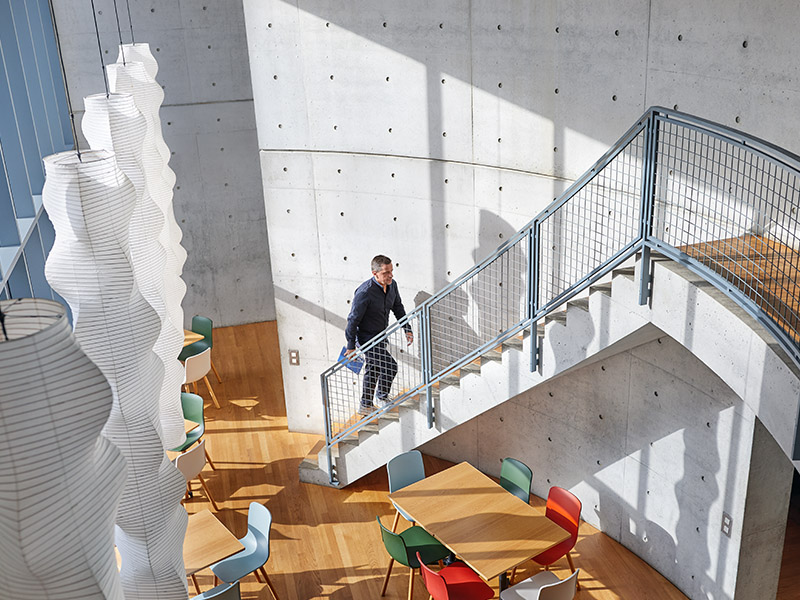 It is said that more will change in automotive manufacturing in the next five years than in the last five decades. That sounds like revolution.
Absolutely! And I believe that this revolution will go far beyond the car. Because this development will not only affect the car per se, but also the entire infrastructure around it. I believe that the next cars will be completely different. And also, the infrastructure around these cars will change completely.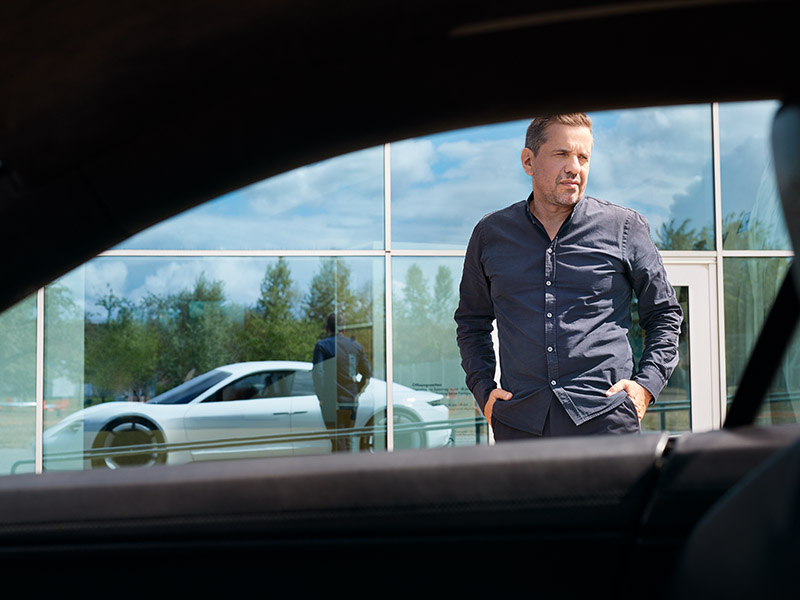 Will there even be cars anymore?
I am convinced there will. The physical experience will always exist for us humans. Because we can understand and grasp physical things quite differently. We can build emotional relationships with these products, perhaps also because they have, at best, something of a soul. The sports cars from Porsche are the best example of this. People also want to be spatially located. A car can do this, although it moves people from A to B.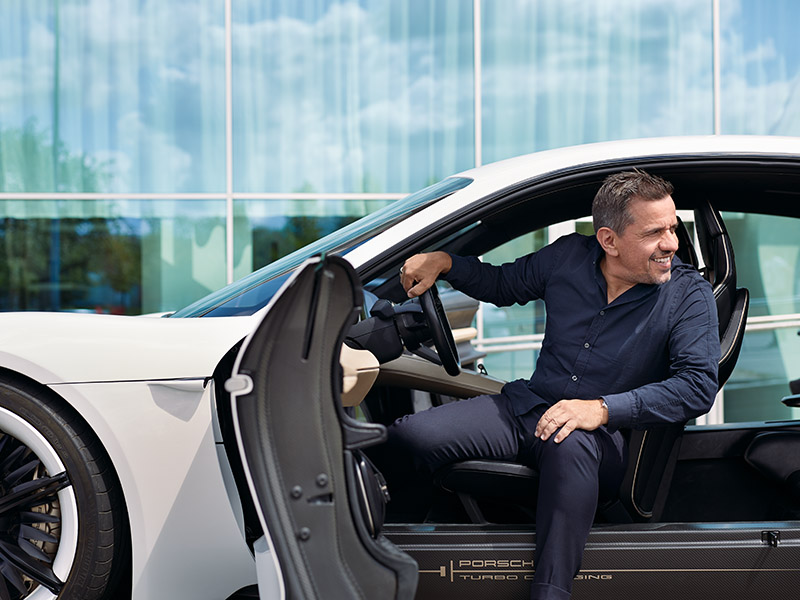 As you can see from Mission E and soon from the Taycan – Porsche plans to have a real say in the future of mobility.
Mission E tells the story of the longing for a new time. It awakens the anticipation of being a protagonist of this future. And it also tells of exciting conflict. Because, of course, many say: electromobility and sports cars – they will never go together. But Porsche is now showing that they do. Very well. And they are doing so as naturally and typically of Porsche as if nobody could have doubted it. I understand the people who want to order the Taycan immediately.
"What would Ferry Porsche do today?"
And what role can Porsche play apart from this?
As I said earlier, the mobility revolution goes beyond the car. Just take charging times, for example. The 800-volt concept of the Taycan inspires me. Even if you only have a little technical understanding, you'll know what 800-volt means. That is inconceivable, an enormous challenge for the engineers. But if the idea makes electromobility take a big leap because you can drink a cup of coffee at the charging station and suddenly within about 4 minutes you've recharged 100km of additional range, then that's a huge leap in acceptance for this form of mobility. That is also significant for society.
Now, Porsche and Vitra as companies are the opposite of a start-up. Porsche has already celebrated its 70th anniversary as a sports car manufacturer, Vitra will celebrate its 70th birthday in 2020. What potential does a rich history offer for the development going forward?
The biggest thing that both these companies have is their memory, their history. We have this sentence: "What would Charles say?" Thinking of Charles Eames who was very attached to the company and who made a lot happen. From all this history, this memory, comes an instruction, a direction, even in this day and age. That is invaluable. Like the family code. Companies with such a rich heritage now have the great opportunity to replicate history. Incidentally, an interesting question for your company: what would Ferry Porsche do today?
We are happy to answer this question: Mission E will soon go into series production as the Taycan – would Ferry build a car like this today?
Yes, I think so. There is a lot of his spirit in this car. It is clearly associated with the Porsche family. There are no stylistic elements, neither at the rear nor at the front, that I would associate with any other car. How wide and smooth it is on the road. The typical lines. The front is also incredibly striking. And nevertheless, it is a car for the future. Even when you are just sitting in it, the complete interface is illuminated and the display starts – then you immediately feel like you're in the year 2024.

The Trendscout clearly enjoyed his visit to the future. Another encounter he will take back to the world of Vitra. Which sharpens his view of the world of tomorrow. Of a design language which looks forward optimistically. Of technology which promises just as much driving pleasure as ecological reason. Of all the possibilities that can be developed for a sports car – now for over 70 years.