The new generation of the 911 came onto the market in model year 1989, at the same time as the phasing-out of the G series. The 911 Carrera 4 type 964 contained 85 percent new parts, but largely retained the classic shape of its predecessor. It was available in the Coupé, Targa and Cabriolet body designs.
Despite many similarities in the design, the 964 had much better aerodynamics than the G model. This was helped in particular by the new round front and rear sections as well as an automatically extending rear spoiler.
The 911 Carrera 4 was the first 911 to feature an all-wheel drive system. Its electronically controlled permanent all-wheel drive normally transmitted 31 percent of the drive torque to the front axle and 69 percent to the rear axle. Distribution could be varied according to the relevant driving situation. There was a traction switch on the centre console of the C4. Its 3.6-litre engine produced 250 hp.
As of model year 1990, an identical rear-wheel drive version (first model with Tiptronic) was available in the form of the 911 Carrera 2 and another Turbo version as of model year 1991.
Model versions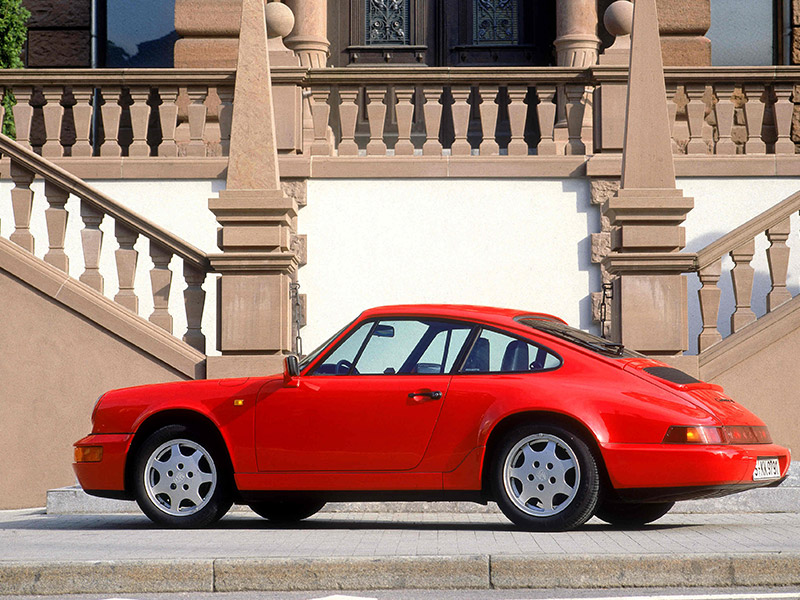 911 Carrera 4 (1989-93)
Features
Front and rear aprons made of deformable plastic // Rear lid with integrated, automatically extending rear spoiler // Tail-light panel with red-reflective Porsche logo and integrated rear fog lights // Red rear direction indicators // Exterior mirrors in exterior colour, electrically adjustable; in Cup design as of MY 1992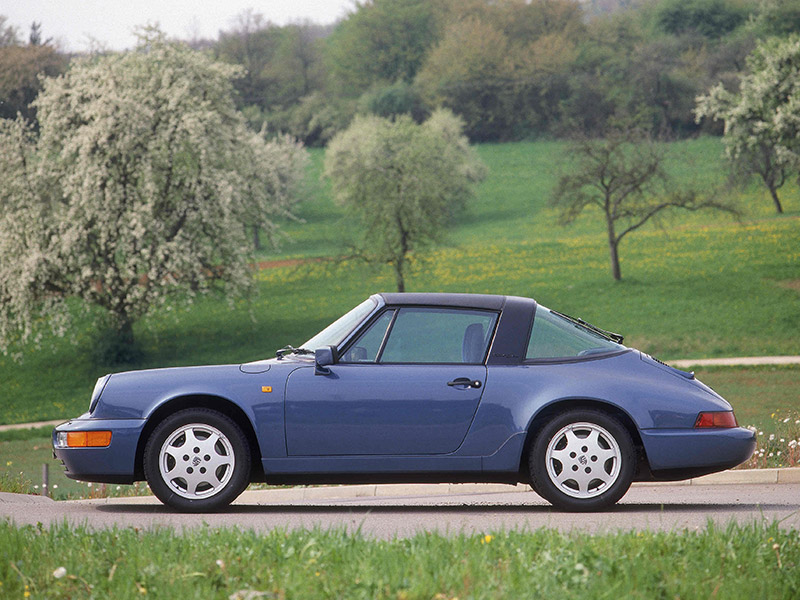 911 Carrera 4 Targa, 911 Carrera 4 Cabriolet (1990-93)
Features
Front and rear aprons made of deformable plastic // Rear lid with integrated, automatically extending rear spoiler // Tail-light panel with red-reflective Porsche logo // Red rear direction indicators // Exterior mirrors in exterior colour, electrically adjustable; in Cup design as of MY 1992
Targa: Targa roll-over bar in black // Rear window made of safety glass // Soft top
Cabriolet: Fabric hood with plastic rear window, fully automatic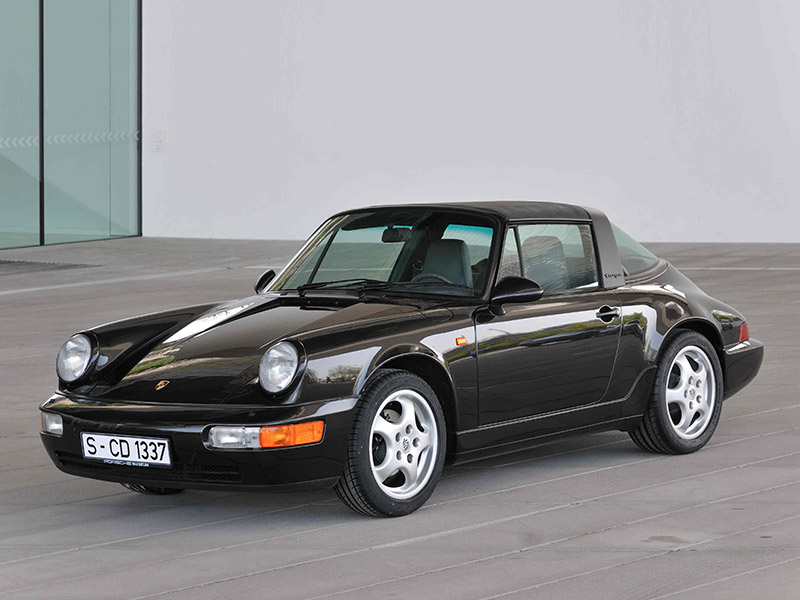 911 Carrera 2, 911 Carrera 2 Targa, 911 Carrera 2 Cabriolet (1990-93)
Features
Front and rear aprons made of deformable plastic // Rear lid with integrated, automatically extending rear spoiler // Tail-light panel with red-reflective Porsche logo and integrated rear fog lights // Red rear direction indicators // Exterior mirrors in exterior colour, electrically adjustable; in Cup design as of MY 1992
Targa: Targa roll-over bar in black // Rear window made of safety glass // Soft top
Cabriolet: Fabric hood with plastic rear window, fully automatic
Turbo look (Cabriolet only, as of MY 1992): Body, chassis, including brake system and wheels from the 911 Turbo 3.3