Porsche 911 Turbo (type 964)
The 911 Turbo (type 964) had a wider body with significantly more flared wheel housings compared to the Carrera models. At the rear, the rear wing largely adopted from the Turbo 3.3 of the G model as well as two oval tailpipes emphasised the vehicle's uniqueness. Exhaust gases only escaped through the left pipe when the boost-pressure control valve of the turbocharger was open.
In model years 1991-92, the 911 Turbo was powered by a turbocharged 3.3-litre engine with 320 hp. In MY 1993, it received a 3.6-litre engine with a power output of 360 hp. One of the distinguishing features of this version were the red brake callipers.
The 911 Turbo type 964 was – with the exception of a Cabriolet limited production run – only available as a Coupé.
Model versions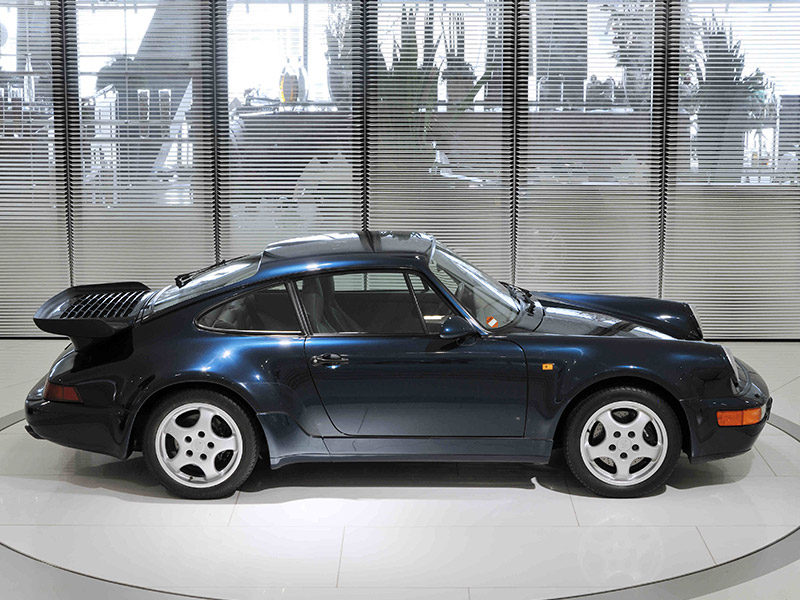 911 Turbo 3.3 (1991-92)
Features
Front and rear aprons made of deformable plastic // Rear lid with fixed, high rear spoiler with raised black PU border // Anodised black "turbo" logo // Tail-light panel with red-reflective Porsche logo and integrated rear fog lights // Flared wheel arches // Red rear direction indicators // Exterior mirrors in Cup design // Brake callipers painted black // Exhaust system with two side tailpipes
911 Turbo 3.6 (1993 (up to December))
Features
Front and rear aprons made of deformable plastic // Rear lid with fixed, high rear spoiler with raised black PU border // Chrome-plated "turbo 3.6" logo // Tail-light panel with red-reflective Porsche logo // Flared wheel arches // Red rear direction indicators // Exterior mirrors in Cup design // Brake callipers painted red // Exhaust system with two side tailpipes