In model year 1975, thanks to turbocharging, a particularly powerful version of the Porsche 911 – the 911 Turbo – came onto the market.
Since its market launch in MY 1975, the 911 Turbo (initially named internally as the 930) has been the top-of-the-range model in the 911 model line.
The 930 featured flared rear wings, which gave it an extra 12 cm in width. Black stone guard film was applied in front of the rear wheel arches. The rear lid featured a distinctive rear wing with a wide black hard-rubber border.
Until MY 1977, the rear lid was made of glass fibre-reinforced plastic. As of MY 1978, the lid was made from sheet steel and the fixed plastic rear wing for mounting the charge-air cooler was made much bigger. The Turbo was also given an exhaust system with twin tailpipe. Exhaust gases only escaped through the left pipe when the boost-pressure control valve of the turbocharger was open.
As of MY 1987, the Turbo model was also available in the Targa and Cabriolet body types.
For MY 1989, the 4-speed manual transmission was replaced with a 5-speed version.
Displacement/power:
- MY 1975-77 - 3.0 litres, 260 hp
- MY 1978-89 - 3.3 litres, 300 hp
Model versions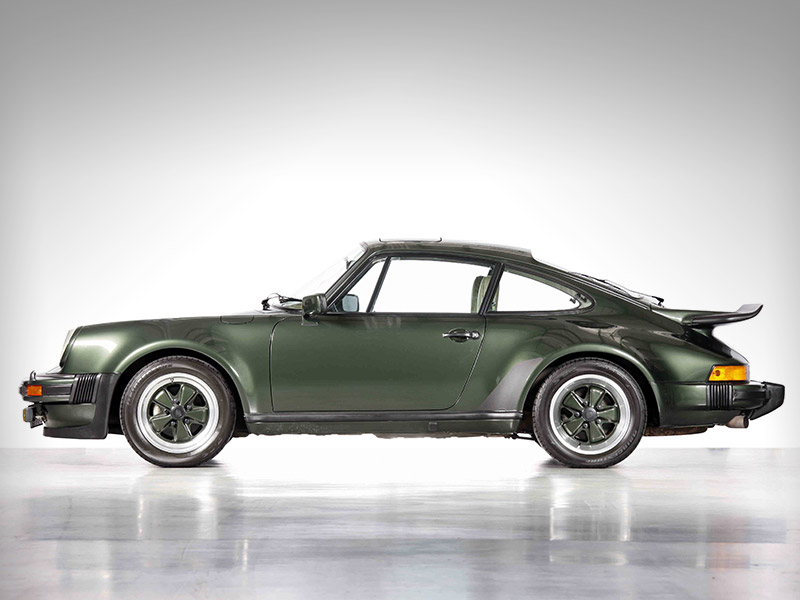 911 Turbo 3.0 (1975-77)
Features
Bumpers with black bellows // Exterior mirrors in exterior colour, electrically adjustable as of MY 1976 // Anodised black window frames // Anodised black door handles // Headlamp rings in exterior colour // Tail-light panel with black Porsche logo // Flared wheel arches; with black stone guard films at the rear as of MY 1977 // Rear lid with fixed, flat rear spoiler with black PU border // PU front spoiler in black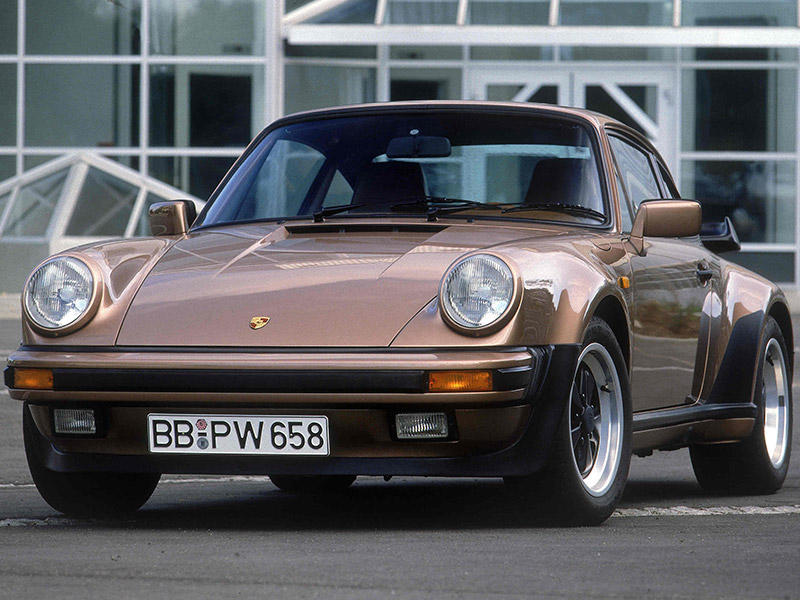 911 Turbo 3.3 (1978-89)
Features
Bumpers with black bellows // Exterior mirrors in exterior colour, electrically adjustable // Anodised black window frames // Anodised black door handles // Headlamp rings in exterior colour // Tail-light panel with black Porsche logo // Flared wheel arches, with black stone guard films at the rear // Rear lid with fixed, high rear spoiler with raised black PU border // PU front spoiler in black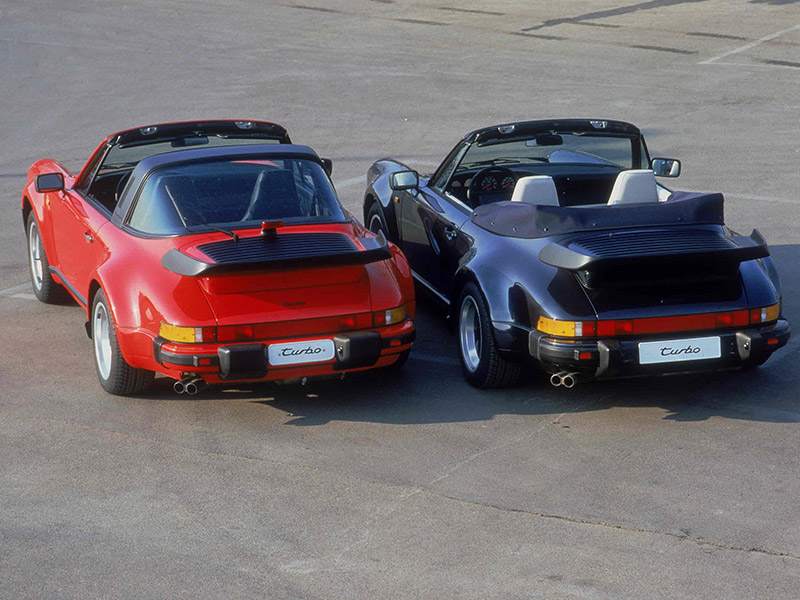 911 Turbo 3.3 Targa, 911 Turbo 3.3 Cabriolet (1987-89)
Features
Bumpers with black bellows // Exterior mirrors in exterior colour, electrically adjustable // Anodised black window frames // Anodised black door handles // Headlamp rings in exterior colour // Tail-light panel with red-reflective Porsche logo and integrated rear fog lights // Flared wheel arches, with black stone guard films at the rear // Rear lid with fixed, high rear spoiler with raised black PU border // PU front spoiler in black // Side direction indicators // Fog lights integrated in front apron // Exhaust system with twin tailpipe
Targa: Targa roll-over bar in black // Rear window made of safety glass // Soft top
Cabriolet: Fabric hood with plastic rear window, manually operated