No Carrera models were produced from model years 1978 to 1983. The only model with naturally aspirated engine produced during this period was the 911 SC.
Surrounds/door handles
In contrast to the 911/911 S, the window surrounds and door handles of the Carrera models were anodised black.
Wheels
The 911 Carrera was fitted with 15" forged alloy wheels from Fuchs as standard. 16" wheels became standard as of MY 1989.
Exterior mirrors
The 911 Carrera models initially had chrome-plated exterior mirrors. As of MY 1976, larger, electrically adjustable exterior mirrors painted in the exterior colour were installed.
Engines
The displacement of the 911 Carrera engine was increased several times during the production period of the G series and the power output varied.
- MY 1974-75 - Displacement: 2.7 litres, power: 210 hp
- MY 1975-77 - Displacement: 3.0 litres, power: 200 hp
- MY 1984-89 - Displacement: 3.2 litres, power: 207 hp – 231 hp
Body
The body of the Carrera was slightly wider than that of the 911/911 S in the area of the rear wings.
Carrera models as of MY 1984 are recognisable by the side direction indicators in the front wings.
As of MY 1984, the 911 Carrera was optionally available with a front spoiler made from polyurethane (PU) and a flat rear wing with a black, hard rubber border, which was specifically designed for this model.
Headlamp rings
The headlamp rings of the 911 Carrera were initially chrome-plated, as of MY 1976 they were painted in the exterior colour.
Model versions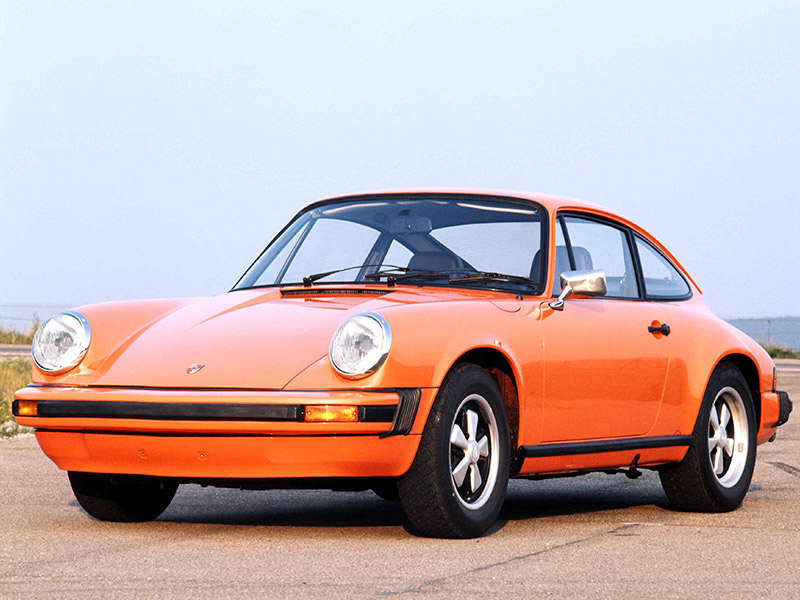 911 Carrera 2.7, 911 Carrera 2.7 Targa (1974-75)
Features
Bumpers with black bellows // Chrome-plated exterior mirrors; in exterior colour as of MY 1975 // Anodised black window frames // Anodised black door handles // Chrome-plated headlamp rings // Tail-light panel with black Porsche logo
Targa: Targa roll-over bar made of brushed Nirosta steel; black as of MY 1975 // Rear window made of safety glass // Plastic roof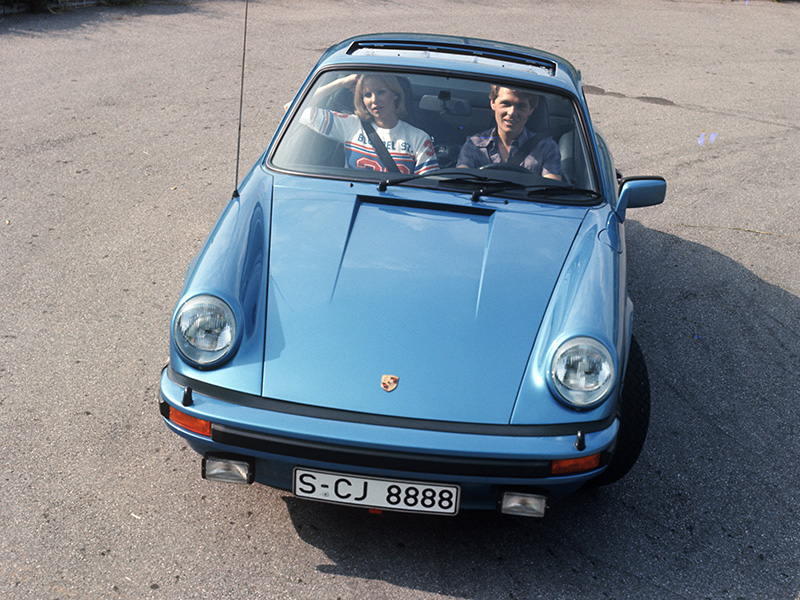 911 Carrera 3.0, 911 Carrera 3.0 Targa (1976-77)
Features
Bumpers with black bellows // Exterior mirrors in exterior colour, electrically adjustable // Anodised black window frames // Anodised black door handles // Headlamp rings in exterior colour // Tail-light panel with black Porsche logo
Targa: Targa roll-over bar made of brushed Nirosta steel // Rear window made of safety glass // Soft top
911 Carrera 3.2, 911 Carrera 3.2 Targa, 911 Carrera 3.2 Cabriolet (1984-89)
Features
Bumpers with black bellows // Exterior mirrors in exterior colour, electrically adjustable // Anodised black window frames // Anodised black door handles // Headlamp rings in exterior colour // Tail-light panel with black Porsche logo; with red-reflective logo and integrated rear fog lights as of MY 1987 // Side direction indicators // Fog lights integrated in front apron // Option: PU front spoiler and flat rear spoiler developed for the Carrera with black PU border
Turbo look: Body, front spoiler, chassis, including brake system and wheels from the 911 Turbo 3.3 (for Targa and Cabriolet as of MY 1985)
Targa: Targa roll-over bar in black // Rear window made of safety glass // Soft top
Cabriolet: Fabric hood with plastic rear window, manually operated