In September 1963, Porsche presented the Porsche 901 at the IAA in Frankfurt as a successor to the Porsche 356. One year later, as of model year 1965, series production of the model began and it was renamed the 911 shortly thereafter.
Originally built only as a Coupé, the 911 had an integral body-frame and was powered by a new 2.0-litre flat-six engine, which initially delivered 130 hp.
As of model year 1967, the 911 was also available as a "safety cabriolet" (Targa) with permanently mounted roll-over bar and removable soft top. As of model year 1969, the wheelbase was lengthened by 57 mm, resulting in increased driving comfort and simultaneously more stable driving dynamics.
The 911 S, the first engine derivative of the 911, was also launched on the market. In the years that followed, models bearing the additional designations T, L and E were launched.
911 Targa (1967-1973)
Porsche introduced the Targa model in response to increased safety requirements for open-top vehicles in the USA. Thanks to the fixed bar, the occupants were protected from injury in the event of the vehicle overturning.
911 S (MY 1967-73)
Due to various engine modifications, the sports version of the 911 initially had a power output of 160 hp, ultimately increasing to 190 hp. In addition to superior equipment, the S model was the first 911 to be given "Fuchs" rims with their distinctive 5-spoke design.
911 T (MY 1968-73)
The "Touring" version became the new entry-level model in the 911 family, initially developing 110 hp and later 130 hp. Its equipment matched that of the four-cylinder 912 model. One of the ways in which it could be distinguished from more powerful models was the fact that it had a silver rather than a gold logo.
911 L (MY 1968)
With the introduction of the T version as the new standard model, with a less powerful engine and 4-speed manual transmission, the previous 911 was renamed the 911 L. The engine remained unchanged.
911 E (MY 1969-73)
The existing 2.0-litre engines entered their final year of construction in MY 1969 and were replaced by new 2.2-litre engines. The L version was renamed the 911 E following the introduction of the new generation of engines and delivered power outputs of between 140 hp and 165 hp.
Model versions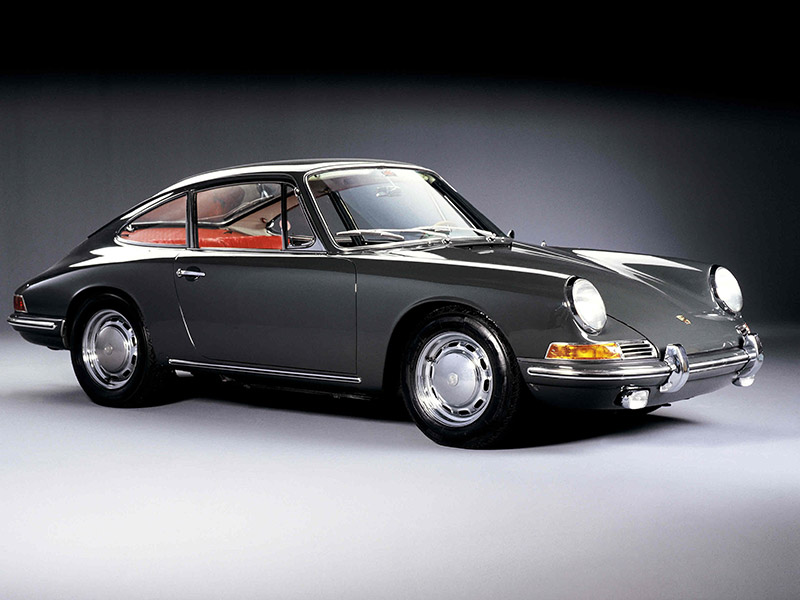 911 2.0 (1965-67)
Features
Bumpers with chrome-plated bumper guards; bumper guards with rubber pads as of MY 1967 // Rear lid with chrome-plated air grille // Chrome-plated horn grille // Narrow sill trims; wide as of MY 1967 // Round, chrome-plated exterior mirrors // Gold-coloured Porsche logo // Gold-coloured 911 emblem, slanted; straight and centrally mounted as of MY 1966 // Windscreen wipers lie to the right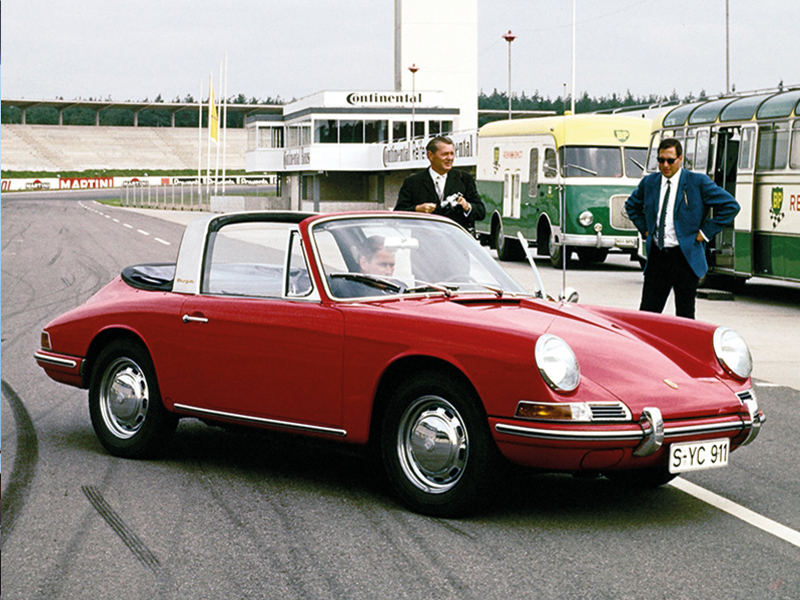 911 2.0 Targa (1967)
Features
Bumpers featuring chrome-plated bumper guards with rubber pads // Rear lid with chrome-plated air grille // Chrome-plated horn grille // Wide sill trims // Round, chrome-plated exterior mirrors // Gold-coloured Porsche logo // Gold-coloured 911 emblem, centrally mounted // Windscreen wipers lie to the right // Targa roll-over bar made of brushed Nirosta steel // Removable soft top // Plastic, foldable rear window // Targa roll-over bar made of brushed Nirosta steel // Soft top // Plastic, foldable rear window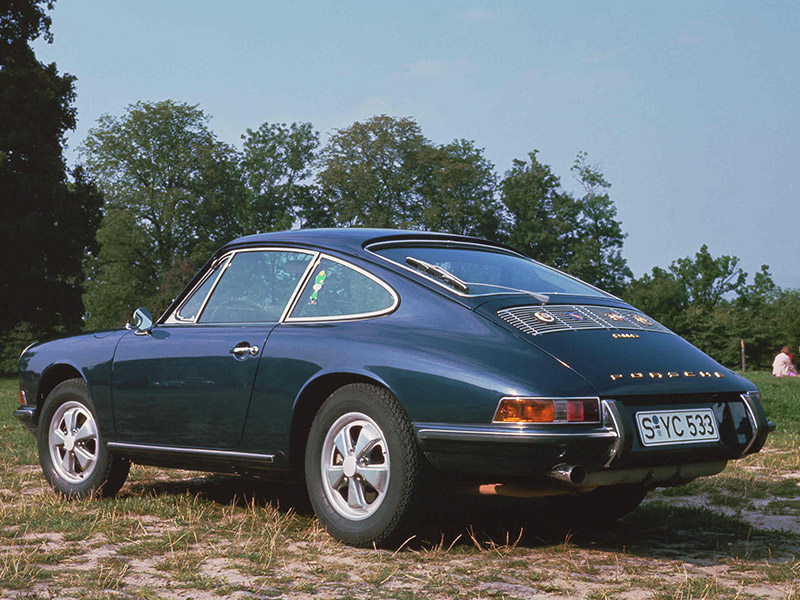 911 S 2.0, 911 S 2.0 Targa (1967-68)
Features
Bumpers featuring chrome-plated bumper guards with rubber pads // Rear lid with chrome-plated air grille // Chrome-plated horn grille // Wide sill trims // Round, chrome-plated exterior mirrors // Gold-coloured Porsche logo // Gold-coloured 911 S emblem, straight and centrally mounted // Windscreen wipers lie to the right; to the left as of MY 1968
Targa: Targa roll-over bar made of brushed Nirosta steel // Soft top // Plastic, foldable rear window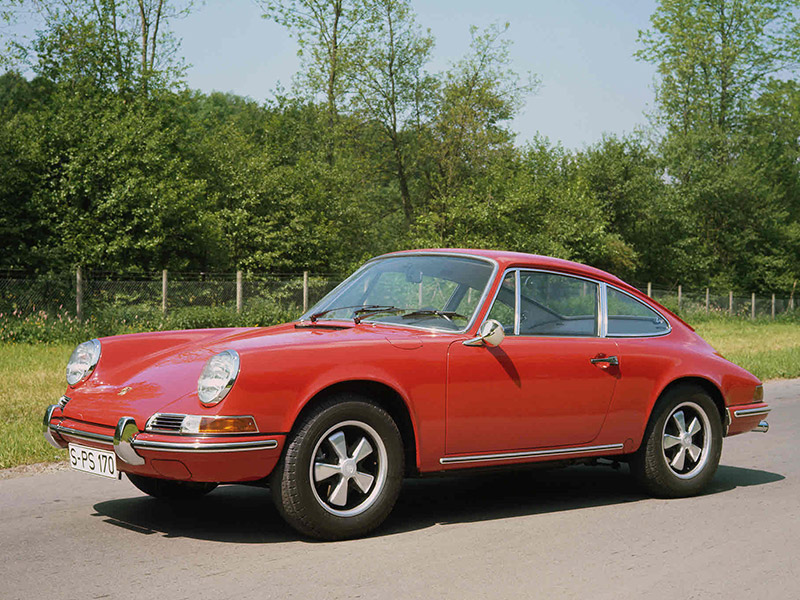 911 T 2.0, 911 T 2.0 Targa (1968-69)
Features
Bumpers featuring chrome-plated bumper guards with rubber pads // Rear lid with chrome-plated air grille // Chrome-plated horn grille // Wide sill trims // Round, chrome-plated exterior mirrors // Silver-coloured Porsche logo // Silver-coloured 911 T emblem, straight and centrally mounted // Windscreen wipers lie to the left
Targa: Targa roll-over bar made of brushed Nirosta steel; with side ventilation slots as of MY 1969 // Soft top // Plastic, foldable rear window, made of safety glass and fixed as of MY 1969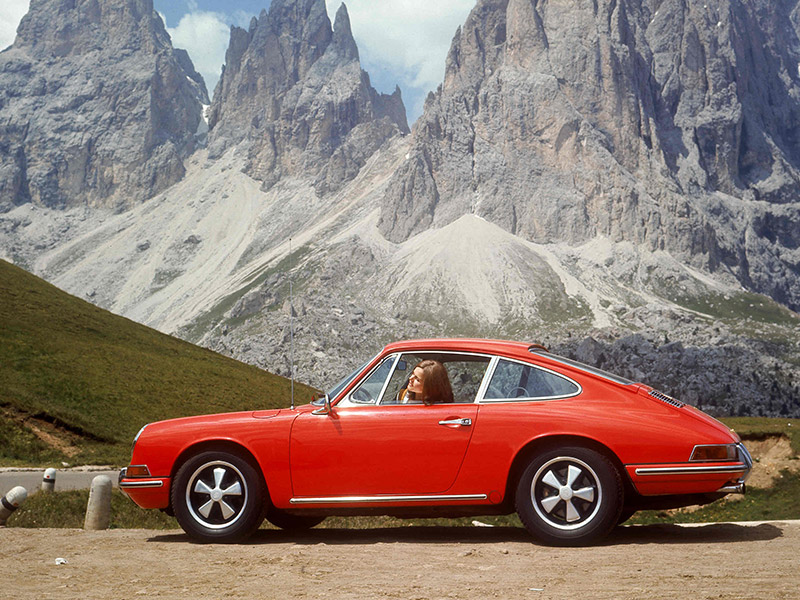 911 L 2.0, 911 L 2.0 Targa (1968)
Features
Bumpers featuring chrome-plated bumper guards with rubber pads // Rear lid with chrome-plated air grille // Chrome-plated horn grille // Wide sill trims // Round, chrome-plated exterior mirrors // Gold-coloured Porsche logo // Gold-coloured 911 L emblem, straight and centrally mounted // Windscreen wipers lie to the left
Targa: Targa roll-over bar made of brushed Nirosta steel // Soft top // Plastic, foldable rear window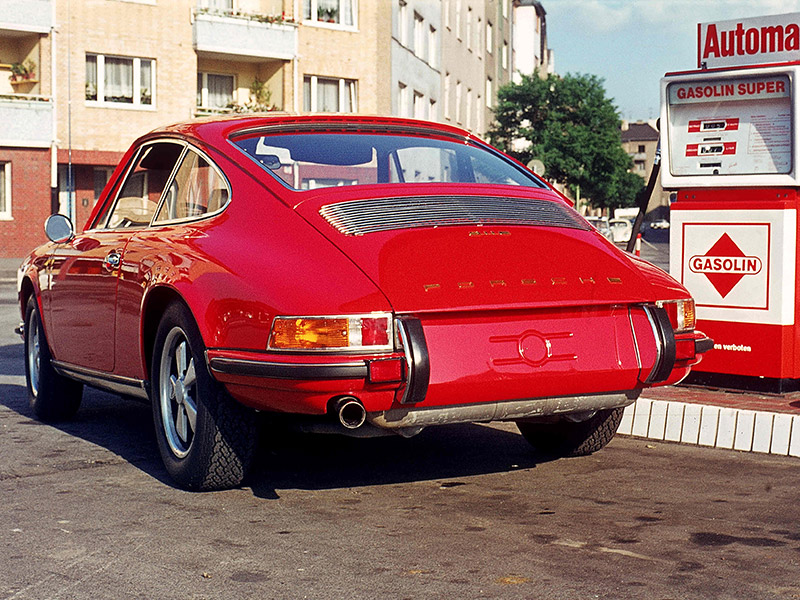 911 E 2.0, 911 E 2.0 Targa (1969)
Features
Bumpers featuring chrome-plated bumper guards with rubber pads // Rear lid with chrome-plated air grille // Chrome-plated horn grille // Wide sill trims // Round, chrome-plated exterior mirrors // Gold-coloured Porsche logo // Gold-coloured 911 E emblem, straight and centrally mounted // Windscreen wipers lie to the left
Targa: Targa roll-over bar made of brushed Nirosta steel with side ventilation slots // Soft top // Fixed rear window made of safety glass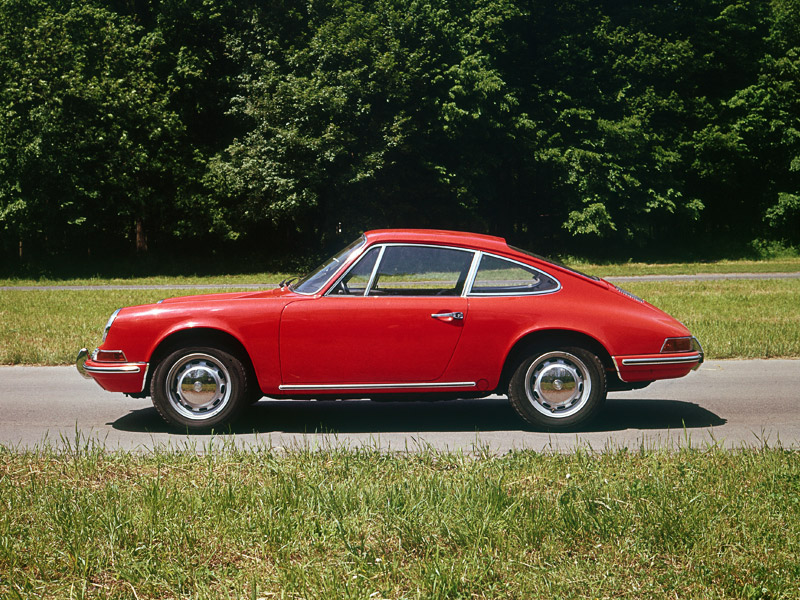 911 S 2.0, 911 S 2.0 Targa (1969)
Features
Bumpers featuring chrome-plated bumper guards with rubber pads // Rear lid with chrome-plated air grille // Chrome-plated horn grille // Wide sill trims // Round, chrome-plated exterior mirrors // Gold-coloured Porsche logo // Gold-coloured 911 S emblem, straight and centrally mounted // Windscreen wipers lie to the left
Targa: Targa roll-over bar made of brushed Nirosta steel with side ventilation slots // Soft top // Fixed rear window made of safety glass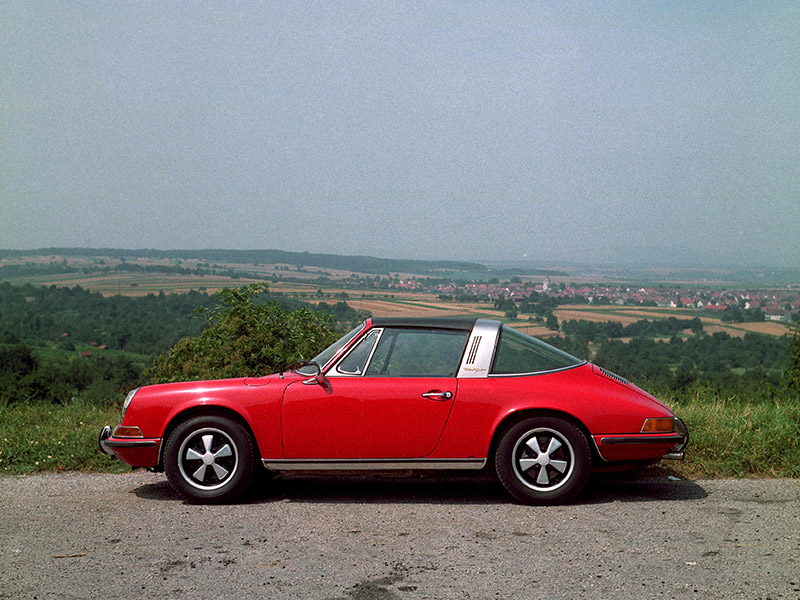 911 T 2.2, 911 T 2.2 Targa (1970-71)
Features
Bumpers featuring chrome-plated bumper guards with rubber pads // Rear lid with chrome-plated air grille // Chrome-plated horn grille // Wide sill trims // Round, chrome-plated exterior mirrors // Silver-coloured Porsche logo // Silver-coloured 911 T emblem, straight and centrally mounted // Windscreen wipers lie to the left // Outer door handles with trigger lever on the inside (pistol grip handles)
Targa: Targa roll-over bar made of brushed Nirosta steel with side ventilation slots // Soft top // Fixed rear window made of safety glass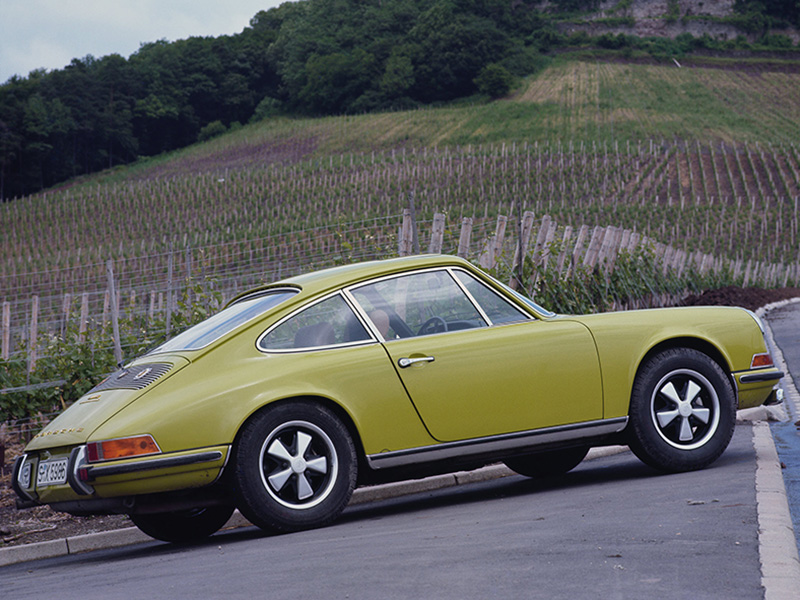 911 E 2.2, 911 E 2.2 Targa (1970-71 )
Features
Bumpers featuring chrome-plated bumper guards with rubber pads // Rear lid with chrome-plated air grille // Chrome-plated horn grille // Wide sill trims // Round, chrome-plated exterior mirrors // Gold-coloured Porsche logo // Gold-coloured 911 E emblem, straight and centrally mounted // Windscreen wipers lie to the left // Outer door handles with trigger lever on the inside (pistol grip handles)
Targa: Targa roll-over bar made of brushed Nirosta steel with side ventilation slots // Removable soft top // Fixed rear window made of safety glass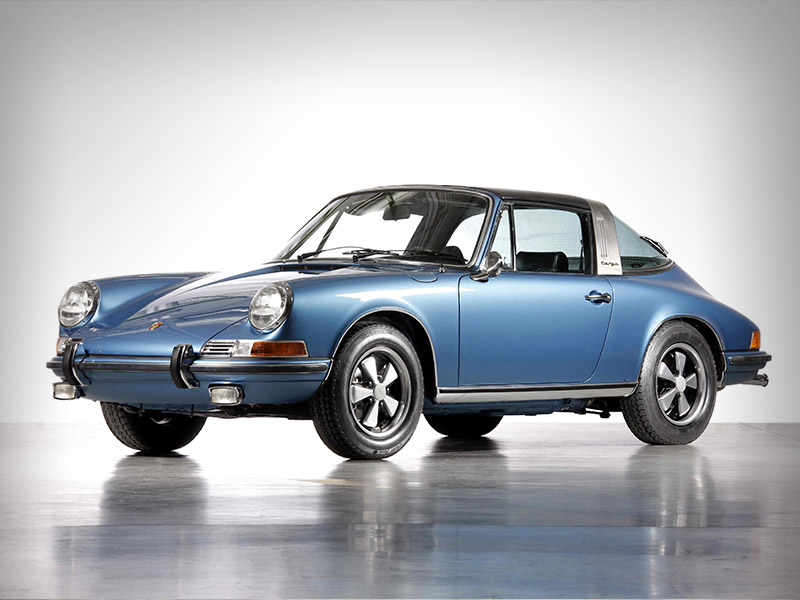 911 S 2.2, 911 S 2.2 Targa (1970-71)
Features
Bumpers featuring chrome-plated bumper guards with rubber pads // Rear lid with chrome-plated air grille // Chrome-plated horn grille // Wide sill trims // Round, chrome-plated exterior mirrors // Gold-coloured Porsche logo // Gold-coloured 911 S emblem, straight and centrally mounted // Windscreen wipers lie to the left // Outer door handles with trigger lever on the inside (pistol grip handles)
Targa: Targa roll-over bar made of brushed Nirosta steel with side ventilation slots // Soft top // Fixed rear window made of safety glass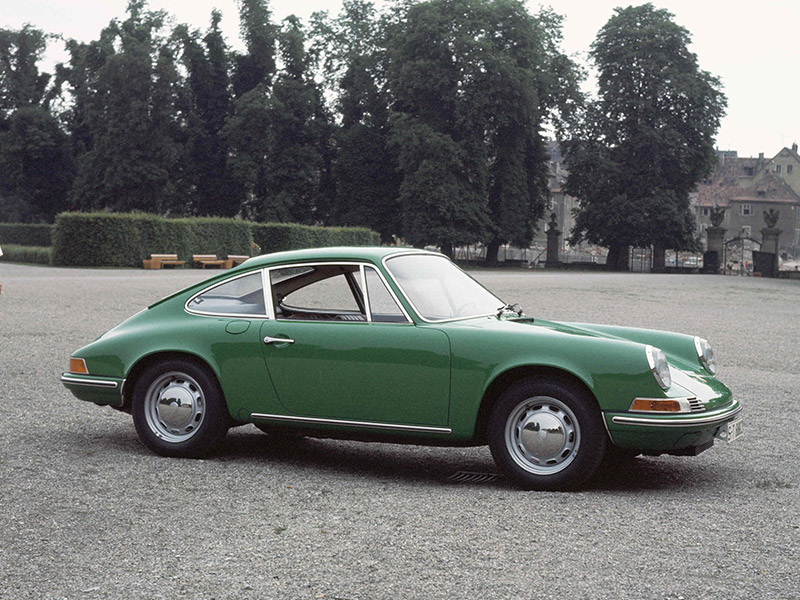 911 T 2.4, 911 T 2.4 Targa (1972-73)
Features
Bumpers featuring chrome-plated bumper guards with rubber pads (only at the rear) // Rear lid featuring black air grille with chrome-plated 2.4 logo // Chrome-plated horn grille; black as of MY 1973 // Wide sill trims // Round, chrome-plated exterior mirrors, rectangular as of MY 1973 // Anodised black Porsche logo // Anodised black 911 T emblem, straight and centrally mounted // Windscreen wipers lie to the left // Outer door handles with trigger lever on the inside (pistol grip handles) // Oil tank cap in right rear side section
Targa: Targa roll-over bar made of brushed Nirosta steel with side ventilation slots // Soft top // Fixed rear window made of safety glass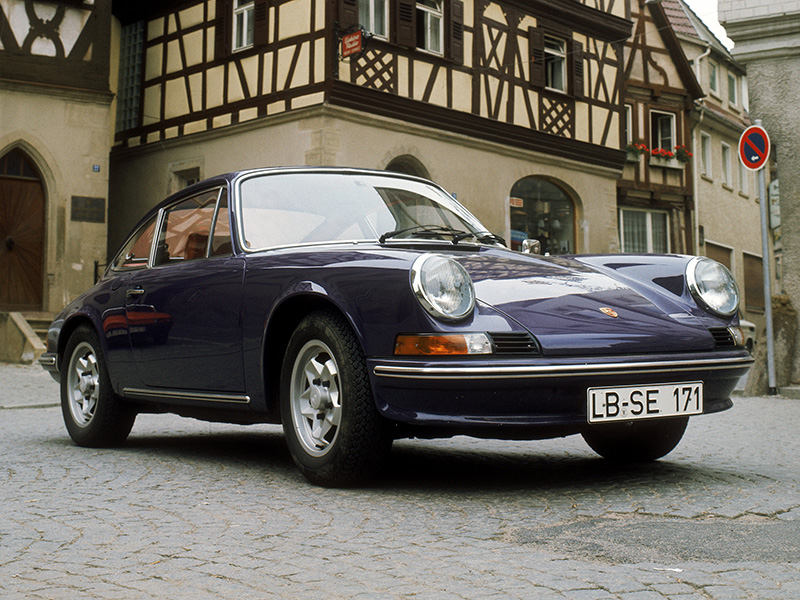 911 E 2.4, 911 E 2.4 Targa (1972-73)
Features
Bumpers featuring chrome-plated bumper guards with rubber pads (only at the rear) // Rear lid featuring black air grille with chrome-plated 2.4 logo * Chrome-plated horn grille; black as of MY 1973 // Wide sill trims // Round, chrome-plated exterior mirrors, rectangular as of MY 1973 // Anodised black Porsche logo // Anodised black 911 E emblem, straight and centrally mounted // Windscreen wipers lie to the left // Outer door handles with trigger lever on the inside (pistol grip handles) // Oil tank cap in right rear side section
Targa: Targa roll-over bar made of brushed Nirosta steel with side ventilation slots // Removable soft top // Fixed rear window made of safety glass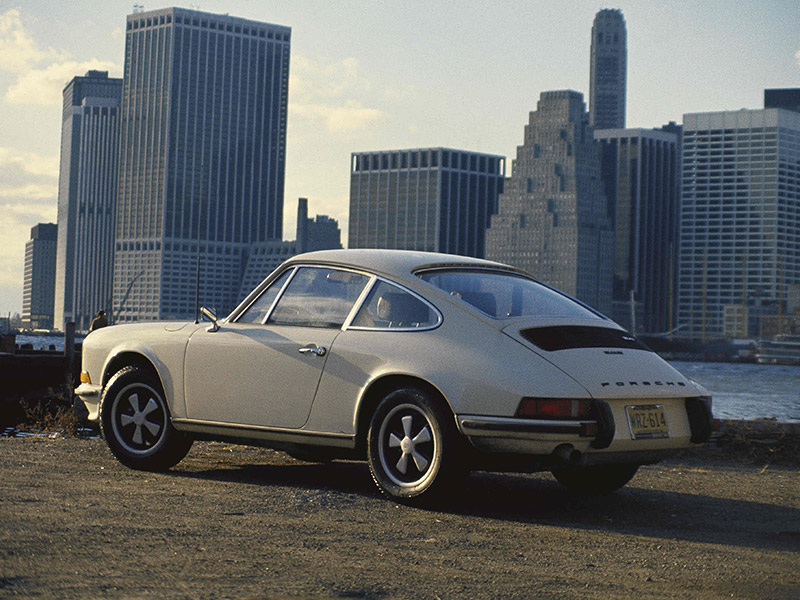 911 S 2.4, 911 S 2.4 Targa (1972-73)
Features
Bumpers featuring chrome-plated bumper guards with rubber pads (only at the rear) // Rear lid featuring black air grille with chrome-plated 2.4 logo // Chrome-plated horn grille; black as of MY 1973 // Wide sill trims // Round, chrome-plated exterior mirrors, rectangular as of MY 1973 // Anodised black Porsche logo // Anodised black 911 S emblem, straight and centrally mounted // Windscreen wipers lie to the left // Outer door handles with trigger lever on the inside (pistol grip handles) // Oil tank cap in right rear side section // Plastic front spoiler
Targa: Targa roll-over bar made of brushed Nirosta steel with side ventilation slots // Soft top // Fixed rear window made of safety glass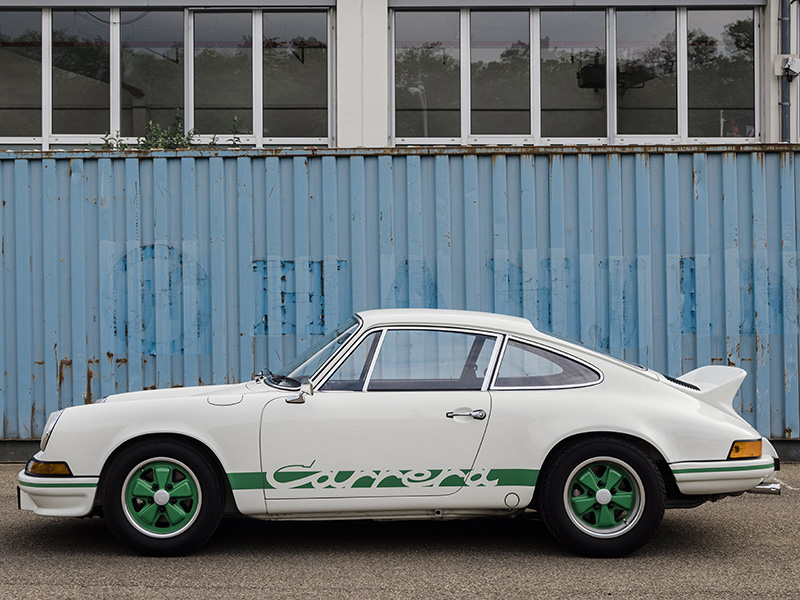 911 Carrera RS 2.7 Lightweight M471 (1973)
Features
Thin sheet metal body (wing, luggage compartment lid, outer shell of roof, rear side panels, outer shell of doors) // Plastic front and rear bumper // Aluminium frame on the engine cover (duck tail) // All trim strips omitted // Front bonnet emblem omitted and replaced by adhesive emblem // All gas pressure dampers for the engine cover and luggage compartment lid omitted // All except 2–3 kg of underbody protection omitted // Simplified door panel with leather pull handles // Lightweight seats (adjustable driver seat/fixed passenger seat) // Clock omitted // Passenger sun visor omitted // Clothes hooks omitted // Emergency seat entirely omitted // Thin glass rear window not adjustable // Only one battery installed in the front left-hand side of the luggage compartment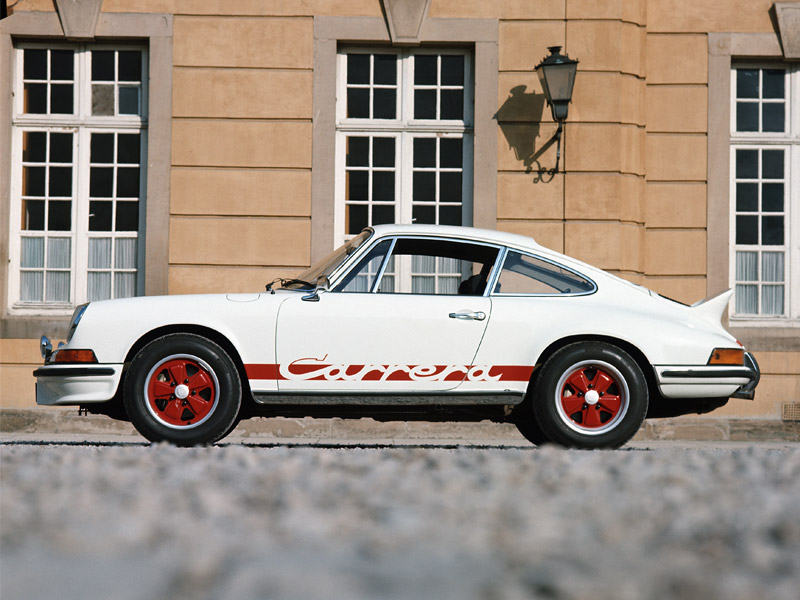 911 Carrera RS 2.7, Touring model M472 (1973)
Features
Steel rear bumper, middle section and bumper guards same as series model // All trim strips (on front and rear bumpers and sills) // Emblem on front engine cover same as series model // Door features same as series model // Emergency seat backrests and cushions // Underbody protection same as series model // Driver and front passenger seat same as series model // Clock // Second battery in luggage compartment