Exterior design
718 Cayman Models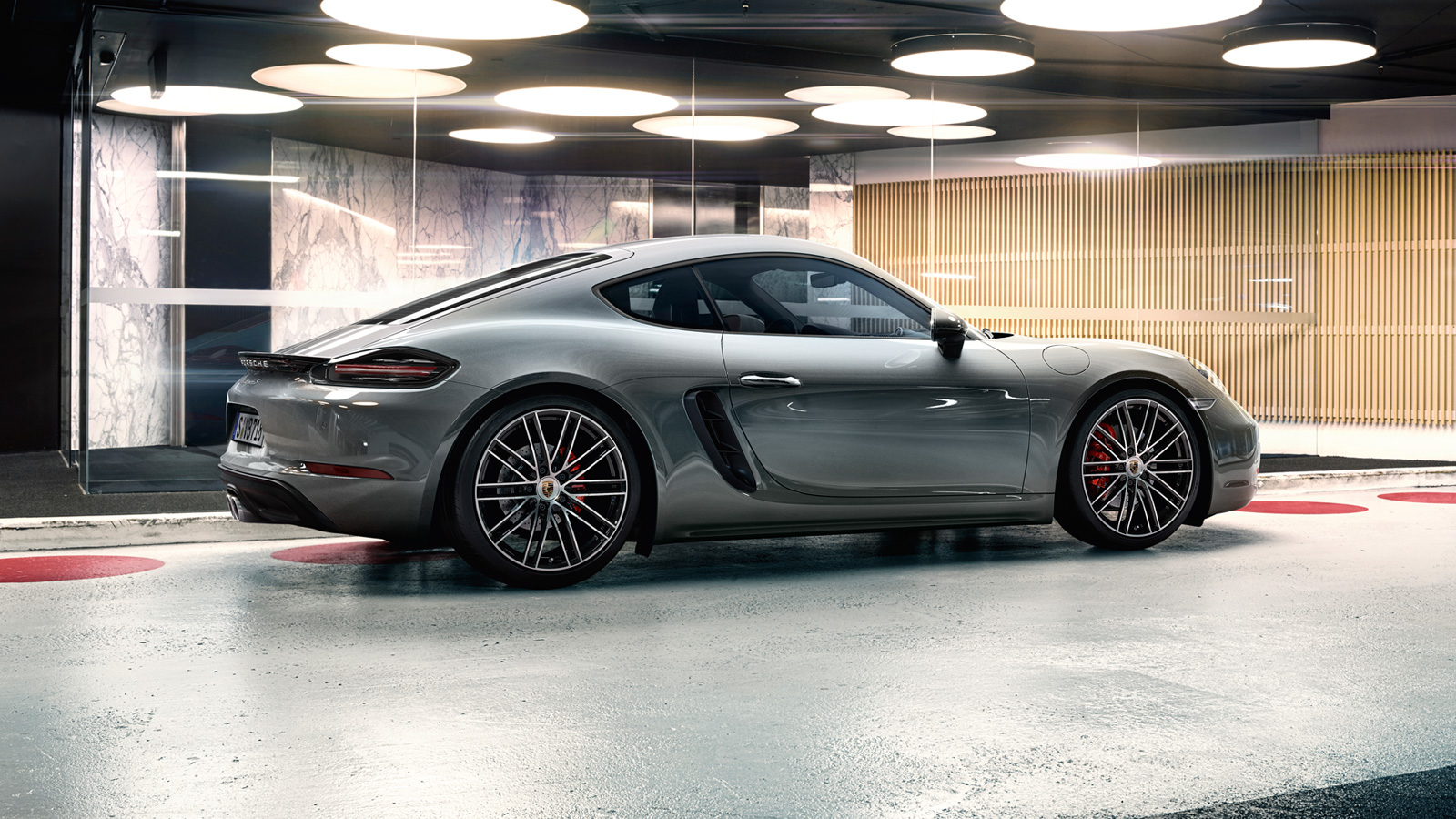 Exterior design
Precise, not fanciful. Self-assured, not restrained. Low, wide and sleek. The exterior design of the 718 models is distinguished by sporty edges and clearly defined formal contours.
The horizontal geometry of the air intakes makes the front end appear even wider – and lends it added bite. The wings? Unmistakably Porsche. Higher than the front lid, they have been styled to give prominence to the design of the headlight units, which lay bare their inner workings and incorporate the LED daytime running lights.
The side profile emphasises the midengine layout. The wheel arches are large, designed for wheels up to 20 inches in size. One thing is clear: the 718 models were not intended for the shelter of the garage, but for the pleasure of driving. That's precisely why the contouring on the doors purposefully directs headwind into the large air intakes on either side of the car. This provides the optimum supply of air to the turbocharged engines, a basis for their powerful forward thrust.
Another sporty detail: exterior mirrors with v-shaped mirror base.
When closed, the fabric hood of the 718 Boxster completes the sleek silhouette typical of a sports car. At the push of a button, it opens and closes fully automatically in 9 seconds – even on the move, up to a speed of 50 km/h.
The rear of the 718 models is an expression of superlative sporty performance – and of the superlative performance of our designers. It is more cleanly defined, more pared back.
And yet it's anything but conformist. The taillights are slimline, their inner workings fashioned three-dimensionally. Four LED brake spot lights are incorporated into each of the horizontal rear driving lights. Between the two taillights, an accent trim makes the rear end look even wider.
The wing above extends automatically at a speed of 125 km/h, reducing lift to provide even better roadholding performance.