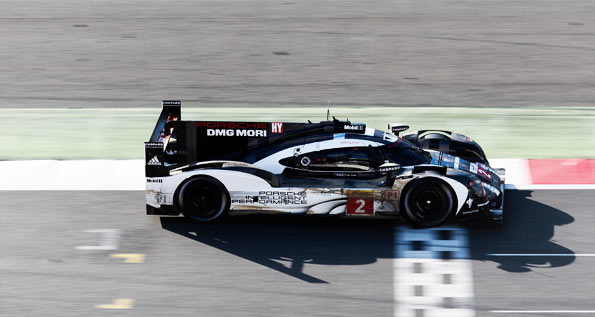 Race report
FIA World Endurance Championship, FIA World Endurance Championship (WEC), LMP1, Round 1, Silverstone (GB), Race report
Action packed opening round – Porsche 919 Hybrid finishes second
Stuttgart. After a thrilling six hour race in Silverstone Neel Jani (CH) finished second in the Porsche 919 Hybrid he shares with Romain Dumas (FR) and Marc Lieb (DE). The race win went to Audi at the opening round of the FIA World Endurance Championship (WEC). All three manufacturers that are involved with class 1 Le Mans Prototypes – Audi, Porsche and Toyota – had trouble in the race. Porsche suffered the biggest drama when the number 1 car of reigning World Champions Timo Bernhard (DE), Brendon Hartley (NZ) and Mark Webber (AU) crashed after around two hours. Hartley touched a GT car when lapping it. Both drivers walked away unhurt from what was a spectacular accident. After Silverstone saw rain and snow on the previous days, on Sunday the race start was in bright sunshine with the two 919 Hybrids of title defender Porsche lining up third and fourth on the grid for the first of nine World Championship rounds. By doing the fastest lap of the race (1:40.303 minutes) Neel Jani proved the competitiveness of the innovative hybrid race car.
How the race went for car number 1:
Start driver Mark Webber is in P3 in the early laps, but then catches up to the leading Audis. Going into lap 7, he overtakes the number 8 Audi and improves to second. After 16 laps he gets by the number 7 Audi as well as taking the lead. After 27 laps he hands over to Brendon Hartley for a double stint. With a comfortable lead of 44 seconds ahead of Audi number 7, Hartley comes in for fuel and tyres after 55 laps. On lap 71 the race is over for the reigning World Champions, because of a heavy accident when lapping a GT car.
How the race went for car number 2:
Start driver Romain Dumas is hunting the number 8 Audi, but remains in fourth place. After 26 laps he hands over to Neel Jani, who then comes in for fuel and tyres after 55 laps. As the Audis get into difficulties, Jani improves to second and on lap 58 the race positions show a one-two for Porsche. At the next pit stop after 71 laps Marc Lieb jumps in. The mechanics refuel, change the tyres and the front nose, which was damaged in traffic. After the sister car's accident, car number 2 is leading the race. A full course yellow, caused by Audi number 8 having problems and stopping out on the track, ends on lap 76. At the restart Lieb gets involved in another battle and the number 7 Audi takes the chance to grab the lead. After 102 laps Lieb hands the car back to Dumas. The safety car is on track to clear debris from a Toyota, caused by a damaged tyre. When the race goes green again after 106 laps, Dumas stays in P2. With 132 laps completed, Jani gets back into the car, which is still running second. After 161 laps the 919, that is again temporarily leading, comes in for fuel and has only the tyres on the left side changed to save time. When his hunt for the number 7 Audi is in full swing, one lap later he has to pit again, this time because of a puncture on the front right. After 187 of the final 194 laps he comes in for the last splash and dash and finishes second.
Quotes after the race:
Dr Oliver Blume, Chairman of the board Porsche AG: "The race was thrilling right to the end. Highs and lows were close together – that's racing. The season opener clearly proved the extremely high level of the World Endurance Championship. The tight competition between such different car concepts is fascinating and groundbreaking. Qualifying, as well as the race result, are extra motivation for us to be back on top again next time."

Fritz Enzinger, Vice President LMP1: "We have an action packed weekend behind us. Qualifying wasn't ideal for us and in the race we had various kinds of troubles, such as Brendon Hartley's accident, and we are relieved he wasn't hurt. In the end we had the puncture on car number 2. Nevertheless: congratulations to Audi. We came second, Toyota third – for the championship this is a great start to the season. The spectators can look forward to some very exciting racing. In Spa we will attack again."

Andreas Seidl, Team Principal: "Congratulations to Audi. We should have won today's race, but several incidents prevented us from doing so. Our number 1 car had a solid lead and lost the race in an accident with a GT car. The number 2 car also had a collision with a GT car, and in the end had one additional pit stop because of a puncture. Nevertheless: We had the fastest car on the grid and the fastest pit crew. Many thanks to the development team back home in Weissach and to the crew on site – we can count on our strengths."

Drivers Porsche 919 Hybrid number 1
Brendon Hartley (26, New Zealand): "I feel very upset for the team. The car was incredibly good and Mark did a mega first stint. When I took over everything was fine. I had a comfortable lead, didn't feel under pressure and did a good job in traffic. Then I wanted to get passed a GT car on the outside, which is quite normal through corner two, but the driver didn't see me and used all the road. It happened very quickly and we made contact. It was a racing incident that could have been avoided, and I am sorry for both the Gulf racing GT team and for our car number 1 crew. We will re group and take the positives from the weekend."

Mark Webber (39, Australia): "I did the first 27 laps and had a good and interesting stint. In the beginning the Audi was really strong, but then I was able to catch up, get passed and create a gap. Our car was very good today and we clearly have lost out on a good score here."

Drivers Porsche 919 Hybrid number 2
Romain Dumas (38, France): "During my first stint after the race start I touched a GT car and damaged the front aero. Afterwards the car was pretty understeery until the nose was changed. My second time in the car was also tricky. It was a big fight with Benoit Tréluyer in the Audi. I was a little bit faster, but it was difficult to pass him. Unfortunately I had slight contact with a Ford and went off track a bit. This cost us about 13 seconds. After that I was really quick."

Neel Jani (32, Switzerland): "I was the second driver and did a double stint. The first one was terrible because I got stuck in traffic all the time and lost up to six seconds per lap. After my pit stop I was a lot luckier with traffic and, although we still had the damaged front wing on the car, I was able to go at the same speed as the leading car. When I was back in the car during the last third of the race, again I had difficulties in traffic. Perhaps this is because we have less of an advantage this year on the straights. However, with the puncture our chances to win that race were gone."

Marc Lieb (35, Germany): "The duel with the Audi was time and tyre consuming, but I'm quite happy with my stint at around half race distance. There were huge differences between each lap. Sometimes I lost several seconds when lapping other cars, another time I lost almost nothing. Race preparation wasn't easy because of the weather conditions we had. Nevertheless we did a solid job in the race."
Race result 6 Hours of Silverstone (GB):
1. Fässler/Lotterer/Tréluyer (CH/DE/FR), Audi R18, 194 laps
2. Dumas/Jani/Lieb (FR/CH/DE), Porsche 919 Hybrid, – 46,065 sec
3. Conway/Kobayashi/Sarrazin (GB/JP/FR), Toyota TS050 Hybrid, – 1 lap
4. Imperatori/Kraihamer/Tuscher (IT/AT/CH), Rebellion R-One AER, – 11 laps
5. Heidfeld/Piquet jr./Prost (DE/BR/FR), Rebellion R-One AER, – 13 laps
6. Albuquerque/Gonzalez/Senna (PT/MX/BR), Ligier JS P1-Nissan, – 15 laps
Drivers' World Championship after one out of nine rounds:
1. Fässler/Lotterer/Tréluyer (CH/DE/FR), Audi, 26 points
2. Dumas/Jani/Lieb (FR/CH/DE), Porsche, 18 points
3. Conway/Kobayashi/Sarrazin (GB/JP/FR), Toyota, 15 points
4. Imperatori/Kraihamer/Tuscher (IT/AT/CH), Rebellion, 12 points
5. Heidfeld/Piquet jr./Prost (DE/BR/FR), Rebellion, 10 points
6. Albuquerque/Gonzalez/Senna (PT/MX/BR), RGR Sport by Morand, 8 points
Constructors' World Championship:
1. Toyota, 27 points
2. Audi, 26 points
3. Porsche, 18 points


Tous les rapports de course de la saison précédente peuvent être trouvés dans nos archives.