Porsche Classic Project Gold
Found and risen.
Experience the development of a vehicle that has never been seen before. The inspiration – based on a classic body – was individualized by Porsche designers. Accompany the "Classic Project Gold" from the very beginning through the different production steps.
Lacquer and laser.
Back then, hollow-spoke aluminium wheels were an innovation in the automotive industry. Today, high-tech meets craftsmanship. When adding the finishing touches to the black rims as part of "Classic Project Gold", the top coat of black paint is precisely removed using a laser, thereby mapping out the golden lines of the design. Take a glimpse behind the scenes of this extraordinary work step.
Seam and stitch.
Created by the designers at Style Porsche – implemented by the experts from the Porsche Classic factory restoration The seats and interior fittings are painstakingly covered with leather by hand in the dedicated saddlery, where the precise finish is rounded off in black leather with gold appliqué detail.
Protect and preserve.
Typically Porsche: the quality and attention to detail of the "Classic Project Gold". As shown here: The bodyshell is treated by cathodic dip painting at the Porsche plant, which gives it the same high-end body coating as current series models. This process took just a few hours but construction of this unique vehicle took around one and a half years in total.
Engine and electrics.
The bodyshell and engine are combined at the Porsche Classic Factory Restoration site via a procedure also known as the "marriage". The specialists from Porsche Classic installed a completely newly built 3.6-litre six-cylinder biturbo engine with an output of 331 kW (450 hp).
The Porsche Classic Project Gold.
One and only.
Based on an original bodyshell and original spare parts, Porsche Classic has built the last 911 Turbo with an air-cooled engine – 20 years after the end of series production of the type 993. Inspired by the design of the type-991 911 Turbo S Exclusive series, the vehicle is painted in the extraordinary Golden Yellow Metallic colour. The 911 Turbo Classic series is a highly attractive collector's item and a spectacular contribution to the "70 years of Porsche sports cars" celebrations.
The world premiere.
The vehicle will be presented to the public live for the first time at the Rennsport Reunion (USA).
October 27, 2018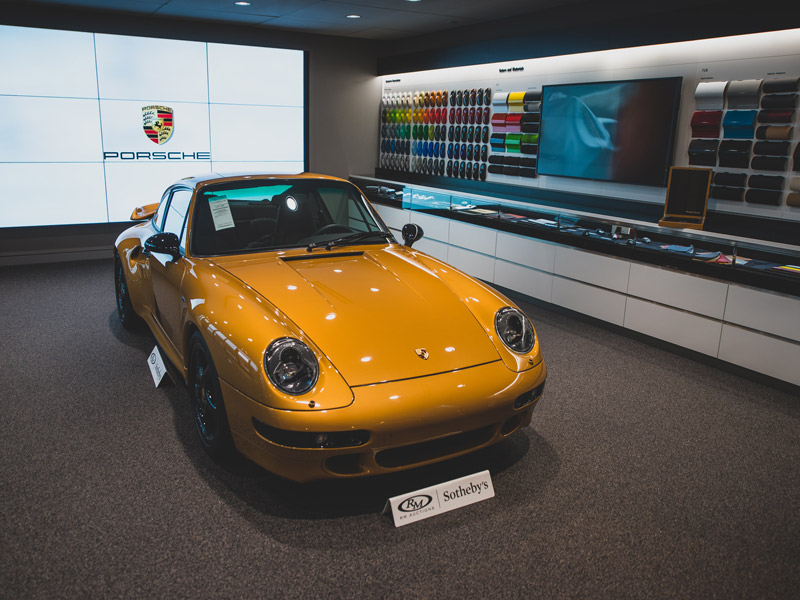 The auction.
To mark the "70 years of Porsche sports cars" celebrations, the vehicle was one of 70 Porsche cars to be auctioned by RM Sotheby's at the Porsche Experience Centre in Atlanta, USA. The net proceeds of EUR 2,589,027 were donated to the Ferry Porsche Foundation.
Porsche Classic Project Gold
Porsche Classic Project Gold
Porsche Classic Project Gold
Porsche Classic Project Gold
Porsche Classic Project Gold
Porsche Classic Project Gold
Porsche Classic Project Gold
Porsche Classic Project Gold
Porsche Classic Project Gold
Porsche Classic Project Gold
Porsche Classic Project Gold
Porsche Classic Project Gold
Porsche Classic Project Gold
Porsche Classic Project Gold
Porsche Classic Project Gold
Porsche Classic Project Gold
Porsche Classic Project Gold
Porsche Classic Project Gold