Press Releases
Porsche Centre Doha hosts enthusiasts at 'Fascination Sports Car' eventPorsche fans invited to enjoy rare brand experience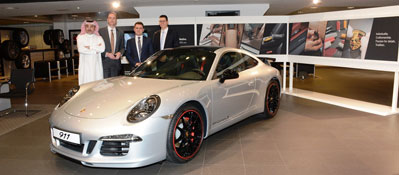 Doha. Local customers and sports car enthusiasts were invited to experience a range of rarely seen before Porsche models, with a static display event at Porsche Centre Doha, Al Boraq Automobiles Co. w.l.l showroom. The range of exclusive highlights included: the 911 GT3 RS, the Cayman GT4, 918 Spyder, a special 911 Exclusive Qatar Edition, a classic Porsche 964 Carrera and the now-legendary Porsche 919 Hybrid – the winner of this year's 24 Hours of Le Mans.
The showcase which took place between 6th to 8th December demonstrated the four key pillars of Porsche's brand values: heritage, motorsport, performance and E-Performance, with a range of informative displays, the three day programme hosted by Porsche Centre Doha, welcomed all sports car enthusiasts to visit the car showroom.
Ahed Dawood, Brand Manager of Porsche Centre Doha, said: "The 'Fascination Sports Car' was a great way for us to showcase the foundation of our brand. For over 65 years, Porsche has been driven by the dream of engineering the perfect sports car. This principle originates on the racetrack and is embodied in every single Porsche vehicle. It's a journey that has brought countless racing victories and created the unmistakable Porsche DNA. The sports car display event offered a chance for all sports car enthusiasts to explore this DNA and we can certainly conclude that it was a resounding success."
Embodying innovative advancements in E-Performance at the event was one of Porsche's most iconic super sports car, the 918 Spyder. With a total system output of 887 hp and fuel consumption of around three litres of petrol per 100 km, it is a key technology differentiator. The car's drive concept combines a high-performance combustion engine with two electric motors, ranging from an efficiency-oriented driving profile to maximum performance.
In addition to a range of high performance models on display, visitors were also able to get a closer look the 911 Exclusive Qatar Edition model.
12/10/2015