Press Releases
Porsche Centre Doha unveils state-of-the-art service facilityPorsche continues customer service excellence in Qatar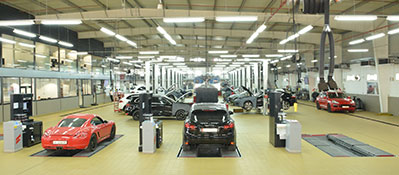 Doha. Continuing its commitment to providing unrivalled customer service and satisfaction, Porsche Centre Doha, Al Boraq Automobiles Co. w.l.l., opens its new service centre in Qatar. Located on Street 16 in the Industrial Area, the state-of-the-art facility offers direct, congestion-free access for all visitors and raises the bar for After Sales care as Porsche extends its heritage of automotive excellence in Qatar.
The landmark facility covers more than 3,600 square metres and comprises both technical workshop and customer service areas, designed and built to the highest specifications. A total of 18 work bays, all fully equipped with custom made workshop benches designed and manufactured to Porsche standard, will be utilised by 54 technicians and service advisors who will deliver the very best in After Sales care to customers across Qatar.
As well as housing four Direct Dialogue Bays, one of which features a Test Lane, the new facility also includes a Porsche Drivers Selection display section. Eight months in the making, the service centre sees the introduction of 42 new Porsche employees in Qatar, with a total of 54 employees being based at the new location.
Salman Jassem Al Darwish, Chairman and CEO of Porsche Centre Doha, commented: "Unparalleled customer service and an extension of the unique Porsche ownership experience into After Sales care are at the heart of our operations all over the world, and no less so in Qatar. Our third service centre in the country opens in line with the growth we have seen in the market over recent years and the demand we place on ourselves to ensure our customer service keeps up with that growth."
"Customer satisfaction and engagement is of the upmost importance to us and so is investing in our people to ensure that we continue to offer the very best-in-class service, reflective of the Porsche brand," he added.
The new Porsche Service Centre is located on Street 16 in the Industrial Area and is open 08:00 – 18:30 on Saturday and Thursday, and 08:00 – 18:00 from Sunday to Wednesday. It is the third service facility to open in Qatar, after the Porsche Service Centre at Street 27 in the Industrial Area, and the Quick Service Centre in Al Gharrafa.
3/1/2015