Press Releases
Doha hosts Porsche World RoadshowPorsche Centre Doha delivers exhilarating driving experience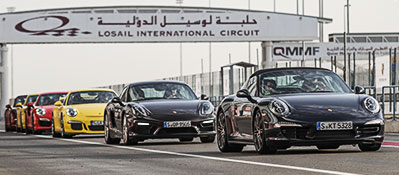 Doha. Almost 360 enthusiasts were treated to the ultimate Porsche experience as the Porsche World Roadshow showcased the unrivalled performance and driving dynamics of the entire model range at Losail International Circuit. Hosted by Porsche Centre Doha, Al Boraq Automobiles Co. w.l.l., and Porsche Middle East and Africa FZE, guests got behind the wheel and felt Porsche's motor sport DNA come to life in each of the brand's models during daily events from 21-29 November.
With celebrated dynamics and standout performance, the all new Boxster GTS and Cayman GTS proved themselves to be the fastest and most powerful iterations of the mid-engine models yet as they took on the Qatari asphalt. Guests were also impressed by the athletic Porsche Cayenne and agile Porsche Macan as the models demonstrated just why they are the only true sports cars in their respective segments. Showcasing an unrivalled balance between performance and luxury the Panamera embodied Porsche's credentials in the executive class while the iconic Porsche 911 was the cherry on top of the exceptional model line-up.
Porsche International expert instructors' team took the guests through a number of driving techniques including off-roading, braking, handling and slalom in a controlled and safe environment. Adding to the overall trademark Porsche experience, representatives from Porsche Centre Doha were also on hand to help show customers how to get the most out of their model, from selecting the correct seating position, to handling and maintaining complete control of the car. "The Porsche World Roadshow provided our participants with the perfect combination of driver education and fun," said Salman Jassem Al Darwish, Chairman and CEO at Porsche Centre Doha, Al Boraq Automobiles Co. w.l.l., "Guests experienced first-hand the unrivalled Porsche performance and exceptional luxury of our model range, and learned from world-class instructors how to safely harness the power of the cars. The feeling you get when driving a Porsche is something quite unique and we are delighted to have been able to share it."
Al Darwish added: "We brought the Roadshow to Doha for the third time because we wanted as many enthusiasts as possible to understand what the Porsche brand represents, and the reaction from our participants was overwhelmingly positive."
The Porsche World Roadshow has become hugely popular in recent years with those taking part at Losail International Circuit joining the many thousands worldwide who have sampled the advanced technical features, power and world-class performance of Porsche's wide range of sports cars, during the week-long event.
12/1/2014