Press Releases
Porsche extends heritage of custom tailoring with Qatar showcasePorsche individual tailoring sets customers apart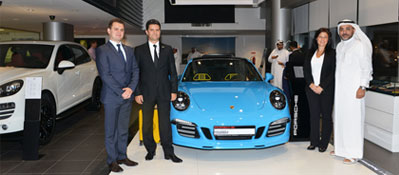 Doha. Porsche's legacy of delivering the ultimate in individual exclusivity, craftsmanship and customer service is the focus of the currently set up Exclusive and Tequipment exhibition, which sees Porsche Centre Doha, Al Boraq Automobiles Co. take their product individualisation to a new high.
For more than 25 years, Dr. Ing. h.c. F. Porsche AG, Stuttgart, has been offering the option of individually tailoring a Porsche down to the smallest detail to create an unmistakable, unique vehicle. Its ability to offer customers an almost infinite number of options for personalisation, so long as the car's safety is not compromised, is what sets the brand apart. This commitment to bespoke designs, colours, parts and tailoring for each model means that almost every one of the 160,000-plus Porsche cars that were delivered to customers across the world last year, is completely unique.
To build on its heritage of meeting the individual wants and needs of Porsche drivers in the Middle East, the brand is showcasing its commitment to the highest quality of customisation through "Porsche Exclusive", and also accessorisation through "Porsche Tequipment" for cars already built or bought as pre-owned.
Porsche offers hand-crafted refinements to provide a highly personalised touch in terms of design and performance. Almost any customer desire can be fulfilled by the Porsche Exclusive department, where highly trained members of staff meet the customer's needs to ensure the highest quality craftsmanship. With interior and exterior options ranging from brushed aluminum to carbon; colour-matched seat-belts to individualised gear knobs, the post-order building of most cars means the options are virtually limitless. All individualization requests are processed in the heart of the sports car company rich in tradition, in Stuttgart-Zuffenhausen located in southern Germany.
Only the finest craftsmanship and materials are selected, with each customisation component treated with the utmost personal care and dedication. Bespoke, manual work – completed with needle and thread wherever possible – is the binding principle of Porsche Exclusive; no machine handles material with as much finesse as human hands.
After a vehicle is ordered and delivered, the brand extends its customisation variables through an extensive list of optional specifications offered by Porsche Tequipment. With over 300 possible additions in terms of exterior, performance, transport and protection, wheels and wheel accessories the distinctiveness of each car is further developed.
Salman Jassem Al Darwish, Chairman and CEO of Porsche Centre Doha, says: "Porsche is all about individual luxury, not mass-produced luxury. Thanks to the Porsche Exclusive and Tequipment programmes we are able to offer an exceptional degree of customisation that is a true advantage and not commonplace in the automotive industry. Porsche is dedicated to exclusivity and that is what sets us apart. Take this as an example of one of our exclusive options; our customers can select their favourite colour and send a sample to Porsche Exclusive. We will then source interior leather to match the sample until they are satisfied the colour is correct, before fitting the car as such.
The Exclusive and Tequipment event at Porsche Centre Doha showcases uniquely customized vehicles, featuring rarely seen individualization options. The selection on display is a key feature of the event and includes a 911 Carrera in Riviera Blue, Boxster in Pastel Orange and Panamera S in Azzuro California Metallic. In addition, a wide selection of leather samples, individualization parts, interior as well exterior design elements and other specimens can be examined in the showroom.
The fine craftsmanship and individuality, of the Porsche Exclusive and Porsche Tequipment features, result in a work of art, as unique as the customer who designs it.
7/14/2014