Press Releases
Flying Schmidt wins race two of Round three at the Losail International Circuit in Porsche GT3 Cup Challenge Middle East
Jeffrey Schmidt 1st, Ashkanani 2nd and Schmid 3rd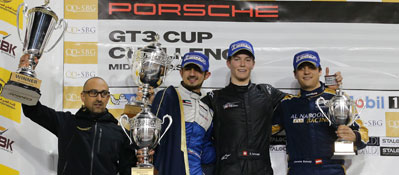 Saudi Falcons guest-driver Jeffrey Schmidt won Race 2 of Round 3 of the Porsche GT3 Cup Challenge Middle East at the Losail International Circuit in Qatar to claim valuable team-title points for the Saudi outfit, with UAE-based Clemens Schmid finishing third.
Starting from pole position and sitting in for Faisal Binladen, Schmidt produced a flying start to canter through to a 5.750 seconds victory. The revelation of the season, Kuwait teenager Zaid Ashkanani continued his impressive run of form to finish runner-up, ahead of reigning champion Schmid.
Switzerland's Schmidt, with a burgeoning reputation in motorsport in his teenage years, dominated from a rolling start following heavy rain throughout the day in Doha to control the race, and never looked threatened as he accelerated away from 17-car grid.
Starting fourth on the grid, Ashkanani once again produced a mature performance to overtake Team Bahrain's Salman bin Rashid Al Khalifa and Clemens Schmid in the early stages of the race under lights to continue his impressive form of getting on the podium in each race barring Race 1 of the Dubai round. The exciting teenager also moved to second the championship standings, 27-points behind overall leader Schmid.
Speaking after the race, Ashkanani said: "It is one of the highlights of my career if you take into consideration the race conditions and where I started on the gird. I was lucky Salman bin Rashid Al Khalifa and Schmid made mistakes which helped me get the runners-up spot. I will continue to fight till the last race of the season and hopefully be in the reckoning for the championship."
Championship leader Clemens Schmid, starting second on the grid, was involved in a tough battle against Ashkanani and Saudi Falcons Abdulaziz AlFaisal. In lap three, Schmid lost his second place position and dropped down the pecking order as Ashkanani and AlFaisal took advantage of the Austrian's error. However the reigning champion showed his battling qualities to fight back and claim third place.
Following the race, Schmid said: "It was a very tough race with wet and windy conditions but it was a challenge we had to accept and I am happy with the result. Jeffrey was very fast today and I needed to keep my composure to claim a podium position. I made an error early on and moved to fourth but then Abdulaziz made a mistake which allowed me to claim third place."
With an absorbing battle for places on the podium, the race to complete the top six was just as captivating with positions interchanging regularly. Starting third on the grid, Salman Al Khalifa of Team Bahrain fell down the field in the first lap and after a mid-grid battle was unable to complete the race, withdrawing in lap ten.
Saudi's Fahad Algosaibi kept hold of his position throughout the race despite constant pressure from Christina Nielsen and Karim Al-Azhari to claim fifth position. The fight for the final spot was absorbing with Nielsen keeping hold of the position for the majority of the race before the veteran Al Nabooda Racing driver Al-Azhari showed there was no substitute for experience to take sixth position and claim the points for his team.
The series returns to the Losail International Circuit for Round 4 on 31st January and 1st February 2014.
Overall championship standings after Round 3
| | Name | Country | Team | Points |
| --- | --- | --- | --- | --- |
| 1st | Clemens Schmid | Austria | Al Nabooda Racing | 146 |
| 2nd | Zaid Ashkanani | Kuwait | BuzaidGT | 119 |
| 3rd | Abdulaziz AlFaisal | KSA | Saudi Falcons | 112 |
| 4th | Hasher Al Maktoum | UAE | Skydive Dubai Falcons | 103 |
| 5th | Karim Al-Azhari | UAE | Al Nabooda Racing | 99 |
| 6th | Saeed Al Mehairi | UAE | Skydive Dubai Falcons | 79 |
For the full race schedule, driver profiles or latest news on GT Porsche GT3 Cup Challenge Middle East please visit the official website: www.gt3cupchallenge-me.com or follow series' news at www.facebook.com/porscheGT3CCME or on Twitter @PorscheGT3CCME.
1/19/2014