Press Releases
Porsche Centre Doha Celebrates 25 Years of Porsche Exclusive with rare vehicle display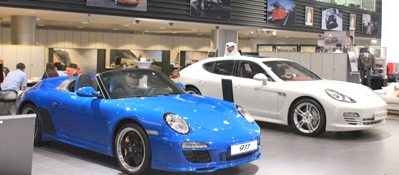 Doha. Porsche Centre Doha, Al Boraq Automobiles Co. w.l.l, recently celebrated the 25th Anniversary of Porsche Exclusive with a three-day event at the Porsche showroom in Doha – including a chance to see the only Porsche 911 Sport Classic in Qatar.
Guests at the Doha Centre had the rare opportunity to get up close and personal with a variety of Exclusive models that were on display, including the 911 Speedster and the Sport Classic.
Salman Jassem Al Darwish, Chairman and CEO of Al Boraq Automobiles Co. w.l.l, says: "For 25 years, Porsche has been offering the option of individually tailoring to create an unmistakable, unique vehicle.
"Porsche Exclusive offers handcrafted alterations to provide a highly individual touch in terms of design and performance – something our discerning customers in Qatar and across the region truly appreciate."
The Porsche 911 Sport Classic was first presented at the 2009 Frankfurt Motor Show, with only 250 cars worldwide - and just one in Qatar. This very special 911 features a double-dome roof and striking SportDesign front apron, with its unique spoiler lip and a fixed rear spoiler modeled on the legendary ducktail of the 1973 Carrera RS 2.7. 
Powered by a 3.8-litre Direct Fuel Injection engine, the Sport Classic produces 408 horsepower for outstanding performance. The 911 Sport Classic comes exclusively with a six-speed manual gearbox.
The 911 Speedster was also on show as part of the event. With a production run of just 356 worldwide, this new car is only the third 911 Speedster to go into production, following models launched in 1988 and 1993.
Its interior boasts a combination of black leather and various fittings from the Porsche Exclusive catalogue. Clients can choose between two exterior colors: Pure Blue, which has been developed specially for the new car, or Carrara White. The 2011 Porsche 911 Speedster is powered by the latest version of its 3.8-litre flat-6 cylinder engine.
It delivers 402 horsepower and 310 pound-feet of torque. The gearbox is a seven-speed PDK double-clutch gearbox with a locking rear differential.
Other models on display during the exciting Doha anniversary event included a Panamera 4S Middle East Exclusive Edition, 911 Turbo S, Cayenne Turbo and a Panamera Turbo S.
A team from Porsche Exclusive in Germany were present to give detailed, expert descriptions of the entire models on display.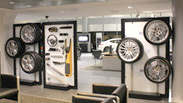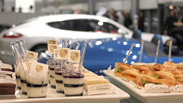 12/1/2011