Press Releases
Porsche Centre Doha sponsors the 10th InterContinental Doha Mixed Open Porsche supports local golf community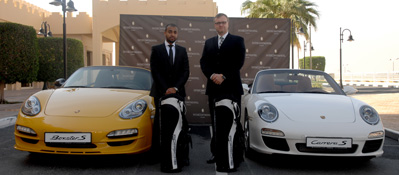 Doha. Al Boraq Automobiles Co. w.l.l, the official importer of Porsche cars in the Emirate of Qatar, is one of the new sponsors for the 10th InterContinental Doha Mixed Open. The Golf tournament will be held from the 24th to the 26th of November 2011 for the sixth consecutive year.
The 10th InterContinental Annual Mixed Open promises to attract a top class amateur field of 200 golfers (100 couples) from throughout the Gulf region and abroad competing in a three-day golfing event, including a complimentary practice round (24th November) followed by two tournament rounds played in Greensomes format on the Championship Course at the exclusive Doha Golf Club.
"InterContinental Doha is extremely proud to once again associate itself with this prestigious sporting event. One of the objectives of the InterContinental Mixed Open is to showcase and test the skills of amateur golfers from the whole Gulf region in teams of two. I would also like to welcome Porsche Centre Doha that has joined us this year in sponsoring the Mixed Open which will surely add to the overall event experience," commented Hafidh Al Busaidy, General Manager, InterContinental Doha.
Gilad Moses, Marketing Manager at Porsche Centre Doha said: "Porsche has been successfully involved in golf events for many years with various professional and amateur golf tournaments supported by Porsche dealers and distributors all over the world. With its commitment to precision and excellence, this sport matches the Porsche brand and its exclusive products perfectly. Thus, the 10th InterContinental Doha Mixed Open is the ideal platform for Porsche Centre Doha to engage with Golf enthusiasts from Qatar and the Middle East region."
Besides entertaining guests, Porsche Centre Doha will also have the entire model range on display for tournament visitors to get a closer view.
Prizes to be awarded include exclusive and memorable invitations to a Porsche "Dinner for 2" for the category winners: most exercised couple, longest drive and nearest to the pin. In addition, the top five couples receive Porsche Golf Bags from the highly sought after Porsche Design Driver's Selection.
The Tournament will conclude with the official prize ceremony and dinner to be held at the Doha Golf Club in the evening of the 26th of November.
In the Picture: Left to Right
Gilad Moses: Marketing Manager - Porsche Centre Doha
Jeremy Canivet: Director of Sales - Intercontinental Hotel Doha
For additional information, please contact Gilad Moses on +974 44599666 or +974 33546028 or email Moses.Gilad@boraq-porsche.com.qa.
11/26/2011