Press Releases
Porsche Centre Doha to launch second season of Porsche Kids Driving School in October 2011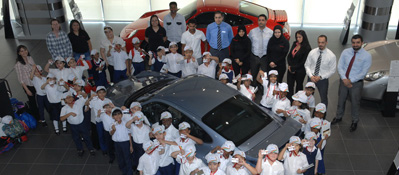 Doha. Porsche Centre Doha, Al Boraq Automobiles Co. wll, will start the second season of the popular Porsche Kids Driving School beginning October 2011.
The local importer of Porsche cars successfully concluded the programme's first season with a record of 2,000 children participating from January till June this year. Many Qatari schools, such as the Doha English Speaking School, Ali Bin Abdulla School and Massaied International School, sent many of their pupils to one of the offered courses. More schools will follow in the next term.
The Porsche Kids Driving School combines educational objectives with an entertainment approach. It includes theory lessons on basic traffic rules and road signs as well as a practical driving session on Porsche 911 pedal cars under professional supervision. For this, an indoor training parkour with traffic lights, road signs and a zebra crossing is available to children between five to eight years.
For more information or to register for the second season schools can contact Cherrie Cantillana, Porsche Kids Driving School Instructor via telephone 44599693 or email: Cantillana.Cherrie@boraq-porsche.com.qa.
9/25/2011