Press Releases
Porsche Centre Doha introduces four new Panamera models during "Ramadan Nights"New Panamera models on display during religious season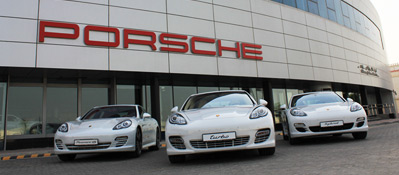 Doha. Porsche Centre Doha, Al Boraq Automobiles Co. wll, will launch a special event programme this August to celebrate the arrival of four new Panamera models, including the Panamera Diesel, Panamera S Hybrid, Panamera Turbo S and Panamera 4S Exclusive Middle East Edition. The showroom will be set in an Arabian ambience through special furnishings and culinary items during the holy month of Ramadan. This occasion marks the first ever opportunity to view all Panamera derivates on display in Porsche's facility.
The new Panamera Diesel is the proof that performance and economy are not polar opposites. The 3.0-litre turbocharged V6 diesel engine with variable turbine geometry delivers 250 hp of power, a maximum torque of 550 Nm and a top speed of 242 km/h. The basic retail price of 368,000 Qatari Riyals makes the Panamera Diesel a very attractive model.
By introducing the Panamera S Hybrid Dr. Ing. h.c. F. Porsche AG, Stuttgart demonstrates the next stage of Porsche Intelligent Performance. The vehicle features sports car dynamics combined with low fuel consumption and emissions. Expressed in figures, the car accelerates from 0 to 100 km/h in 6.0 seconds, has a top speed of 270 km/h and returns a comparatively low fuel consumption of 7.1 l/100 km.
The new Panamera Turbo S arriving just in time is an exceptional combination of performance and efficiency, driving dynamics and comfort. The 4.8 litre, V8 biturbo charged engine delivers 550 hp, ten percent or 50 hp more than the already very powerful engine in the Panamera Turbo. It is the most powerful of its family and starts at 809,200 Qatari Riyals.
Completing the unique line-up is a very special highlight, one of the only 66 available vehicles of the Panamera 4S Exclusive Middle East Edition with its Carrera Red leather interior will be on display at Porsche Centre Doha. Only a very few of these distinctive units remain for sale for a short period of time.
As an exceptional offer to customers during Ramadan, every Panamera model sold during this special period will come with a free extended one-year warranty in addition to the two-year Porsche International Warranty as well as a two-year service package.
Moreover, customers can also enjoy additional benefits on the entire sports car range as well as on Porsche Approved vehicles during the ninth month of the Islamic calendar.
Commenting on this special concept, Salman Jassem al Darwish, Chairman and CEO of Porsche Centre Doha, says: "This holy month is a time to embrace tradition and heritage, which are two of Porsche's most valued principles. With our "Ramadan Nights" concept visitors will have the unique opportunity to view the complete Panamera range in a lavish showroom setting for the first time. With the introduction of the four new models the range has widened making the Panamera a strong competitor in the luxury sedan segment."
Porsche Centre Doha is located at Al Matar Street before Airforce Roundabout. The opening hours of the showroom during Ramadan will be Saturday to Thursday from 10:00am to 1:00pm and 8:30pm to 11:30pm.
7/25/2011