Press Releases
Porsche Centre Doha thrills SASCOM with an Exclusive Test-Run eventPorsche Centre Doha Test-Run event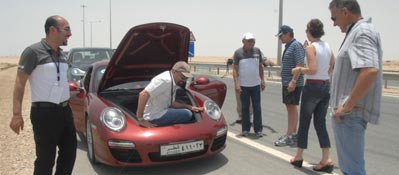 Doha. On a sunny Friday morning, a selected group of the South African Social Committee was invited to the first Porsche exclusive Test-Run event held at the Grand Hyatt Hotel Doha. After brief introduction of the Porsche Model Range SASCOM members were given the unique opportunity to experience the performance and sportiness of the Porsche range. Lined up was a fleet of 10 Porsche models from the successful SUV the Cayenne S, to the high-performance sports cars Cayman, Boxster, the legendary 911 Carrera S and the luxurious Gran-Turismo the Panamera S, 4S and the 500hp Panamera Turbo.
In collaboration with Porsche Centre Doha this thrilling day trip commenced with breakfast at the luxury Grand Hyatt Doha while partners and kids were escorted to relax by the pool courtesy of the Grand Hyatt hotel. The route incorporated driving in a convoy through the West Bay, Losail and Doha areas where drivers were given the chance to swap vehicles over and experience the different driving dynamics and performance of all the Porches Models.
The Event was Concluded with the first ever Porsche Lounge night at The Rocca restaurant by the pool side of the Grand Hyatt Hotel.
6/4/2010