Press Releases
Porsche Kids Driving School successfully held at Porsche Centre DohaAnother Successful month for the Porsche Kids Driving School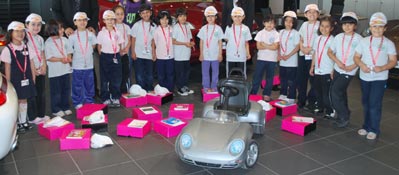 Doha.Month of May was an action packed month for the Kids of English Modern School and the Newton British as it was their turn to attend the Porsche Kids Driving School and get their First Driving Licenses.
Held on the First floor of the Porsche Centre Doha showroom over 150 Kids from the English Modern School and 120 Kids from the Newton British School successfully completed the program.
The Porsche Kids Driving School program is rapidly gaining popularity in Qatar. Available to children between five to eight years, the program combines educational objectives with an entertainment approach. It includes theory lessons on basic traffic rules and road signs as well as a practical driving session on Porsche pedal cars under professional supervision.
Organizations interested in giving children the opportunity to participate in the Porsche Kids Driving School can contact Porsche Centre Doha, Gilad Moses, Tel: +974 3546028, email: Moses.Gilad@boraq-porsche.com.qa.
5/17/2010