Press Releases
New Porsche Cayenne arrives at Porsche Centre DohaEagerly anticipated new generation Porsche Cayenne makes its national debut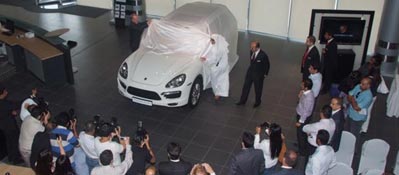 Doha. A long awaited model has finally arrived. Porsche Centre Doha, Al Boraq Automobiles Co WLL is proud to introduce the second generation Porsche Cayenne.
As a premiere for the Porsche brand this model is offered as a hybrid version, the Cayenne S Hybrid. A highly sophisticated parallel full hybrid drive ensures fuel consumption of just 8.2 litres/100 kilometres with CO2 emissions of just 193 g/km. The Cayenne S Hybrid combines the performance of an eight-cylinder with the economy of a six-cylinder running on much less fuel.
Based on the manufacturer's principle of "Porsche Intelligent Performance", all Cayenne vehicles offer more power on less fuel, greater efficiency and lower CO2 emissions. Compared with the former generation, fuel consumption is down by up to 23 per cent making the new models to trendsetters in their respective segments.
These objectives result from the introduction of the new Tiptronic S eight-speed automatic transmission with Auto-Start-Stop and a wide spread of gear ratios, thermal management on the engine and transmission cooling circuit, on-board network recuperation, variable engine cut-off and intelligent lightweight construction.
Thanks to its special combination of materials for optimum weight as well as changes in the overall concept of the vehicle such as the Cayenne's new active and extra light all-wheel drive, weight is down considerably, for example on the Cayenne S by 180 kilos. The lighter body weight did not prevent further improvements in product substance and an even higher standard of safety.
Benefiting from these features and new technologies, the new Cayenne offers even more driving pleasure both on-road and off-road, combined with even greater everyday driving qualities as well as enhanced comfort. The completely new, sporty yet elegant design of the new model integrates the 2010 Cayenne even more closely into the overall range of Porsche cars.
Extra space inside and greater variability is ensured by the wheelbase now 40 mm longer. In all, the new Cayenne is 48 mm longer than its predecessor. The eye-catching cockpit-like interior clearly derived from the Porsche Panamera, can now be also found in the new Cayenne with a centre console between the two front seats. For maximum comfort also in the back, the rear seat bench now moves fore-and-aft by 160 millimetres, with the backrest angle adjusting to three different settings.
The range starts with the 3.6-litre V6 Cayenne with an increased engine power to 300 bhp. With its eight-speed Tiptronic S transmission fuel consumption is down from the former model by no less than 20 per cent to 9.9 ltr/100 km.
The Cayenne Diesel with its 240 bhp three-litre V6 likewise reduces fuel consumption by 20 per cent, down from 9.3 to 7.4 ltr/100 km. (only for: India, Pakistan, Saudi Arabia, U.A.E., Qatar, Kuwait, Oman).
Fuel efficiency is also up significantly on the high-torque Cayenne S with its 4.8-litre V8 power unit, in this case by 23 per cent to 10.5 litres/100 kilometres. At the same time the new engine delivers 400 bhp maximum output instead of the former 385 bhp.
The most powerful Cayenne Turbo, with its 500 bhp 4.8-litre V8 biturbo consumes now just 11.5 ltr/100 km representing also a reduction in fuel consumption of 23 per cent.
At 193 g/km, the Cayenne S Hybrid is the cleanest version of the Cayenne with the lowest level of emissions. In the intelligent interaction of the three-litre supercharged V6 and the electric motor, the Cayenne S Hybrid focuses on maximum efficiency from the overall system. Depending on driving conditions, the vehicle operates with one drive unit by itself or with both drive units working together. In this context the 47 hp electric motor is of course the ideal partner for the 333 hp compressor engine with its high torque at low speeds. Together, the two drive units deliver maximum system output of 380 bhp and peak torque of 580 Nm at just 1,000 rpm, with the same kind of performance as the Cayenne S with its V8 power unit.
The two drive units are connected to one another by a separator clutch. Given a desired slow speed, for example in a residential area, the driver can cover short distances on electric power alone at a speed of up to 60 km/h, free of emissions and hardly any noise.
To ensure fast acceleration when setting off, the electric motor also serves as an additional boost. Intelligent management of the separator clutch makes the transition among the hybrid-specific driving modes comfortable and quick. When no further power is required, the combustion engine may be fully disengaged from the drivetrain at speeds of up to 156 km/h. In this so called sailing mode the drag forces exerted by the combustion engine and their braking effect are eliminated in the interest of lower drive resistance and fuel consumption.
"The new Cayenne features a completely new exterior and newly defined luxury interior. Yet in today's world, it's clearly not enough to pour on more power; there must be a clear, simultaneous improvement in fuel consumption. We have optimized this objective to a maximum by reducing CO2 emissions of up to 26% and a reduction in fuel consumption of up to 23% less. This car clearly brings a new dimension to the SUV market", said Deesch Papke, Managing Director of Porsche Middle East and Africa.
Salman Jassem Al Darwish, Chairman and CEO of Porsche Centre Doha, emphasized on the new features that meet the customer's demand in the local market. "We are extremely proud to launch the new Cayenne. This model represents the perfect balance between elegant design, powerful driving dynamics and a high level of comfort. Despite all of this, efficiency has significantly improved making this model an outstanding trendsetter in its segment."
The basic retail prices for the new Cayenne models in Qatar are:
| | |
| --- | --- |
| Cayenne | 240,300 Qatari Riyal |
| Cayenne S | 287,800 Qatari Riyal |
| Cayenne Turbo | 471,700 Qatari Riyal |
| Cayenne Diesel | 246,200 Qatari Riyal |
| Cayenne S Hybrid | 307,200 Qatari Riyal |
5/27/2010