Press Releases
Porsche Centre Doha inaugurates Medina Centrale showroom during Sports Car Together Day eventA weekend of celebrations at Porsche's new home in Qatar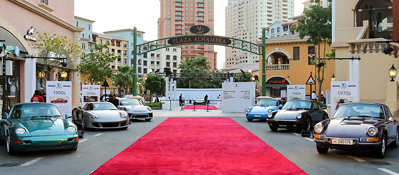 A new Porsche Centre Doha showroom was officially inaugurated by Al Boraq Automobiles Co. w.l.l during an exclusive event where a line-up of sports cars showcasing the brand's evolution were on display. Attended by customers and enthusiasts, the occasion signified the public opening of the brand's new home in Qatar, whilst also commemorating the 70th anniversary of Porsche sports cars.
Forming part of the first Sports Car Together Day global calendar of events, Porsche Centre Doha's showroom opening highlighted the past, present and future of the Stuttgart-based manufacturer. The 8th of June 1948 marks the date on which the first Porsche vehicle, the 356 "No.1" was registered for road-use. Seven decades on and the brand has become renowned for producing high performance, emotional sports cars that have proven popular with customers and fans alike.
In continuation of the brand's success story, Porsche Centre Doha's new showroom offers a unique purchase environment. Featuring interactive displays, a Porsche Exclusive Manufaktur customisation area, a Heritage Wall displaying the Stuttgart-based manufacturer's rich history and a Carrera café. Located at Medina Centrale, The Pearl, Porsche Centre Doha's new showroom covers 1,000 sqm. The facility features a 14-car display space, configuration screens that help customers visualise their purchase, a hand-over lounge with interactive touch screens that enhance the experience of collecting a newly purchased Porsche, as well as a driving simulator for young enthusiasts.
Speaking during the inauguration, Salman Jassem Al Darwish, Chairman and CEO of Porsche Centre Doha Al Boraq Automobiles Co. w.l.l., said: "As the Porsche brand continues to evolve and grow, so does our offering in Qatar. This showroom is at the centre of one of Doha's most established communities, bringing us even closer to our existing customers and offering enthusiasts access to learn more about a brand that for the last 70 years has become synonymous with producing outstanding sports cars. Our new showroom truly embodies Porsche's principles of innovation, design and efficiency. It is the ideal place to come and get immersed in the world of exclusive sports cars made in Stuttgart-Zuffenhausen."
Attending the launch event, Steffen Fleck, Network Development Director, Porsche Middle East and Africa FZE, added: "I would like to congratulate Salman Jassem Al Darwish and the Porsche Centre Doha team on launching this state-of-the-art facility. Throughout our 70 years of manufacturing sports cars showrooms like this have played a fundamental role in giving the public a go-to destination where they can see, feel and learn about what makes a Porsche special. Following a record-breaking 2017 for Porsche sales worldwide, the introduction of this new facility will contribute to the reach and growth of the brand regionally."
Upon arrival at Porsche Centre Doha, guests will be able to see the brand's latest range of sports cars. A visit to the showroom also offers the opportunity to get a taste of the Porsche lifestyle at the onsite Carrera Café, which features a coffee bar, alfresco seating and baristas ready to deliver a new level of customer service. Also available at are a range of exclusive accessories and apparel at the Porsche Driver's Selection boutique. The Tequipment Corner displays Porsche's latest personalisation and customisation offerings, enabling customers to browse a wide selection of accessories and technical equipment for new and pre-owned vehicles
As part of Porsche's ongoing commitment to electro-mobility, customers have access to a charging station for E-Hybrid models. The new Medina Centrale showroom is already prepared for the introduction of Porsche's first, future all-electric model, with charging capabilities for Mission E.
Porsche Centre Doha, Medina Centrale, The Pearl is now open to the public. For more information, please visit; porscheqatar.com or call 44599666.
6/9/2018