State of the art Porsche Center and Showroom set to open in Muscat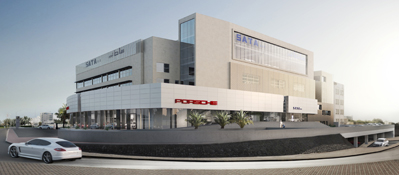 Muscat. SATA LLC released and signed the contract for the construction of the new state of the art Porsche Centre and Showroom with Teejan Trading & Contracting Co. LLC (TTC). The construction contract signing ceremony was held on 8th April 2015 at the existing Porsche showroom, and was led by late Mr. Abdul Rasool Qassim's sons, Mr. Fawzi Hamed Al Harasi, CEO of Teejan Trading & Contracting Co. LLC and Mr. Muhammad Sultan Al Salmy, Managing Director of Hoehler and Partner Architectural and Engineering Consultancy.
Following a very competitive tendering process Mr. Qassim expressed his eagerness to start the project as he stated: "The new showroom will consist of 42 spots for car displays and a work shop area which will have the capacity to service 700 cars a month. The showroom is guaranteed to interest clients and car enthusiasts with its inviting facilities and innovative design elements created by Hoehler and Partner LLC. The showroom will be one of its kind in the Middle East. Our aim is to have a showroom with international standards, not similar to any of the other showrooms in the country."
The project is set to be delivered by October 2016.
4/13/2015