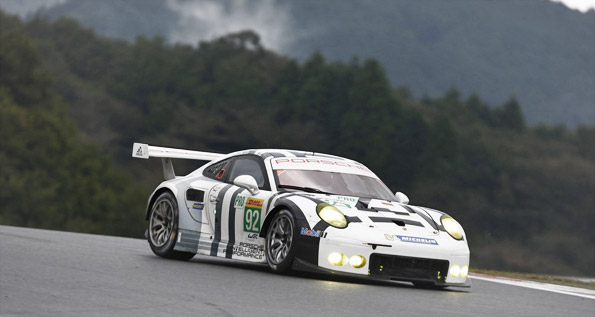 Race report
FIA World Endurance Championship, GT, round 6, Fuji, Race report
Porsche leads driver and team classifications – class win for Patrick Dempsey
Stuttgart. Porsche continues to keep the title fight open in the strongly represented GTE-Pro class of the Sports Car World Championship WEC (World Endurance Championship). After clinching two double victories at the Nürburgring and at Austin, the 911 RSR fielded by the Porsche Manthey squad earned important points towards the championship at the Japanese round in Fuji. With the 470 hp winning racer from Weissach, the fastest racing version of the iconic 911) sports car, French pilots Frédéric Makowiecki and Patrick Pilet scored second place in front of 52,000 spectators at the six-hour race on the Fuji Speedway. Their team colleagues Richard Lietz (Austria) and Michael Christensen (Denmark) took the flag in fourth. After the sixth of eight WEC rounds, one of the most important motorsport championships aside from Formula 1, Richard Lietz still holds the lead of the GT drivers' championship.

In the GTE-Am class, Hollywood star and race driver Patrick Dempsey ("Grey's Anatomy") notched up his first victory in the WEC. Facing extreme weather conditions, the American won the race in the 911 RSR campaigned by the Dempsey Proton Racing customer team with Patrick Long (USA) and Marco Seefried (Austria). With his teammates, Patrick Dempsey has already netted second place at the Le Mans 24 Hour classic this season.

Mount Fuji was hidden by a curtain of dark clouds when the 31-strong field took off on the formation lap. Because the 4.563-kilometre tradition-steeped race track at the foot of Japan's sacred mountain was still under water after rainfall overnight, the field spent 17 laps under yellow behind the safety car. When the race was finally given the green flag, Patrick Pilet made the cleanest getaway of all Porsche GT pilots. After six race laps, the Frenchman, who had clinched the championship title in the United SportsCar Championship in torrential rain a week prior, swept past three rivals in his 911 RSR (#92) and was running in second. Following in the slipstream, the number 91 911 RSR with Michael Christensen at the wheel also reeled in the field: Taking off from ninth on the grid, he overtook his team colleagues after nine race laps to snatch the lead ten laps later.

By this time, the race, which had been stopped under full yellow due to torrential rain after several laps, was just an hour old. On the rain-drenched circuit, the 911 RSR benefited from its excellent traction thanks to its rear engine concept and ran at the front of the GT field over long distances. When Michael Christensen handed the 911 RSR off to Richard Lietz in the 43rd lap, the Austrian, who was the last Porsche GT winner at Fuji in 2012, needed just six laps to retake the lead. Even as the rain slowly eased after almost two hours of racing and fans could pack away their umbrellas, the conditions remained tricky. However, the adverse weather conditions failed to dampen their spirits. As compensation, they were treated to spectacular duels and overtaking manoeuvres, for instance when Patrick Pilet set out in pursuit of the leading Ferrari in the second half of the race, and with an inspired performance, gradually ate away at the gap to finally snatch the lead at the end of the long finish straight early in the 105th lap.

Only when the circuit slowly dried with two hours to the flag and the teams switched to slicks did the two 911 RSR lose ground to the front. The reason for this was not least due to the extra pit stop for the necessary change to dry tyres. Launching a second stunning chase through the field, Patrick Pilet managed to bring home second place for the Porsche Manthey team.

In the World Endurance Cup for GT Drivers, Richard Lietz defended his lead. Porsche Manthey also holds the lead in the GTE-Pro overall standings for teams. Amongst the manufacturers, Porsche currently ranks second with two remaining races still to go at Shanghai/China and Sakhir/Bahrain.

In the GTE-Am class, Le Mans outright winner Earl Bamber (New Zealand) delighted fans with a spectacular recovery. With just a few laps remaining, he charged through from the back of the pack on a drying track at the wheel of the 911 RSR run by the Porsche customer squad Abu Dhabi Proton Racing. As he settled into third place, he was hit by an overtaking LMP1 sports prototype. The ensuing pit stop to change a damaged rim threw him and his teammates Christian Ried (Germany) and Khaled Al Qubaisi (Abu Dhabi) back to fifth place.
Comments on the race
Marco Ujhasi, Overall Project Leader GT Works Motorsport: "A crazy race that was characterised by different strategies of individual manufacturers and cars. Under such circumstances, we achieved the best possible result. Still, we have a lot to analyse and we'll use the insights to tackle the next races even stronger. Congratulations to our customer team Dempsey Proton Racing on winning their first WEC race. Their effort was nothing less than sensational. Flawless pit stops, a top performance on the track and perfect timing amongst the drivers – my compliments!"

Richard Lietz (911 RSR #91): "This race had everything that fans could possibly wish for. And we had fun in the car as well. We made many correct decisions today. Unfortunately, the stewards of the meeting caused confusion in the end by first announcing and then promptly revoking the caution phase, and we suffered the consequences of this. It cost us a podium result. The decision to intervene in this way is a shame. We had a great car today, but under these conditions we weren't able to achieve what would have been possible."

Michael Christensen (911 RSR #91): "Because of the extreme weather as well as the caution phases and collisions it was really difficult to develop the right strategy in this race. But then things happened over which we had no influence. That threw us back."

Patrick Pilet (911 RSR #92): "What a strange race. I'm not completely happy because not everything was perfect. We had no luck with the tyre choice, which was partly my fault. As the track became drier, we didn't switch to slicks at the right time. I thought it was still too early and wanted to wait a few more laps. Because of this we had to come into the pits again shortly afterwards and we lost a lot of time. Towards the end I did everything to earn as many championships points for Porsche as possible. Despite everything, we underlined the potential we have. I now hope we can turn this into a win at Shanghai."

Frédéric Makowiecki (911 RSR #92): "Ultimately it was still a good result. It was a very tough race for us all under extremely difficult conditions. We were looking good from start to finish. Unfortunately we missed the right time to switch to slicks. But Patrick made the most out of the situation."

Patrick Dempsey (911 RSR #77): "A great feeling. Our first victory in the WEC – we've worked hard for this over the entire season. I drove a long first stint in pouring rain and then had to wait for hours. When I climbed back into the car shortly before the flag, my main priority was not to make any mistakes. But everything came together today. Patrick gave me advice over the radio, Marco drove a fantastic stint and the team's strategy was perfect. I'm very grateful for all the support I've received from Porsche and the team this season. It enables me to keep developing as a driver. This is a great day – and from now on Fuji is one of my favourite race tracks."

Patrick Long (911 RSR #77): "After finishing second at Le Mans I thought I couldn't top the emotion. But this victory has surpassed everything. None of us made any mistakes, and Marco put in an incredibly strong drive at the midway mark of the race. That made this great success possible.

Marco Seefried (911 RSR #77): "During my stint I wasn't really aware that we were doing so well. When you're out there doing your thing, you don't really know where you're actually lying in the race. I had no idea that we were so strong at this point. I wasn't even at 120 percent, instead I tried to be fast and consistent. But we had a very good car today. To drive the 911 RSR on this tricky circuit was huge fun."
Race result
GTE-Pro class
1. Bruni/Vilander (I/SF), Ferrari F458 Italia, 193 laps
2. Pilet/Makowiecki (F/F), Porsche 911 RSR, 192
3. Rigon/Calado (I/GB), Ferrari F458 Italia, 192
4. Lietz/Christensen (A/DK), Porsche 911 RSR, 192
5. Sörensen/Nygaard (DK/DK), Aston Martin, 191
6. Turner/Adam (GB/GB), Aston Martin, 190
7. MacDowall/Rees/Mücke (GB/BRA/D), Aston Martin, 190

GTE-Am class
1. Dempsey/Long/Seefried (USA/USA/D), Porsche 911 RSR, 187 laps
2. Dalla Lana/Lamy/Lauda (CDN/P/A), Aston Martin, 187
3. Perrodo/Collard/Aguas (F/F/P), Ferrari F458 Italia, 186
4. Roda/Ruberti/Sylvest (I/I/DK), Chevrolet Corvette, 185
5. Ried/Bamber/Al Qubaisi (D/NZ/UAE), Porsche 911 RSR, 185
6. Bertolini/Shaytar/Basov (I/RUS/RUS), Ferrari F458 Italia, 185
7. Castellacci/Griffin/Hall (I/GB/GB), Aston Martin, + 184
Points' standings GTE-Pro after 6 of 8 races
World Endurance Cup for GT manufacturers
1. Ferrari, 228 points
2. Porsche, 215
3. Aston Martin, 147

World Endurance Cup for GT Drivers
1. Richard Lietz, Porsche, 110 points
2. Davide Rigon, James Calado, Ferrari, 103
3. Gianmaria Bruni, Toni Vilander, Ferrari, 93.5
4. Michael Christensen, Porsche, 92
5. Frédéric Makowiecki, Porsche, 78
10. Patrick Pilet, Porsche, 60

FIA Endurance Trophy for GTE-Pro Teams
1. Porsche Team Manthey, #91 Porsche, 119 points
2. AF Corse, #71 Ferrari, 117
3. AF Corse, #51 Ferrari, 111


The seventh of eight rounds of the Sports Car World Championship WEC is contested at Shanghai/China on 1 November.
The Sports Car World Championship WEC
Sports prototypes and GT vehicles contest the Sports Car World Championship WEC (World Endurance Championship) in four classes: LMP1 (eg. Porsche 919 Hybrid), LMP2, LMGTE-Pro (eg. 911 RSR) and LMGTE-Am (eg. 911 RSR, 2014 homologation). They all compete together in one race but are classified separately.


All reports on the previous season can be found in our archive.