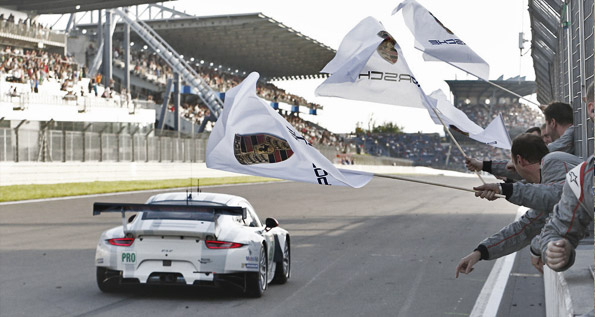 Race report
Porsche 911 RSR (91), Porsche Team Manthey
FIA World Endurance Championship, Round 4, Nürburgring, GT, Race report
Porsche 911 RSR clinches one-two at WEC debut in the Eifel
Stuttgart. After four straight wins in the USA and Canada, Porsche has now made the breakthrough in the Sports Car World Endurance Championship WEC. At the premiere of the popular race series on the Nürburgring, the Porsche Manthey squad scored its first victory this season in the GTE-Pro class on Sunday. With the 470 hp 911 RSR, which is based on the seventh generation of the iconic 911 sports car, Richard Lietz (Austria) and Michael Christensen (Denmark) finished first ahead of their French team colleagues Frédéric Makowiecki and Patrick Pilet. For Porsche, this marks the first one-two in the WEC since November 2014, when two 911 RSR finished at the front in Shanghai. Richard Lietz is the new leader of the World Endurance Cup for GT drivers.

Glorious summer weather in Germany's Eifel region and 62,000 spectators over the race weekend – everything fit perfectly at the first appearance of the Sports Car World Endurance Championship in Germany. The squad under team boss Olaf Manthey, who lives just a stone's throw from the Nürburgring in Meuspath, notched up its long-awaited first victory of the season of all places at the team's home race after scoring second place at both Silverstone and Spa. This has put the team in a good position for the second half of the season with four races abroad, the first of which is contested in Austin/USA on 19 September.

Just 23 minutes into the six-hour event on the storied race track, Michael Christensen had already moved up to take the lead after starting from fourth in the # 91 Porsche 911 RSR. From then on, the Dane and his Austrian teammate led the field over the entire distance, with the exception of several pit stops. For the number 92 Porsche 911 RSR, the race did not run quite as smoothly initially: Due to an alleged jump start, Frédéric Makowiecki received a stop-and-go penalty and was relegated to the back of the field. But with a spectacular pursuit through the field, he and Patrick Pilet made up ground. Midway through the race, the pair went head-to-head with the fastest Ferrari over many laps, with spectators in the grandstands giving them special applause for their gripping performance.

Almost halfway through the race the order was then one-two for Porsche: Richard Lietz in front of Patrick Pilet – with the rest of their rivals already one lap down at this stage. Despite another stop-and-go penalty for the #92 vehicle, the Porsche triumph remained unchallenged for the rest of the race.

In the GTE-Am class, Hollywood star and race driver Patrick Dempsey (USA) netted fourth place with teammates Patrick Long (USA) and Marco Seefried (Austria). The 911 RSR campaigned by the Dempsey Proton Racing customer team – with which the trio celebrated their greatest success to date claiming second at this year's Le Mans 24 hour race – was even running in the lead over long stretches. In the closing laps, however, it proved not quite enough for a podium finish. Porsche works driver Earl Bamber (New Zealand) also held the top spot for a long time in the 911 RSR fielded by Abu Dhabi Proton Racing. The Le Mans winner at times turned faster laps than the higher GTE-Pro class contenders. Nevertheless, he and his teammates Christian Ried (Germany) and Khaled Al Qubaisi (Abu Dhabi) had to settle for sixth place at the flag.

As a guest starter in the KCMG team from Hong Kong, Porsche works driver and Le Mans winner Nick Tandy (Great Britain) won the LMP2 class.
Comments on the race
Dr. Frank-Steffen Walliser, Head of Porsche Motorsport: "We can't have others beating us in our own backyard. But seriously: This is, of course, the perfect outcome. It wasn't an easy race, especially as we had to come to terms with some penalties. But the drivers did an excellent job and the team's strategy worked perfectly. The testing we conducted paid off. It's a dream to achieve two double victories for Porsche with our LMP1 colleagues in front of a fantastic backdrop. This is as good as it gets."

Richard Lietz (911 RSR #91): "First and second – just perfect. We prepared very well for our home race with two productive test sessions and we didn't let ourselves worry about the crazy weather conditions at the beginning of the week. Since testing, we changed almost nothing on the setup of our 911 RSR and this paid off."

Michael Christensen (911 RSR #91): "My maiden win in the WEC – I'm over the moon. What a perfect weekend. Things didn't go so well for us at Le Mans, but this was a fantastic comeback. It's one of the greatest successes in my career. And we're particularly thrilled that we could score victory for our team on their home track. Many of our mechanics had family and friends here and it must have been a wonderful day for them, too."

Patrick Pilet (911 RSR #92): "That was a tough race. Unfortunately we had to deal with two drive-through penalties which cost us a lot of time. It's a shame, because we had a fast car, good pit stops and a perfect strategy. To score first and second is a great success. We'll really celebrate today – but from tomorrow on we'll be focussing on the next race in Austin."

Frédéric Makowiecki (911 RSR #92): "The most important thing is that Porsche wins. It doesn't matter which car is in the front. Winning before such a great backdrop was important for the championship. We mustn't forget that the season is only halfway through. If we can maintain our focus and make the most of our chances, then we'll still be a favourite in the fight for the championship."

Patrick Dempsey (911 RSR #77): "Naturally I'm a little disappointed. Only two seconds off a podium result after a fantastic race. It was incredibly close at the flag. Now we're turning our attention to Austin. Eventually our team will be rewarded for all our hard work and the progress that we've made."

Patrick Long (911 RSR #77): "I really managed to enjoy my stints. They ran perfectly. The consistency and the balance of our 911 RSR were good and our strategy worked well. Unfortunately the extra pit stop put a spanner in the works. Still, despite our lead, it would have been difficult to win. However, a podium result would probably have been possible."

Earl Bamber (911 RSR #88): "Our start was great and we held the lead for quite some time. But then we experienced some bad luck and lost a lot of time. Our 911 ran without any problems and that makes us very confident for Austin. What we still need is a little luck."
Race result
GTE-Pro class
1. Lietz/Christensen (A/DK), Porsche 911 RSR, 176 laps
2. Pilet/Makowiecki (F/F), Porsche 911 RSR, 175
3. Rigon/Calado (I/GB), Ferrari F458 Italia, 175
4. Sörensen/Nygaard (DK/DK), Aston Martin, 175
5. MacDowall/Stanaway/Rees (GB/NZ/BRA), Aston Martin, 174
6. Turner/Mücke/Adam (GB/D/GB), Aston Martin, 173
7. Bruni/Vilander (I/SF), Ferrari F458 Italia, 168

GTE-Am class
1. Bertolini/Shaytar/Basov (I/RUS/RUS), Ferrari F458 Italia, 173 laps
2. Dalla Lana/Lamy/Lauda (CDN/P/A), Aston Martin, 172
3. Perrodo/Collard/Aguas (F/F/P), Ferrari F458 Italia, 172
4. Dempsey/Long/Seefried (USA/USA/D), Porsche 911 RSR, 172
5. Roda/Ruberti/Poulsen (I/I/DK), Chevrolet Corvette, 171
6. Ried/Bamber/Al Qubaisi (D/NZ/UAE), Porsche 911 RSR, 170
7. Castellacci/Goethe/Hall (I/D/GB), Aston Martin, 169
Points standings GTE-Pro after 4 of 8 races
World Endurance Cup for GT manufacturers
1. Ferrari, 166 points
2. Porsche, 142
3. Aston Martin, 106

World Endurance Cup for GT drives
1. Richard Lietz, Porsche, 73 points
2. Davide Rigon, James Calado, Ferrari, 72
3. Gianmaria Bruni, Toni Vilander, Ferrari, 62,5
4. Alexey Basov, Andrea Bertolini, Victor Shaytar, Ferrari, 58
5. Michael Christensen, Porsche, 55
8. Frédéric Makowiecki, Porsche, 42
10. Patrick Dempsey, Patrick Long, Marco Seefried, Porsche, 32
14. Patrick Pilet, Porsche, 24

FIA Endurance Trophy for GTE-Pro teams
1. AF Corse, #71 Ferrari, 86 points
2. Porsche Team Manthey, #91 Porsche, 82
3. AF Corse, #51 Ferrari, 80

The fifth of eight races in the Sports Car World Endurance Championship WEC will be contested on 19 September at the Circuit of the Americas in Austin/USA.

The Sports Car World Endurance Championship WEC
Sports prototypes and GT vehicles contest the WEC (World Endurance Championship) in four classes: LMP1 (eg. Porsche 919 Hybrid), LMP2, LMGTE-Pro (eg. 911 RSR) and LMGTE-Am (eg. 911 RSR, 2014 homologation). They all compete together in one race but are classified separately.


All reports on the previous season can be found in our archive.