Porsche Centre Kuwait supports 'Early Childhood Road and Traffic Safety Program'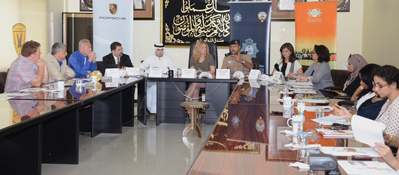 Under the Patronage of His Excellency Sheikh Ahmad Al Humoud Al-Jaber Al-Sabah, Deputy Prime Minister and Minister of Interior of the State of Kuwait, and in cooperation with the Fawzia Sultan Rehabilitation Institute and the Ministry of Interior, Porsche Centre Kuwait, Behbehani Motors Company, introduces the 'Early Childhood Road and Traffic Safety Program'.
The project aims at educating 7,000 students targeted at Kuwaiti school kids aged between three and seven from different schools across Kuwait on an annual basis, running from April to December at the Al-Qadsia Sports Club in Hawalli.
The program includes the popular Porsche Kids Driving School, designed to introduce road and traffic safety guidelines to young children, as well as teaching road signs and basic traffic rules in a theory lesson, including the importance of wearing seat belts and how to use pedestrian crossings correctly. Following this, the children can put their knowledge straight into practise and drive Porsche 911 pedal cars on a specially designed road circuit, complete with working traffic lights, roundabouts, junctions, speed bumps and a pedestrian crossing.
Porsche Centre Kuwait sponsors the Early Childhood Traffic Safety Program to introduce to local school children road and traffic safety rules in the hope that this will influence their future driving behaviour.
4/1/2012