PCK continues stellar aftersales performance in the region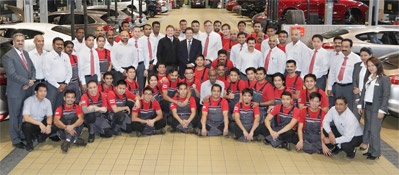 Porsche Centre Kuwait has been ranked as the leading Porsche Centre across the Middle East and Africa for surpassing customers' expectations time and time again with excellent aftersales service. PCK has relentlessly proved to its customers and partners that its pursuit of excellence knows no ground for complacency by being a repeated winner of the Porsche Service Excellence Award for its aftersales performance over the past few years.
The aftersales service team consists of highly-qualified and trained Porsche staff who undergo intense qualification programmes, to ensure that customers are treated to a Porsche experience that boasts efficient and high quality aftersales services. In addition, Porsche Centre Kuwait has an impressive state-of-the-art workshop, with precisely-engineered Porsche genuine parts, special tools and latest diagnostic technology to ensure quality repairs and maintenance standards. All Porsche cars receive optimum support to retain its unique ownership and driving experience.
11/23/2016