Porsche Centre Kuwait Wows Participants at their Test Run Event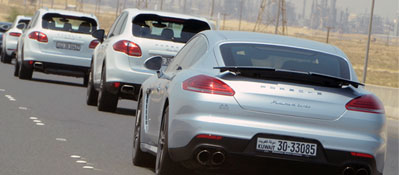 Porsche Centre Kuwait, Behbehani Motors Company invited 42 car enthusiasts to experience the adventure of a lifetime by stepping into the driver's seats of some of their most dynamic vehicles at an exclusive test drive. The Test Run was organized by Porsche Centre Kuwait in order to provide an adrenaline-filled outlet while at the same time emphasizing safety and performance features across the Porsche model range. The event is a mainstay activity amongst a range of Porsche initiatives designed to engage their customers throughout the year.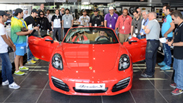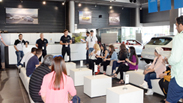 This year, the Test Run was conducted over two days on May 16th and May 17th and included runs from the Porsche Centre Kuwait Showroom, to Khiran, to the Hilton Hotel & Resort in Mangaf, before finally returning to the Porsche Centre Kuwait Showroom. The participants were divided into two groups and were invited to get behind the wheels of the Carrera, Boxster, Cayman, Cayenne, Panamera and this year's event also included the all new Macan.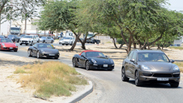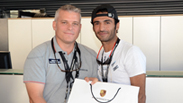 The Test Run has become very popular among the select few invited to participate and it continues to serve as a venue where Porsche enthusiasts are able to engage and be mentored directly by professional drivers and Porsche specialists. Participants learn specific driving techniques, all terrain handling and safety features while taking part in a thrill-seeking drive across Kuwait.
5/16/2014