Porsche Centre Kuwait displayed new Cayman at exclusive 360 Mall display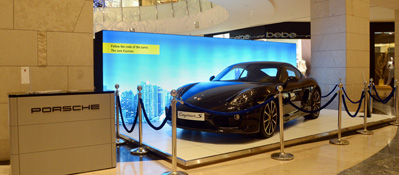 Porsche Centre Kuwait, Behbehani Motors Company, unveiled the new Porsche Cayman design with an exclusive display in May at the 360 Mall after celebrating the car's launch.
Offering Porsche enthusiasts the chance to get up close with the redesigned sportster, the public was able to see first-hand Porsche's commitment to pushing the boundary of sports vehicle design and providing the latest advances in automobile technology.
The third generation of the two-seater has been completely redeveloped. It is lower and longer, lighter and faster, more efficient and more powerful than ever. A longer wheelbase, wider track and larger wheels enhance the driving performance of the mid-engine sports car to an unparalleled level in its competitive class. The new Cayman is – after the 911 Carrera and Boxster – the third sports car model line from Porsche to feature innovative lightweight body design. Powered by a 2.7-litre flat-six cylinder engine, the sports coupé produces 275 horsepower. It accelerates from zero to 100 km/h in 5.4 seconds, depending on the equipment, and reaches a top speed of 266 km/h. Its bigger sibling, the Cayman S, makes use of a 3.4-litre naturally aspirated flat-six cylinder engine for an output of 325 horsepower. Acceleration time from a standstill to 100 km/h time is 4.7 seconds with a top speed of 283 km/h.
5/31/2013