918 Spyder Prototypes in Porsche Centre Kuwait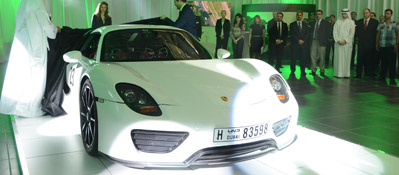 Porsche Centre Kuwait, Behebehani Motors Company, invited select media and guests to an exclusive viewing of the Porsche 918 Spyder prototype, in Kuwait for a limited period as part of a Porsche GCC 918 Spyder Road Tour at the showroom in Al Rai on March 13th, 2013.
The 918 Spyder is Porsche's interpretation of the super sports car of tomorrow and the world's first hybrid super race car. Designed as a high-performance hybrid with plug-in electric module, the vehicles are limited to a worldwide production of just 918 individually numbered supercars with the start of production scheduled for autumn of this year.
With 918 Spyder Prototype in Kuwait for display, the media and guests were able to view the pinnacle in super car engineering first-hand during two separate events, the first held exclusively for media in the morning, followed by a gala event for VIP guests in the evening. Special Porsche experts were on-hand at both events to answer any questions pertaining to the 918 Spyder and take guests in-depth through the super car of tomorrow.
3/13/2013