Porsche Centre Kuwait reveals new all-wheel drive 911 Carrera 4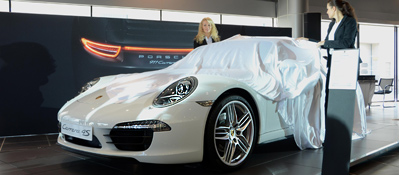 Porsche Centre Kuwait, Behbehani Motors Company, revealed the new Porsche 911 Carrera 4 models at an exclusive media launch event on Tuesday, 22nd of January. Members of the press expressed their admiration of the special display setup and reveal which showcased the new generation 911 Carrera 4 and 911 Carrera 4S. The new all-wheel drive 911 is being launched in Kuwait in four versions – as the 911 Carrera 4 and 911 Carrera 4S, and each as Coupé and Cabriolet. 
Sporting the same traits as the rear-wheel drive versions, such as the lightweight body design, the all-wheel drive models consume significantly less fuel than their predecessors, despite a higher level of engine and driving performance. Total savings for individual versions are as much as 16 per cent. All new models have a 7-speed manual gearbox as standard, and the Porsche Doppelkupplung (PDK) gearbox is available as an option. The 911 Carrera 4 Coupé with 350 hp can sprint from zero to 100 km/h in as little as 4.5 seconds (Cabriolet: 4.7 s) and reach a top speed of up to 285 km/h (Cabriolet: 282 km/h), depending on equipment features. The Coupé and Cabriolet of the 911 Carrera 4 S each have a 3.8-litre rear-mounted boxer engine that produces 400 hp; this enables acceleration to 100 km/h in 4.1 seconds (Cabriolet: 4.3 seconds) and a top speed of 299 km/h (Cabriolet: 296 km/h) with a suitable equipment configuration.
In the new 911 Carrera 4 models, a new menu in the instrument cluster informs the driver how the PTM all-wheel drive is currently distributing engine power. In addition, with the debut of the 911 Carrera all-wheel drive models, Porsche is introducing the optional Adaptive Cruise Control (ACC) to the entire model range, which controls distance to traffic ahead and vehicle speed. In addition, a new sliding glass sunroof as an optional feature for all 911 Carrera models is introduced with this model.
1/22/2013