Porsche Centre Kuwait puts driving enthusiasts to the test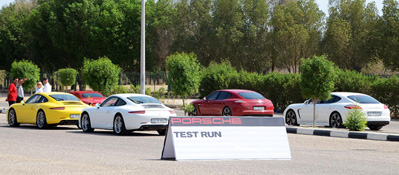 Porsche Centre Kuwait, Behbehani Motors Company, recently offered an exclusive opportunity for Porsche enthusiasts to experience the thrill of the Porsche range of vehicles on a closed circuit set-up. Open to members of the exclusive Al Corniche Health Club and a select few Porsche fans, the Porsche Test Run event was designed to provide participants with first-hand tutoring on how to navigate a vehicle through risky scenarios and how dynamics systems assist the driver.
Including activities covering acceleration and brake testing, handling exercises, and an overview on how Porsche combines impeccable engineering to compliment drivers' passion for benchmark performance, the event took place over three days under the personal guidance of Porsche certified instructors. In total 100 guests trialed a combination of vehicles, including the Porsche 991 Carrera, Carrera S, the newly revamped Boxster and Boxster S, as well as the Panamera and Panamera GTS models.
Porsche understands how important it is for drivers to handle a fast car without being a hazard to either themselves or other motorists, and with events such as Porsche Centre Kuwait's Test Run, enthusiasts gain firsthand experience whilst being mentored by a team of experts.
10/1/2012